This is how I feel when I think about Freya for too long.
There are times when I'm at Curve that make me want to beat my head into the wall until it's bloody out of pure frustration and disappointment. Seeing the soaring promotional images of Freya's Spring/Summer 2015 collection was one of those times and has brought me to the conclusion that my evil mastermind plan to take over Freya is the only way for us all to move forward.
I don't profess to know more than the experienced industry executives who are currently in charge and I could be totally, 100% wrong about who their market is and will be, but I do feel as if I see a future for them that they haven't glimpsed yet. Ironically, Freya's collection isn't
that
horrible because despite the circus-y nature of this upcoming collection, there are a handful of great designs. The problem arises once you hear who they see as their target customer and while that customer isn't bad and her taste isn't sub par, she's still a customer that
everyone
is going after right now. Cleo, Curvy Kate, Tutti Rouge, and Bravissimo's in-house label are all after the same audience! Freya -- who has ruled over this market since it's conception -- is shamefully battling the smaller brands for a share when they should be concentrating on who the next customer is and predicting what she will like.
Sixteen year old me would've been into this.
For the last few seasons, I've heard this lingo from company representatives about who their ideal customer is. They say she's a Victoria's Secret girl who has simply sized out of the chain, she wants to wear the same things her friends do, but it's less available to her because she's full busted. I'm down with their goals to appeal to this gal because I used to be her. Circa 2004, I would've given anything to wear the fast fashion trends I saw in Vicky's. I was 16 and like any teenager, wanted to fit in desperately so I longed for the lingerie my friends picked up at the mall. Props to the DD+ brands who are recognizing and catering to all the girls -- who are out there right now! -- wanting to find that trendy lingerie in their size. I commend you!
Freya's Minx for Spring/Summer 2015 looking quite Vicky's...or just plain weird
However, it's been
10 years
since I wanted lingerie that matched my friends and looked like it came off the racks of Victoria's Secret. I'm a different person now and understandably, I want a different aesthetic than what I was going for a
decade
ago. Today, I have the confidence to craft my own look and while I know mass production will always limit that instinct to some extent, I'd like my lingerie to reflect the taste I've developed. I don't think that's such an outlandish request. Unfortunately, there is not a single mass market brand that's aimed at me and the women who feel similarly. Just as there wasn't a hot pink cheetah moulded t-shirt bra when I wanted one ten years ago, there's no whimsical, pretty and French-ified sheer bra when I want one now.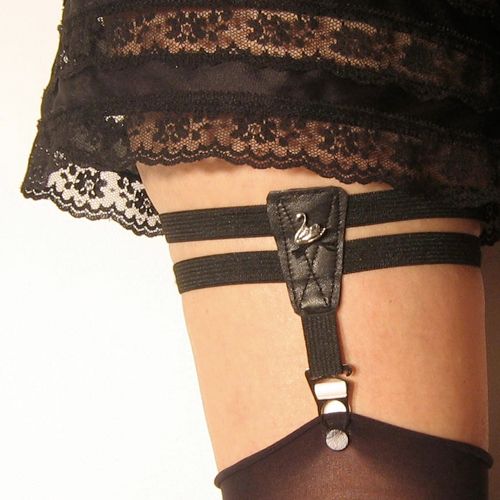 I'm talkin' swan garters, y'all!
Oh, the travesty!
I know that you might be rolling your eyes at my lingerie "problems" and I get that. For the full bust world, I'm a fairly easy-to-find and widely produced size and as a blogger, I've had the opportunity to wear test hundreds of bras. I haven't faced the lack of availability that a 28J or 44D does and I'm not a person of color who struggles to find a basic neutral bra to wear below lighter shirts. With that said, I still find it downright ODD that there isn't a big DD+ brand I relate to or identify with. Sure, pieces of Cleo, Freya, or Curvy Kate appeal to me here and there, but it's only a couple of lines out of their entire collection and it's nothing I'm
dying
to get my hands. It's another story with companies like
Miss Mandalay
,
Sunday Intimates
and most especially,
Avocado
because with those, I want ALL THE THINGS! I'm perfectly content sticking with the boutique indies who are making products I love, but from a business or industry stand point, you'd think some behemoth brand would also want my money...
Or not.
There's only one option and it's not the sensible conclusion that I should just shop elsewhere or give up on my dreams of a brand that understands me. Oh no, the only thing I can do is become a lingerie ninja! I'll infiltrate Eveden, take the reins of Freya and turn this wild pony around, molding them into what this underserved, unrecognized customer is looking for.
Are you guys with me?
C'mon, Frey Frey, what do you say? I've become unexpectedly free this autumn so I think this partnership must be written in the stars. We're meant to be.
Side Note: I've written about what I call "the middle market" last September and made a similar argument for Freya to shift towards an alternative customer base. You can read that post here.
Side Note: I've also written posts on how Freya is Eveden's weakest brand, the changes we'd like to see for the Deco, their Autumn/Winter 2014 collection and how they could improve their lookbooks and styling. I suppose you could say I'm a wee bit obsessed...but it's all part of the evil mastermind plan!
["Frustrated Girl" Photo Credit: <a href="https://www.flickr.com/photos/evanmischelle/5001399117/">M I S C H E L L E</a> via <a href="http://photopin.com">photopin</a> <a href="http://creativecommons.org/licenses/by-nc-nd/2.0/">cc</a>]
["Swan Garters" Photo Credit: <a href="https://www.flickr.com/photos/barbietron/4170473827/">SWANclothing</a> via <a href="http://photopin.com">photopin</a> <a href="http://creativecommons.org/licenses/by-nc/2.0/">cc</a>]