Miss Mandalay Spring/Summer 2015
There are only two things I hate about
Miss Mandalay
lingerie -- that there isn't more of it and it's not more widely available. Since I had a lukewarm reaction to
Curvy Kate's Spring/Summer 2015
, I thought I'd post on a collection I really, really liked. I consider Miss Mandalay one of those
"middle market"
brands which roll out chic, fashionable lines for women who want lingerie that lies between the polar extremes of fuller converge conservatism and sassy girlishness. There aren't many DD+ companies who appeal to me as deeply as Miss Mandalay so I was overjoyed when I learned they would be at Curve. Although I wish the collection was bigger and everyone carried everything in every size, their seasonal offerings are super charming.
Layla in Ivory, 30 E-GG & 32 D-GG & 34 E-GG & 36 DD-GG, with matching short & thong, XS-XL (out now)
I won't lie, the first time I saw the Layla on
Journelle's website
, I thought it was an old style the store must've had laying around from eons ago. It looked so plain! But no, it was Lorraine -- Miss Mandalay's lingerie magician -- being smarter and more sophisticated than I could've foreseen. Once I'd seen the Layla up close, I understood it's subtle power. It's soft pinstriped sheer fabric, unsuspecting lilac bows and thin lace finishing comes together to create the most understated, chic design. In an era when full bust brands roll out loud, look-at-me collections with every bow and whistle imaginable, I'm deeply grateful that Miss Mandalay is there to remind us that sometimes "classy" means less rather than more.
Layla in Black, 30-38 D-GG with matching short & thong,XS-XL (out now)
While white was a trend for Spring/Summer 2015, black sets are my kryptonite. Which version of the Layla do I prefer?...It's too hard, I'll have to have both!
Windie Gardie has
a fantastic review of this style
over on her blog and as expected, she looks slammin' in the Layla. I was disappointed when I initially saw the size range because I usually grab 28" bands in Miss Mandalay's Amelie, but Windie said the band ran tight so I'm crossing my fingers that a 30" will work on me.
Amelie in Black, 30 E-GG & 32-36 D-GG with matching brief (XS-XL), thong (S-XL), & suspender belt (S-L) (Scheduled for September)
No joke, the Amelie is one of the best bras on the full bust market. It fits me like a glove, feels stupendous on and boy oh boy, it's one sexy little design. The stretch lace is comfortable and accommodates slight size differences or hormonal shifts and, in that way, it reminds me of the Panache Andorra. If you're a fan of one, you might like to try the other. They've got wildly different personalities, but I imagine that they'd appeal to the same woman.
I hope that American retailers pick up the Black and February's Blush version as "continuities". If a store like Journelle had those two classic colorways in stock throughout the year, I'd be one happy customer.
Amelie in Ultra Violet, 30 E-GG & 32-36 D-GG with matching brief (XS-XL) & thong (S-XL), (Scheduled for November)
The Ultra Violet doesn't rile me up in the same way that an all red or contrast colored Amelie would, but I understand that for purple fans, this will be a big deal. I just...I can't. There's been so much of this color each season and the trend doesn't show any sign of slowing down. On the other hand, if someone was holding a gun to my head and I had to choose a purple set, I'd pick this Amelie over all the rest.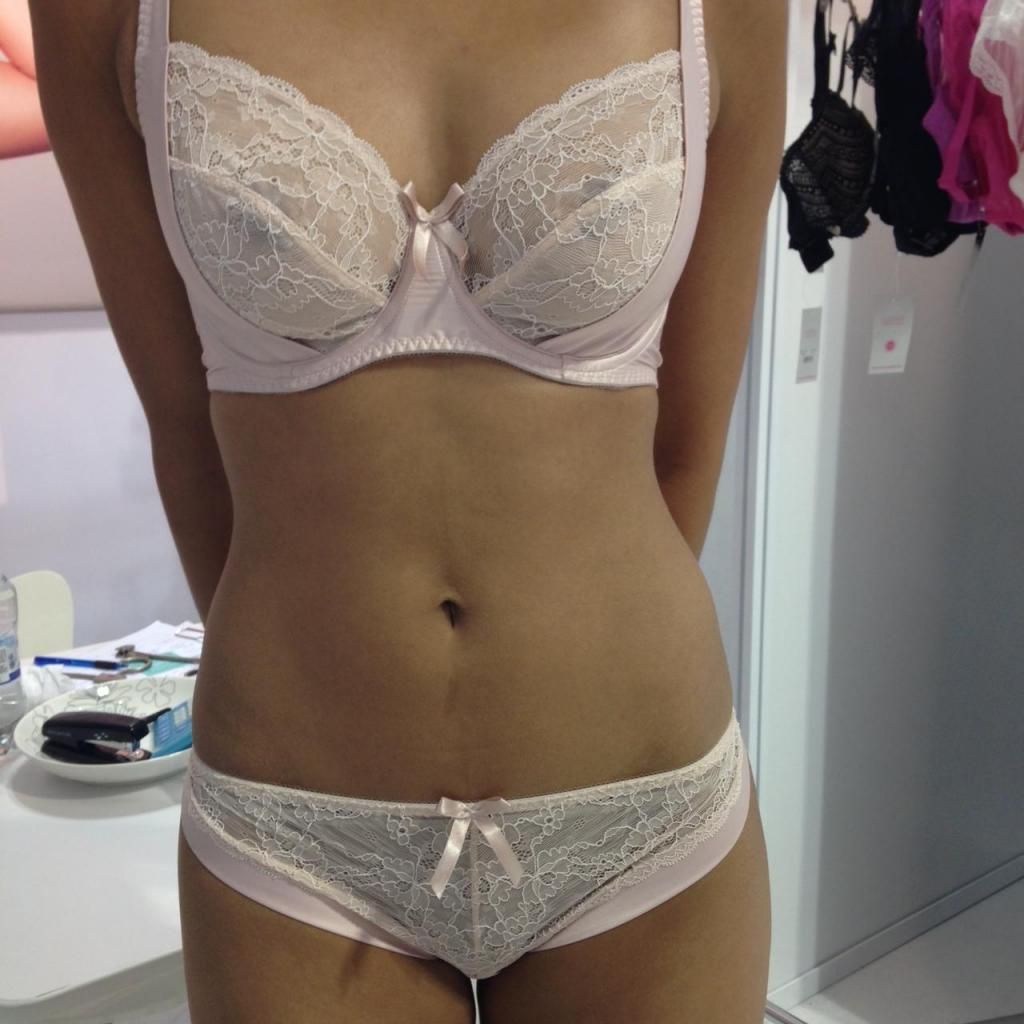 Amelie in Powder, 28 E-GG & 30-38 D-H with matching brief & thong (see size ranges above) (Scheduled for February)
Who am I kidding?! I want ALL the Amelies, including all three versions debuting through this fall and winter. Quite honestly, Miss Mandalay could recolor this any way they choose and I'd still want it. But holy mother of lingerie, the Blush is pretty! I want this one in a bad, bad way.
Paris in Pink, 30-36 DD-GG with matching brief (XS-XL) (Scheduled for March)
How do you know when Spring is upon us? Easy! Miss Mandalay begins to churn out juicy versions of their old stand-bys, Paris and Paige. I loooove these too (Anyone noticing a pattern?). And I know I said I was sick of bright colors, particularly anything in the "Barbi" family, but these designs still speak to me. They're not overdone or aggressively saccharine, they're eye-popping colors on a tailored, straight forward shape.
Paris in Fuschia, 30-36 DD-GG with matching brief (see size range above) (Scheduled for March)
Paige in Raspberry/Peach, 30-38 D-GG with skirted brief & thong (XS-XL) (Scheduled for April)



Miss Mandalay is a small independent brand and at the moment, they're mostly known for their kick-ass swimwear (more on that later!) so I understand that their lingerie collection is more limited, but I'd love to see them grow into a place where they could churn out a wider selection. And, American retailers take note: I'd love to support my countrymen and buy Miss Mandalay on U.S. soil!





Have you tried Miss Mandalay? Are you crazy about the Amelie like moi?





Do you like the look of the Spring/Summer 2015

collection?