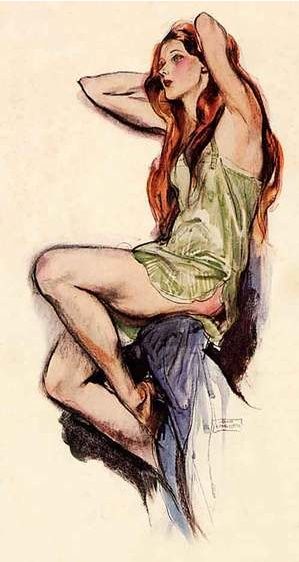 John La Gatta for Laros Lingerie, c. early 1940s.
Full busted women are allowed two choices when they go lingerie shopping and I'm growing dissatisfied with both. On one side, Tutti Rouge, Cleo, Bravissimo, Curvy Kate, and Evollove reign over the market for youthful spontaneity; the second domain belongs to Fantasie, Fauve, Empreinte, Prima Donna, Panache, and newcomer Harlow and Fox, who offer elegant timelessness and exquisite European laces. As much as I love both, I don't completely relate to either. I've outgrown the juniors' section and I'm not ready for side support panels or full cups. I don't think I'm the only one who feels this way so I've begun to think of myself (us?) as "the middle market". We're the ones who are caught between too cute and too classic. Every full bust brand assumes we're part of their target demographic, while no one seems to be designing anything expressly
for
us. And that's where Freya comes in...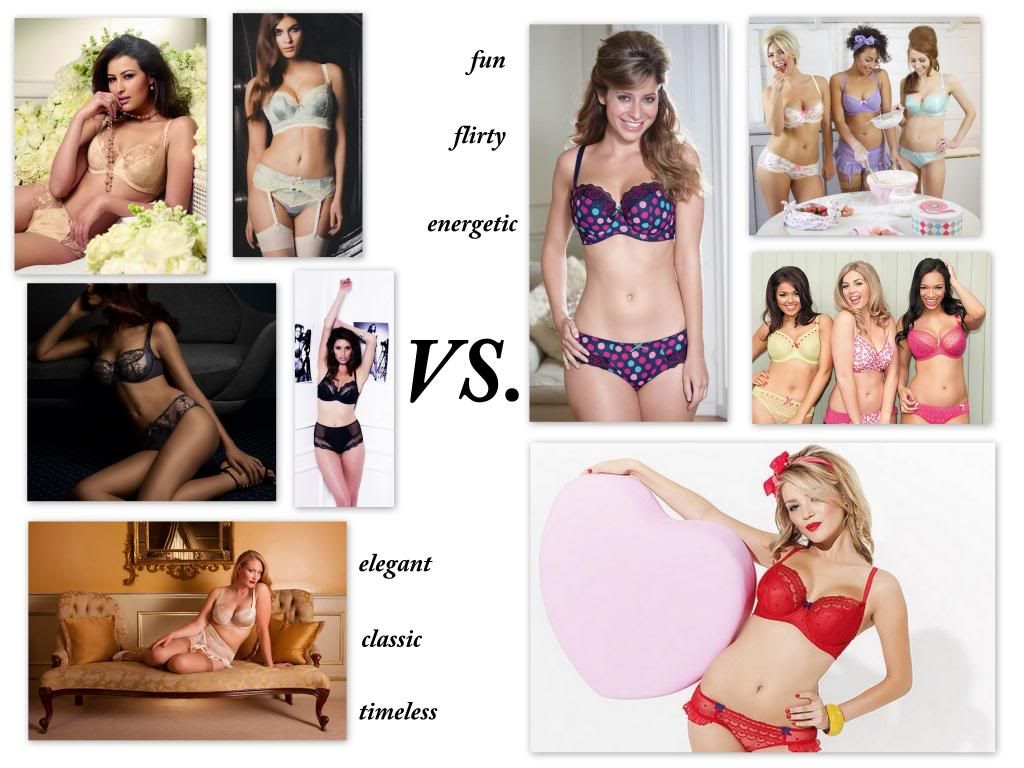 As bleak as it looks, this market isn't completely empty: independent brands like Britain's
Miss Mandalay
, Poland's
Avocado
, and Germany's
Fraulein Annie
do an excellent job catering to the middle market and two new brands,
Sunday Intimates
and
All Undone
, are joining them. They're providing full bust women with understated and comfortable basics, truly striking fashion, risky color combinations and they're unafraid of stepping outside mainstream taste. I also worry that they're struggling to break through because they're so ahead of their time and buyers don't understand who their customer might be. After all, if a full bust brand isn't known for their tediously dependable fit or they can't be counted on for precious flirty fashion, what are they good for?
Meanwhile, Freya, who invented the youthful market and dominated it for years, has outgrown it's own niche.
Their direction isn't floundering because they're a bad company, they're simply lost and without a clear vision, they're clinging to an old one. As irksome as their recent missteps have been, it's a wonderful opportunity for the brand to steer into unchartered territory and regain their reputation as an innovative market leader. All the big brands are committed one way or another and they've decided which team they're playing for, but Freya's allegiances are more ambiguous. Freya also possesses the
power to steer the entire industry in a new direction and with worldwide distribution and modest price points, they could bring this aesthetic to a broader demographic.
I've made a series of collages to help define what the middle market means to me and how Freya's designs have strayed from what feels current and fresh. I know this won't apply to every women who is a middle market customer, but I thought it would be a good way to start the conversation.
Sheer
Freya hit a home run with
the Arabella
but since it's semi-retirement, their sheer bras have continually missed the mark. Brands are constantly telling me that teenagers vastly prefer padded bras and older women are the ones who are really buying this style up. My own experiences back them up, I only began wearing sheer sets when I felt comfortable in my body and sexually self assured. However, Freya's latest designs look like they're intended for younger girls, who might be into glittery embroidery, purple butterflies or bright candy pink trim. Instead of trying to win over a reluctant and inflexible clientele, they should concentrate on what
women
want.
I love sheer lingerie because, unlike padded or opaque styles, they frame my body rather than overwhelm or hide it. Their design doesn't need to be overly complicated or fussy so simple geometrics, graphic lines, scalloped contrasts, and any stark recurring pattern are wonderful. I'm also a
HUGE
fan of tattoo effects so I'd die from happiness if Freya released a sheer bra made from beige or transparent fabric with a contrast pattern throughout, like the Stella McCartney bodysuit.
Basics
The Deco craze aside, Freya's basics are weak and in the last few seasons, I've watched as they've tried to work it out. This season's black
Ohh La La
was planned as a continuity, but has been replaced with a pink version for next year.
The Marvel
has been repeatedly delayed,
the Rio
has mysteriously returned, and the all new Enchanted boasts "higher under arm coverage" which is a frequent Freya fit
complaint
. The creators of the Arabella, the Jolie, and the Deco should have a firmer grasp on what we'd like from our basics.
Everyday bras would be a great place for Freya to experiment with androgynous or sporty styles that employ color blocking, straps, larger hardware or pinstripes rather than floral prints and bow accents. Even though it's not traditionally my cup of tea, sleeker or menswear-inspired designs would be a refreshing sight. I'd also like basics with a thinner and more comfortable padding too, like the Sunday Intimates Dottie bra above.
Seasonal Fashion
Even when they're down, Freya's fashion is some of the best in the business and I can't complain too bitterly when they've made the Russian doll print, kissing flamingos, and a black and tan fan pattern. But, like the Deco situation, I've begun to wonder if they're using their fashion to coast by. Are they releasing prints simply because it's what they've done in the past? Are they adding lace accents because that's what they have on hand, even if it doesn't compliment the rest of the design? How many tiny ribbon bows does the world really need? At market, fashion is the trickiest to sell, but I've heard buyers gasp at the sight of Huit's debuts and I've seen them collide with one another to get a good look at something phenomenal. Freya has the potential to inspire similar reactions, but their bar isn't set high enough.
I want my fashion bras to reflect the rest of my personal style so in my collage, I included several '40s inspired pieces since I own a lot of peplum, puffed sleeves, and pencil skirts that reference that period. I also gravitate towards uncommon colors and textures, but only when they're presented in a straightforward and sophisticated manner. For whatever reason full bust brands refuse to see this essential piece of the puzzle, middle market women want their lingerie to reflect the trends they wear in outerwear. I'm in my mid-twenties and I dress like most people my age, so why wouldn't that concept extend to my lingerie drawer?
What do you think, is there a gap in the full bust lingerie industry?
Are you a member of the middle market?
Do you think Freya should begin designing for this demographic?