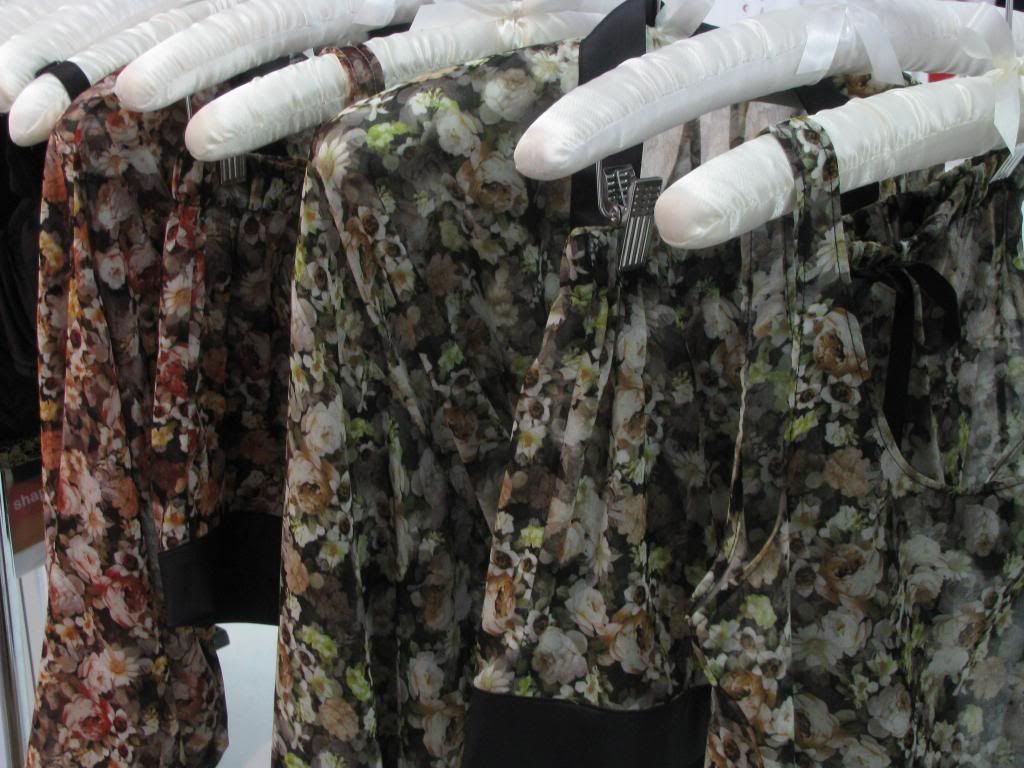 Unlike many other bloggers and industry attendees, I don't go into Curve thinking I'm going to discover something new. This feeling isn't pessimism, it's realism; I know there are a set number of big and mid-sized full bust lingerie companies I'm there to see and I've made appointments with their representatives. But this Curve was special and has me reconsidering my stance on anticipation...
You might've seen
the company's lookbook
on my Facebook page or
read the post by Sweet Nothings
(both of which I highly recommend!), but if you haven't, let me fill you in:
Sunday Intimates
is a new full bust lingerie company based in Los Angeles, their products will be released in the fall (two shipments in early October and early November), and they'll produce sizes 28 DD-H and 30-34 DD-H. They use the British sizing system and their debut Spring/Summer 2014 collection consists of six bra sets and two loungewear lines (which match two of their bra lines). The creative directors of the company, Simonette Lowy and Tannis Mann, are longtime friends and two exceedingly stylish ladies.
I'm very, very excited about Sunday Intimates and during Curve, I got the ridiculously lucky chance to try on the complete collection. And when I say "ridiculously lucky", I mean I freaked out, became an utter "fan girl", and begged to be their model.
The Monday in "Sunday Blush" *The color is much pinker than this photo suggests!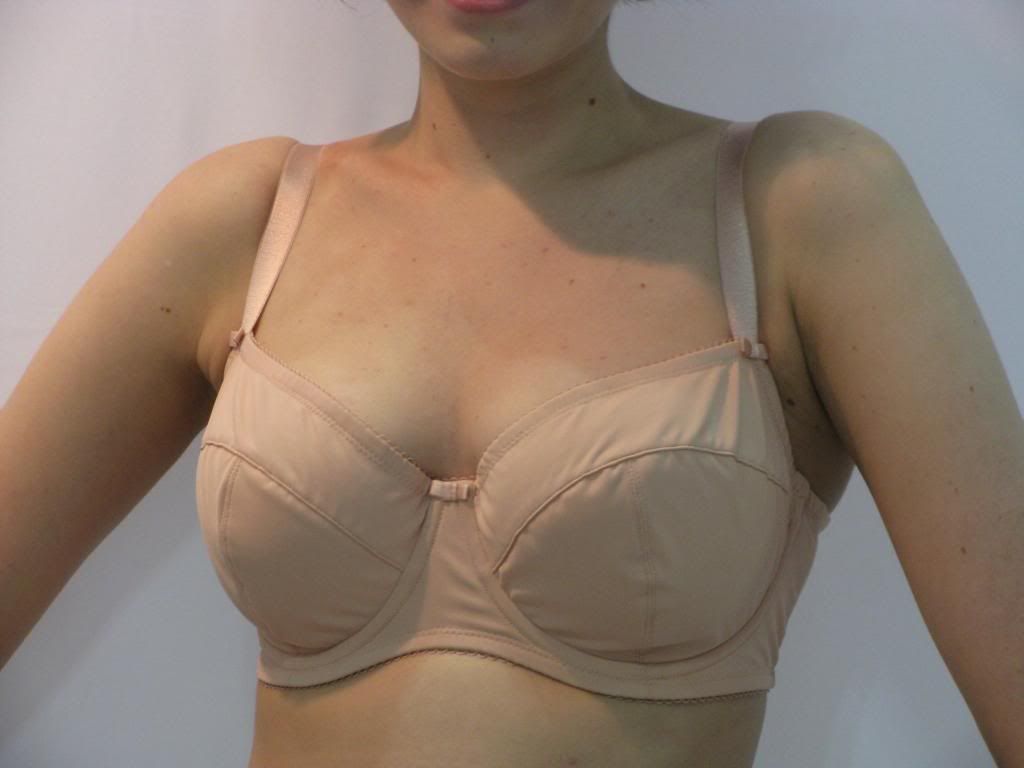 The Monday in "Navy"
For an everyday basic option, Sunday Intimates will offer
the Monday
line. The Monday consists of a three part seamed structured cup bra and a matching thong and brief. It will debut in three continuity colors -- black, white, and a pale pink called "Sunday Nude" -- as well as one seasonal version, in navy with black trim. I don't use the word nude to describe any beige or light tan shade, so from here on out it's "Sunday Blush". The cups have the slightest layer of foam padding so it's a natural construction to wear, but just enough to cover up.
When I tried this on, the Sunday Intimates owners asked me if I thought the Monday was comfortable. All their bras are, but this one felt comfortable in a different way. It felt like a fuller cup than their others so the fit was on the anchoring and containing side of comfort. I also think the color's gorgeous (it's pinker than the photograph suggests, exactly like the Dottie's blush), the separation and lift are stellar, and I love the rounded shape it gave me.
The Monday in "White" and "Sunday Blush"
The Tuesday
is their second basic line and instead of lightly reinforced foam cups, the bra is a combination of French lace and mesh. It will be available in Black and Sunday Blush, although the lighter shade wasn't ready yet, and will be accompanied by a thong and brief choice.
Jeepers! I'm obsessed with this bra, I almost wanted to grab it and run. The fit was surprisingly close, I'm wearing the 32F in all these photographs and this one
almost
worked! When I inquired about this detail, Simonette and Tannis said the sample had just arrived and came back firmer than they anticipated. I quickly told them I loved it, but they're fully committed to sizing consistency. The material is super soft, light to wear, and managed a visual trick -- it consists of two sheer layers and yet, when I tried it on, there was no nipple action. When this comes out, I'll be stocking up.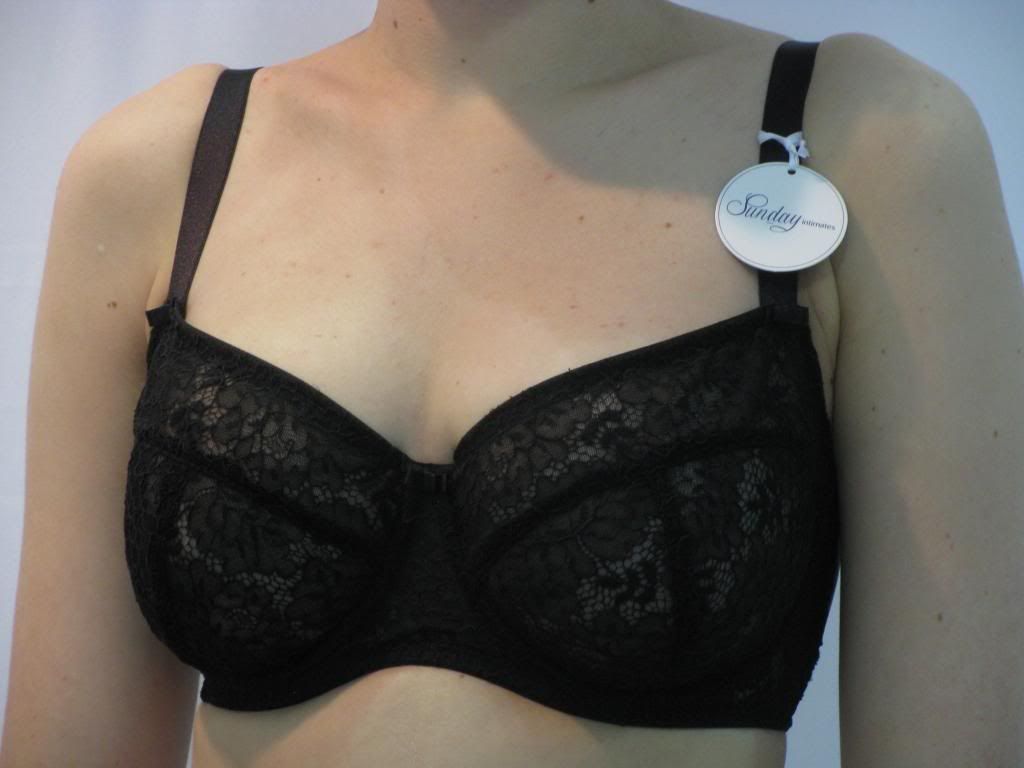 The Tuesday in "Black"
Sunday Intimates has a sweet, whimsical, and retro side which emerges confidently in
the Dottie
line, inspired by 40s pin ups. This design has a kimono, oversized pj top, shorts, bra and brief and it'll arrive in two continuity colors, navy and their gorgeous blush.
Although I love them to death, I'd say polka dots have become overused in the full bust market. The Dottie is different, it's not another extravagant detail to finalize a style, these polka dots are the design. They're not overstated or cutesy, just feminine and charming. Elegant simplicity and quiet nod to times gone past will always get my heart racing.
Dottie PJ Top & Short in "Sunday Blush"
Unlike the Marie's loungewear, the Dottie's pjs are meant to run larger and looser. They're for laying about the house, binge watching Netflix, or those days when you just don't give a damn that everyone may be judging you because you never got dressed...well, and you still want to look super cute.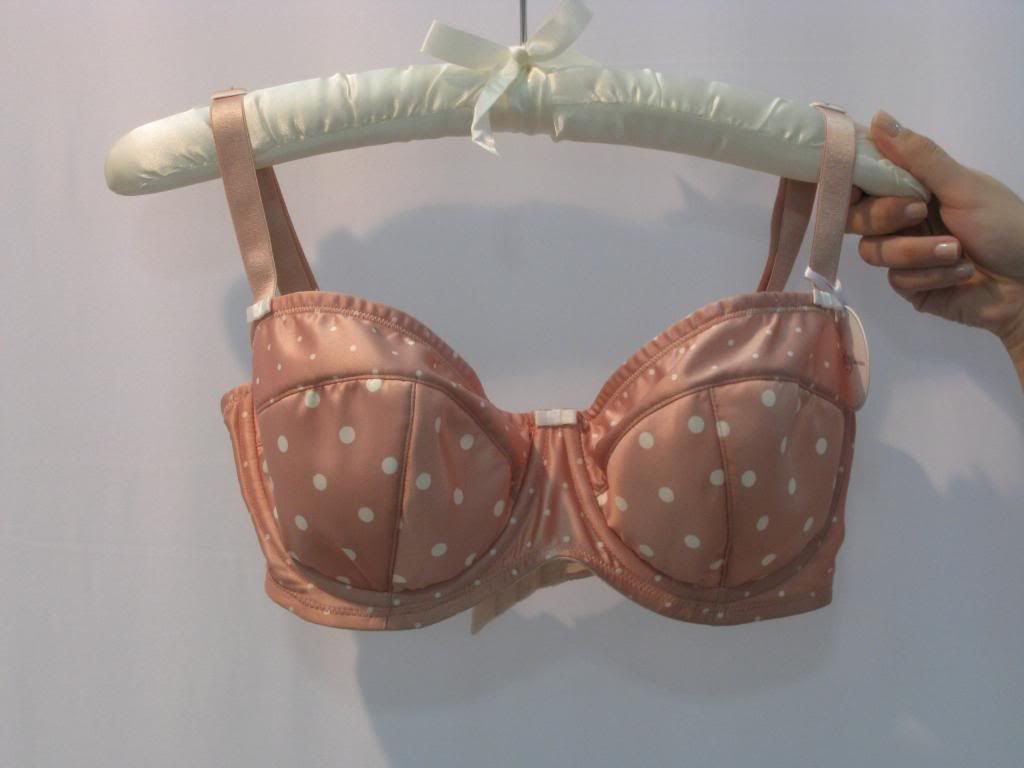 The Dottie Bra in "Sunday Blush"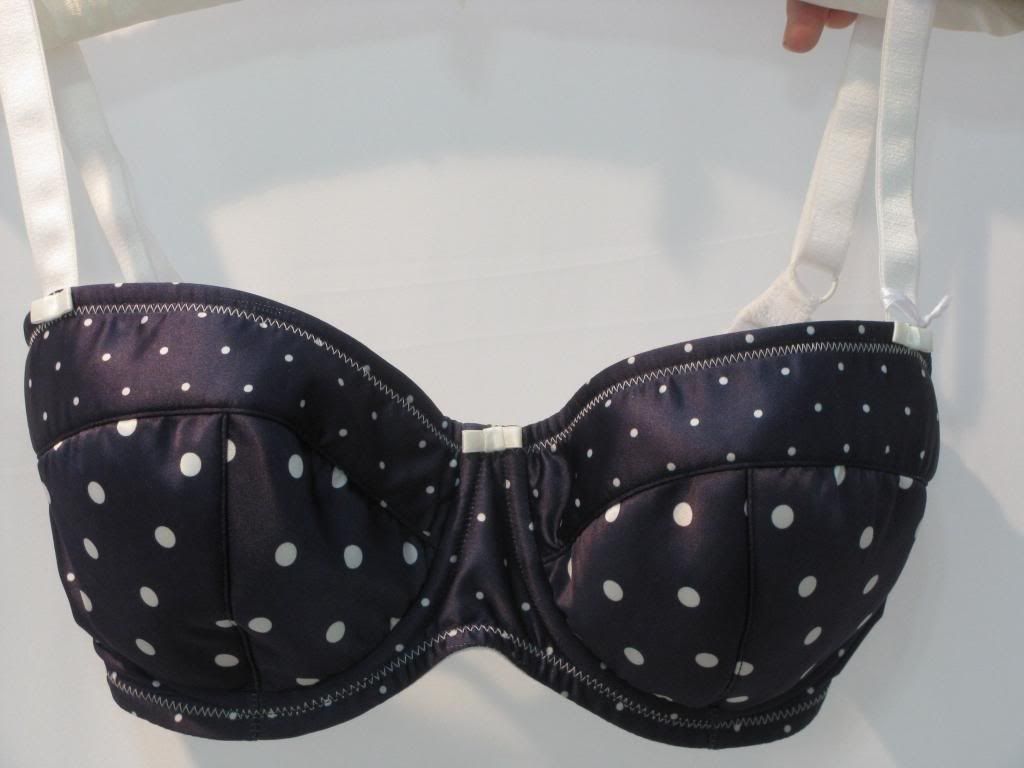 The Dottie Bra in "Navy"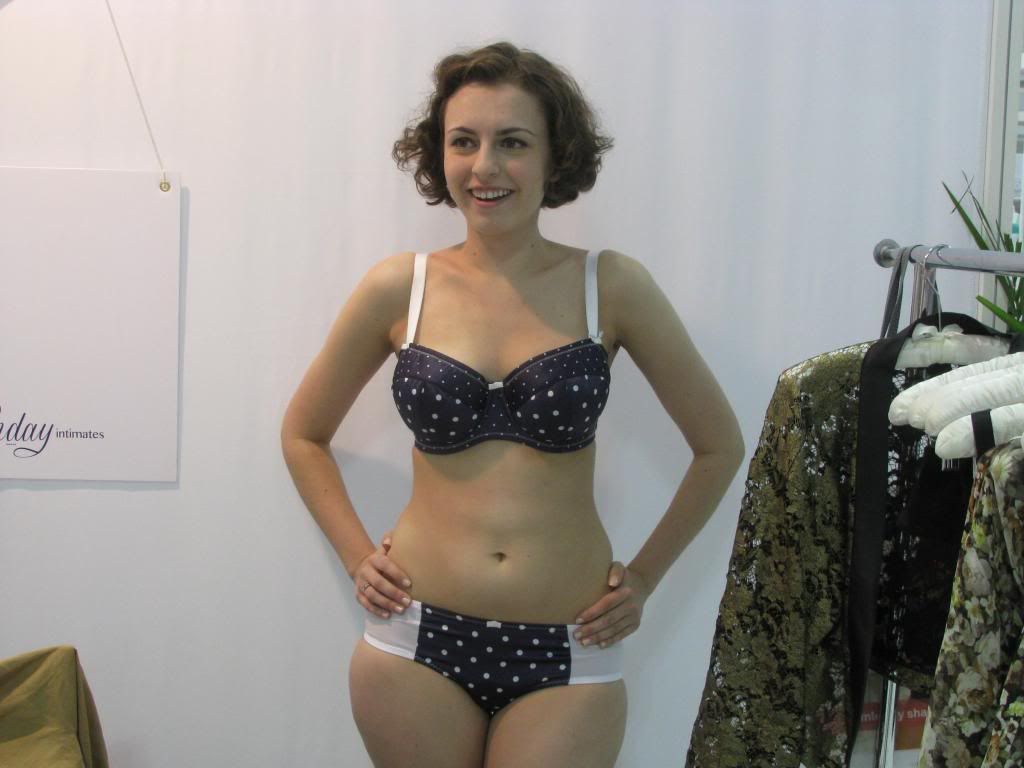 The Dottie Bra & Brief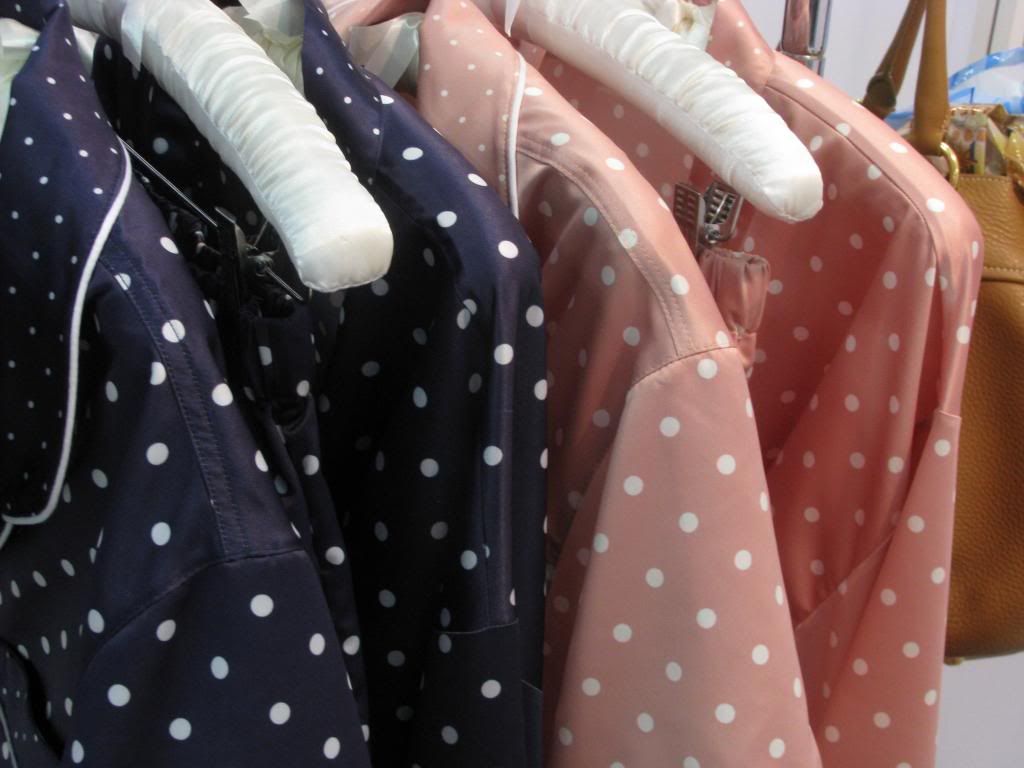 Veering away from the sweeter or gentler side of the brand,
the Marie
is an evening floral printed collection which has stolen my heart away and was responsible for all this spontaneous undressing. But keeping in line with the Dottie, the Marie has the same loungewear component, as well as a bra, thong, and high waisted brief. This will be available in two seductive colorways -- a smokey green and a mysterious, brooding peach.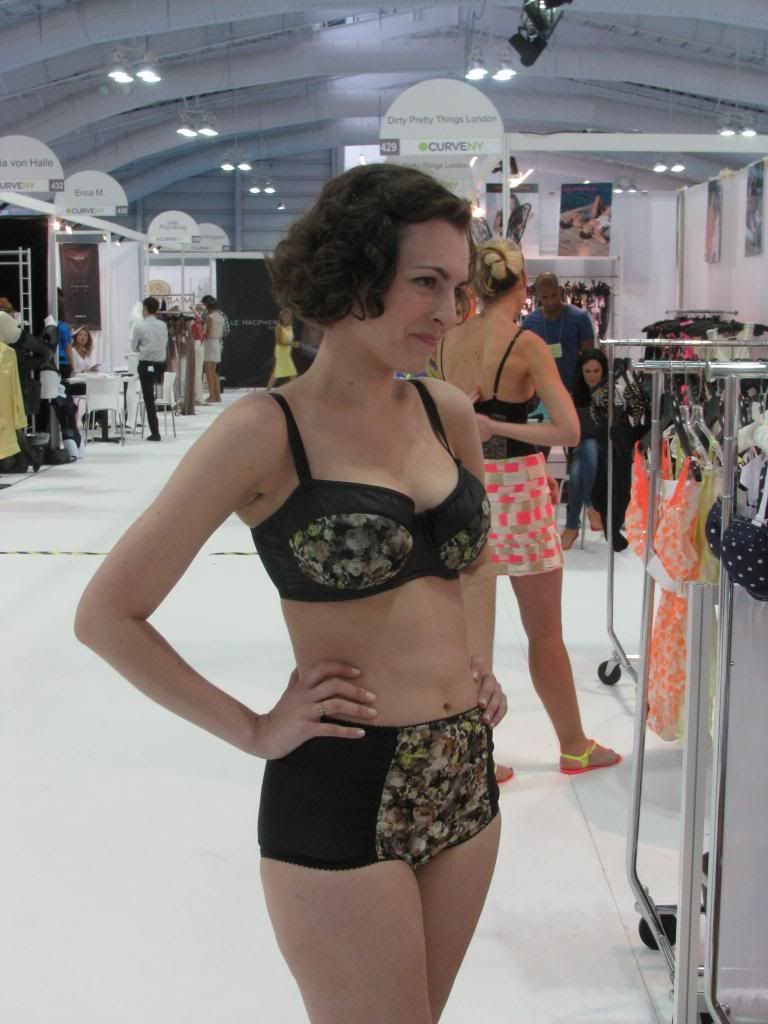 The Marie Bra & High-Waisted Brief in "Green"
Simonette and Tannis told us they designed this old fashioned brief for a modern customer, it hits right below the belly button and doesn't touch the natural waist. I like that it's low in the leg as well, it felt wonderfully comfortable on, and as you can see, it made me a very, very happy gal.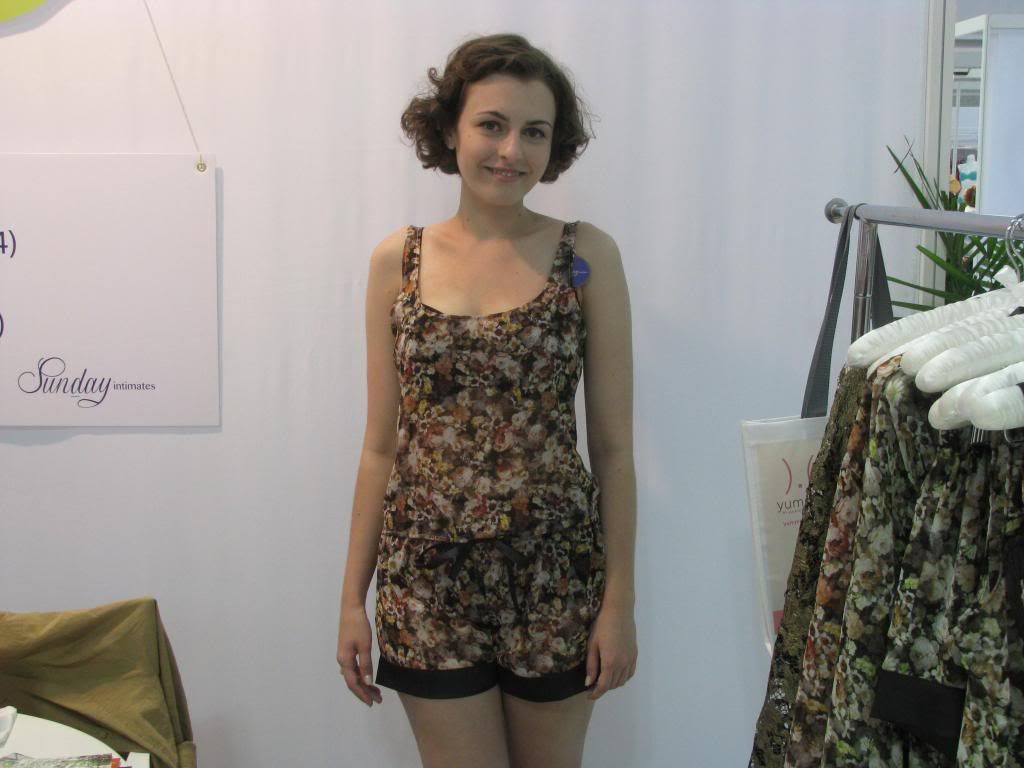 The Marie PJ Top and Short in "Peach"
The Tuesday Bra, Marie Kimono & High-Waisted Brief in "Peach"
Bondage inspiration is one aspect of popular lingerie that I do not understand at all. I think it looks modern and cool on other people -- Lindsay of
That Je Nais Quoi
is the ultimate example of a stylish lady pulling it off with grace and casual ease -- but it doesn't resonate with me. On the other hand, it's also a part of the "core size" market that full busted women haven't had access to so I was happy to see
the Lolita
. It's made from a stretch satin material which is meant to mimic leather and it's debuting in four colors: the sunday nude, black, navy, and the one I'm most curious about, grape wine.
The Lolita in "Black"
Do you think I look cool, like I own a motorcycle and can handle my liquor? Haha, NO...but the Lolita makes me a touch edgier.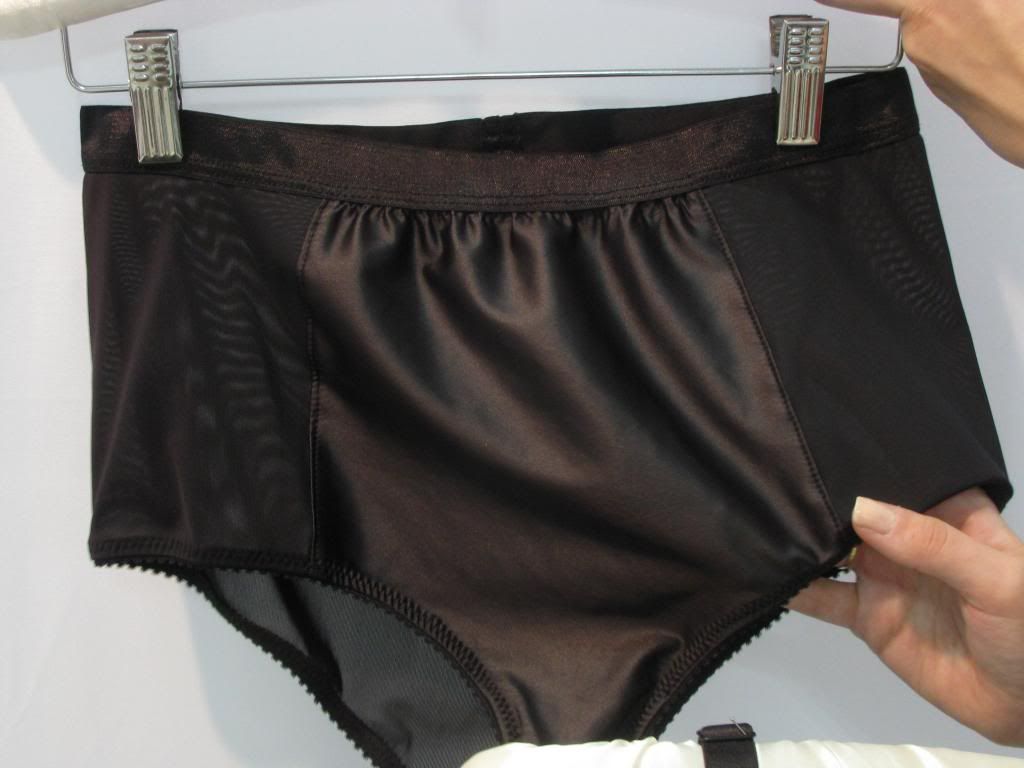 The Lolita High-Waisted Brief
The Sara
is the last line and easily one of my favorites (can they all be my favorites??) because it made me feel like a Bond Girl or Cleopatra unrolling onto the rug for Julius Caesar. I loved it!! It's a dramatic, show stopping line with their longline bra, a high waist brief, and kimono jacket.
The Sara Longline Bra & High-Waisted Brief in "Gold"
The Sara Kimono in "Gold" & the Lolita Brief in "Black"
It's written plainly all over my face -- I LOVE this new brand! I'm counting down the days until they're available.
Now, what do you make of Sunday Intimates?