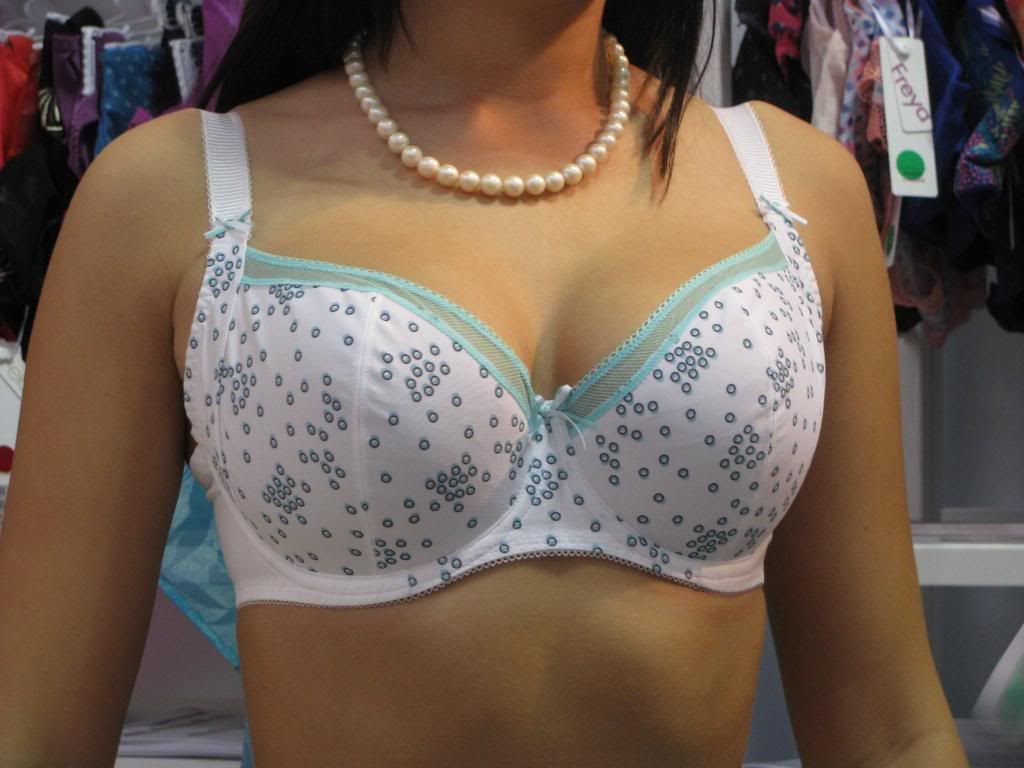 The Marvel in "Glacier" (March)
After all my whining and skepticism last season, I've come around to the "Deco domination" in the Freya collection. I've made peace with the change and admit that yes, it's a wise business move to produce more of what their customers are happily buying already. Or, maybe I've just gotten used to the fact that 65% of Freya's collection belongs to the Deco bra. Either way, Freya's Spring/Summer 2014 is full of several brilliant gestures, interesting new basics, and a few mind numbingly poor decisions. Shall we?
Okay, I'm going to get the worst of it over with now because I've been dreading this...Freya has decided to pull back on their size range for the padded half cups. In the collection I previewed this week, there will be one style (the Patsy) that will offer 28" bands and G+ cups. I want to pause and break down what an idiotic decision this is:
1. They only introduced this size extension in
Autumn/Winter 2013
so they must've made this decision before releasing the sizes onto the market. The pale pink Patsy was the first to drop this month and the company had to have made the call before those ever reached customers. The only response they've received so far has come from retailers so they have no idea how consumers might react. They haven't given their own product a true trial run or allowed their market time to respond.
2. The two padded half cups they added sizes to, the pink Patsy and the Fan-Tastic, are both interesting designs in their own right, but they're also singularly unique looks. I wouldn't be surprised if retailers were turned off by the pale-pink-with-greyish-green polka dots or the black and tan fan print. They could've gone ahead with those and introduced a proven and popular colorway (all red, navy and white, jewel toned purple) for more conservative buyers.
3. They've kept surprisingly mum about their new sizes in this style -- a move many of their fans have longed for! They were so quiet about this announcement that some of my fellow full bust bloggers didn't know it was happening. Instead, like Parfait announcing 28" bands and G+ cups, they should've reached out to us scrappy Internet girls who would've been happy to spread the news loud and clear. Parfait has also sent out samples for bloggers (of all sizes!) to try so women understand how this size extension has worked out or not.
Then, there's good news: the fashion for Patsy this season is super fresh and cute. Patsy had begun to feel a little stale and I love the way they've revived it with little flowers, popping color contrasts, and those funky shadowed circles. Well done.
Patsy in Ink (June) and Fuchsia (December)
Ooh La La (February)
When I saw this new colorway for the Ooh La La line, I knew there would be some true treasures in this collection. While the black version (due out in October) was sexy, I wasn't keen on the orangey bronze shimmering embroidery so this lighter, pretty confection stole my heart. It's also on trend for the season, serviceable as a basic, and sweetly understated.
(MR. UNDERPINNINGS: Please take note it comes out the month of my birthday/our anniversary/Valentine's Day!!)
The Hopscotch left me a little "meh" - what do you think?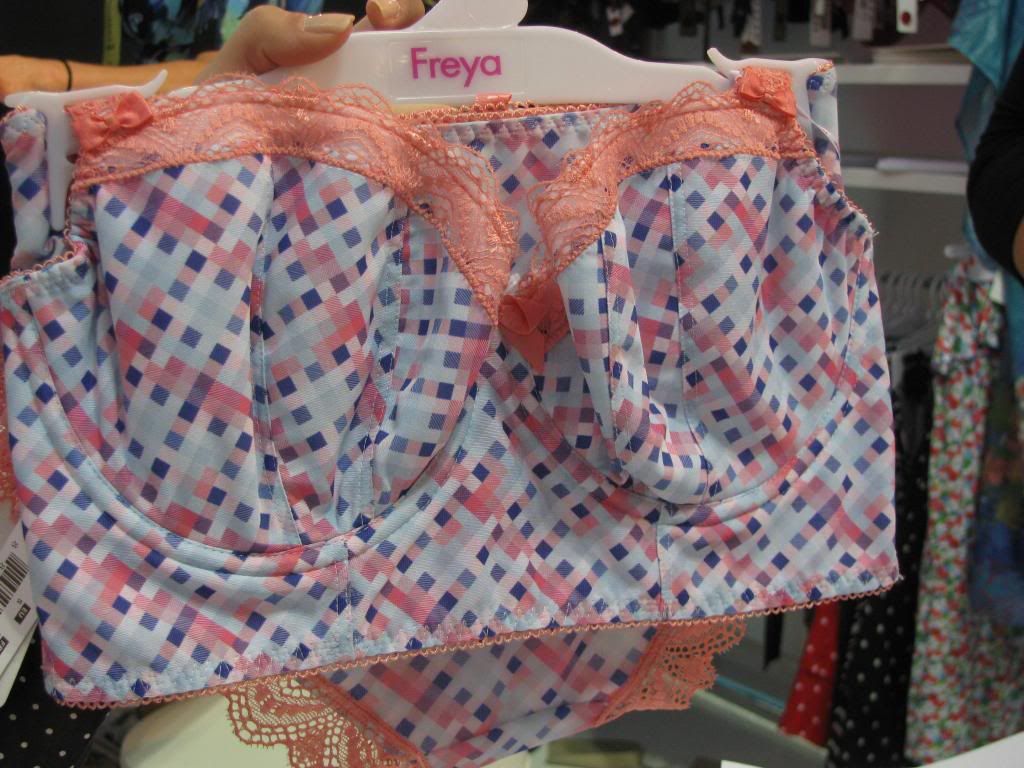 The Hopscotch in "Multi" (January)
I disliked the Tropics when I first saw the preview of it, but it's much softer in person. I think it might be one of those universally flattering designs too -- I can see many different women looking fantastic in this bold design.
Tropics in "Paradise" (February)
I've never tried the Freya Rio and I'm not particularly attracted to the overall design so someone needs to clue me in. For Spring/Summer 2014, the brand is promoting a "Rio Revival" and will be releasing a new fashion colorway (the Crimson below) in addition to the white and black versions. Please explain this one to me guys, what's the hubbub about?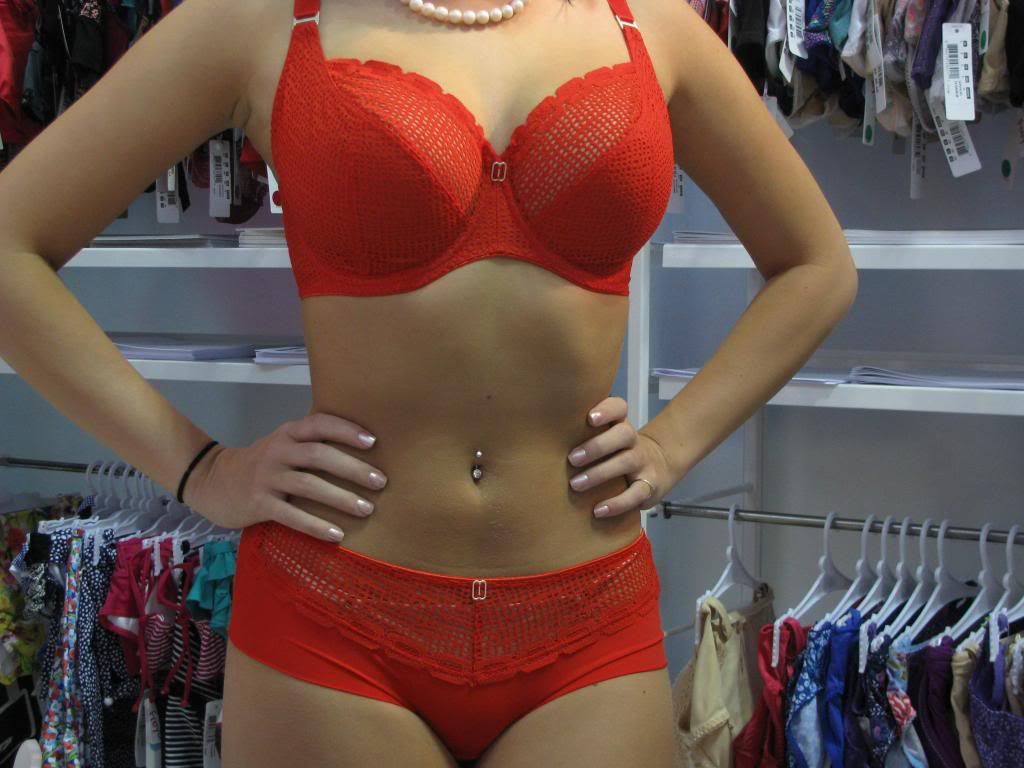 The Rio in "Crimson" (February)
The Marvel is a mystery to me, the company seems skittish about it's release and they're quick to play down the anticipation of their new style. I'm bewildered because from what I've seen of the sample size (below) and on the hanger, it looks great! I heard they're "still tinkering with the fit", but since the Marvel has a third continuity color, I think it's reasonable to be optimistic about this shape.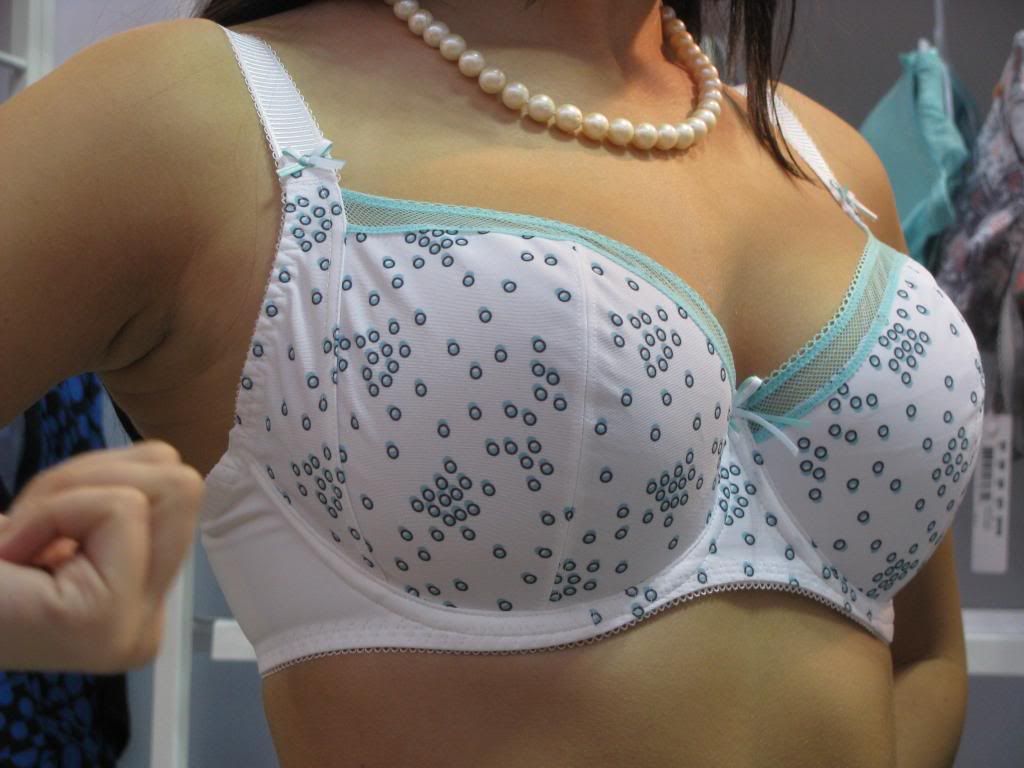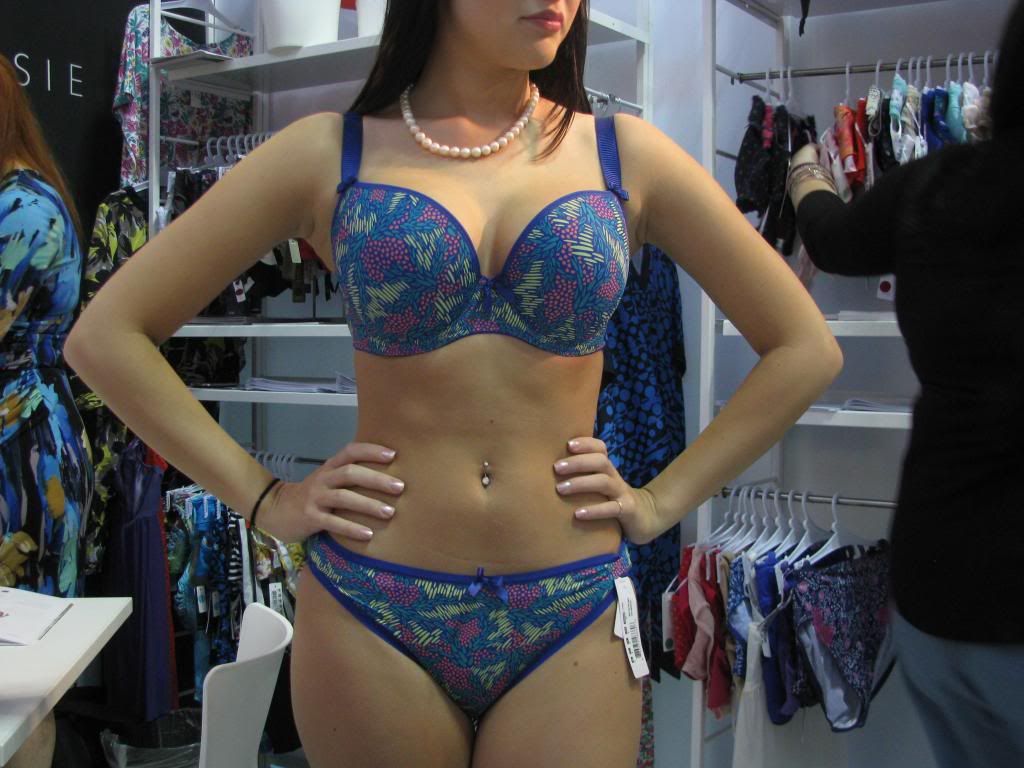 The Deco in "Lagoon" (January)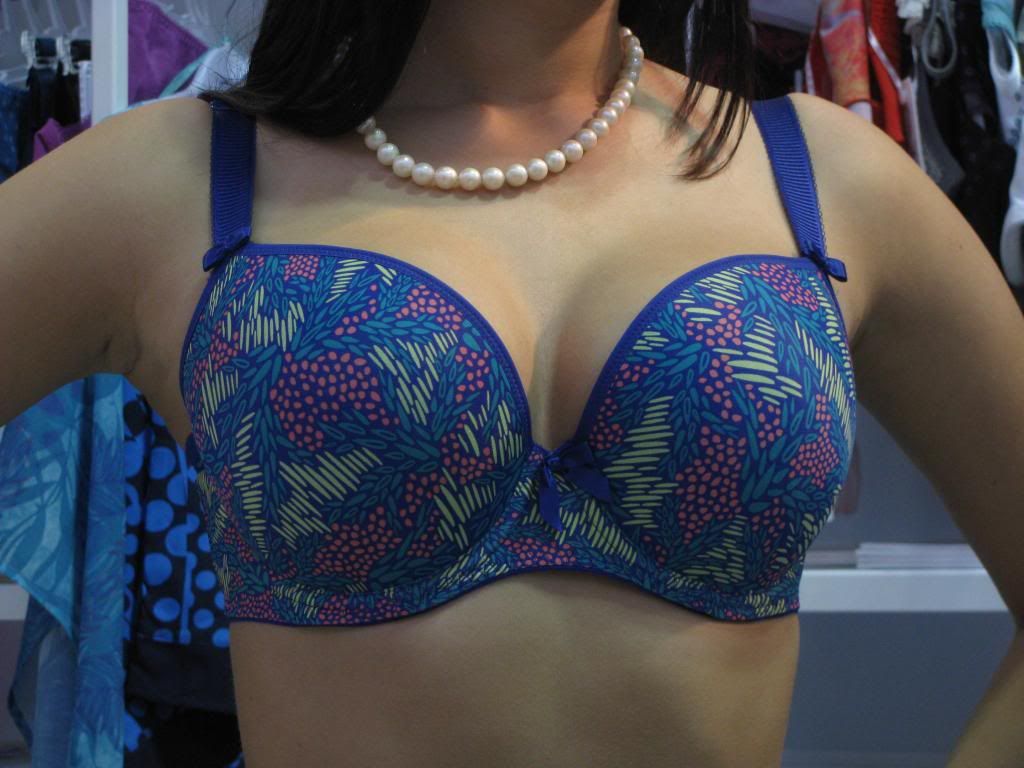 The Deco in "Cobalt" (January)
Here's where the excitement begins! I adore these next few bras. The Enchanted is a SS14 basic in white and beige and while the fit looks 'typically Freya', the catalog description boasts of "new higher underarm wires for greater coverage". Hmmmm, wonder what that means? I made sure to grab an awkward armpit shot so we could analyze. And if you'd like one from the profile side, I can put that up too. :)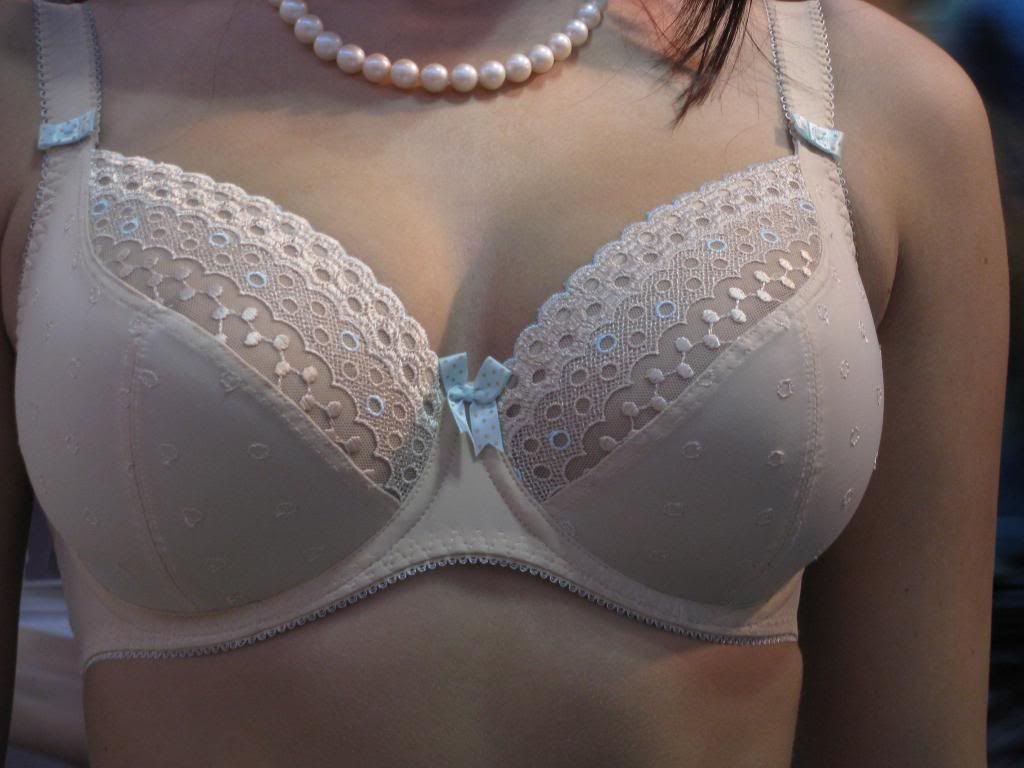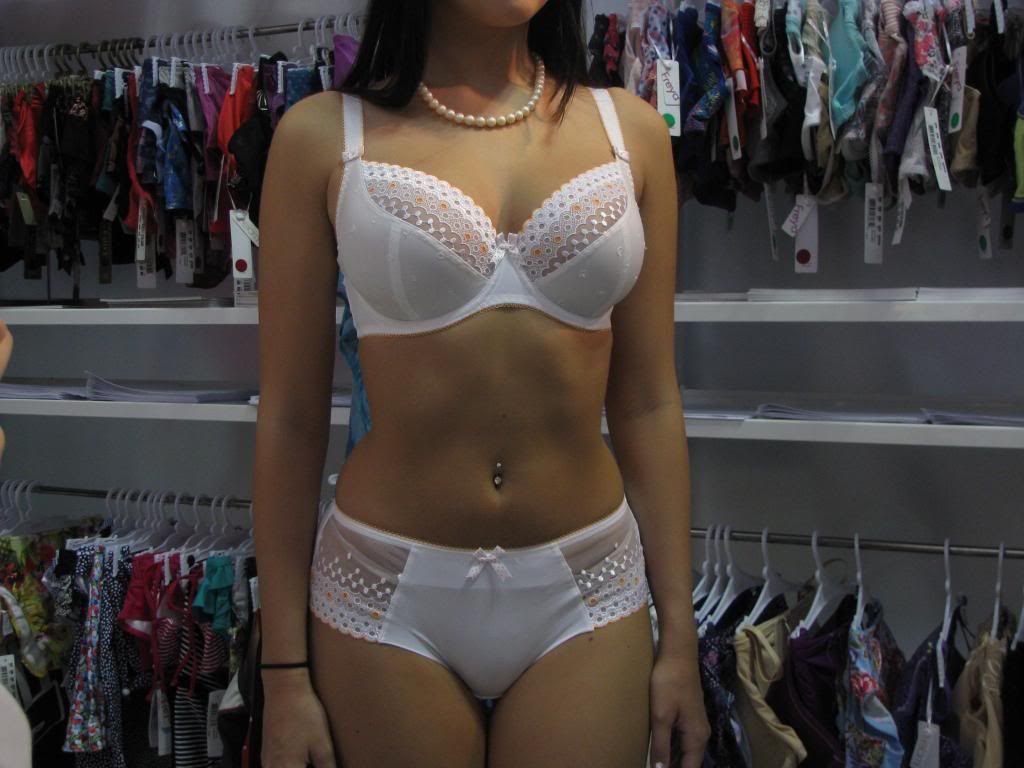 The Enchanted in "White" and beige (March)
In Spring/Summer 2014, Freya rolled out a group of funky prints and while I think some of them are downright awesome, I'm worried they will not be the easiest to see or buy online. The e-retailers who buy these will have to make sure their zoom feature works! One such print is Thimble Cottage's "Mist" -- it's little houses!!! Since full busted ladies (I include my floral loving self in this) have long cried for more interesting prints, I think Freya has done a wonderful job hearing that and responding with daring ideas. It's like a German Christmas ornament or a scene from a fairy tale in the coolest way possible.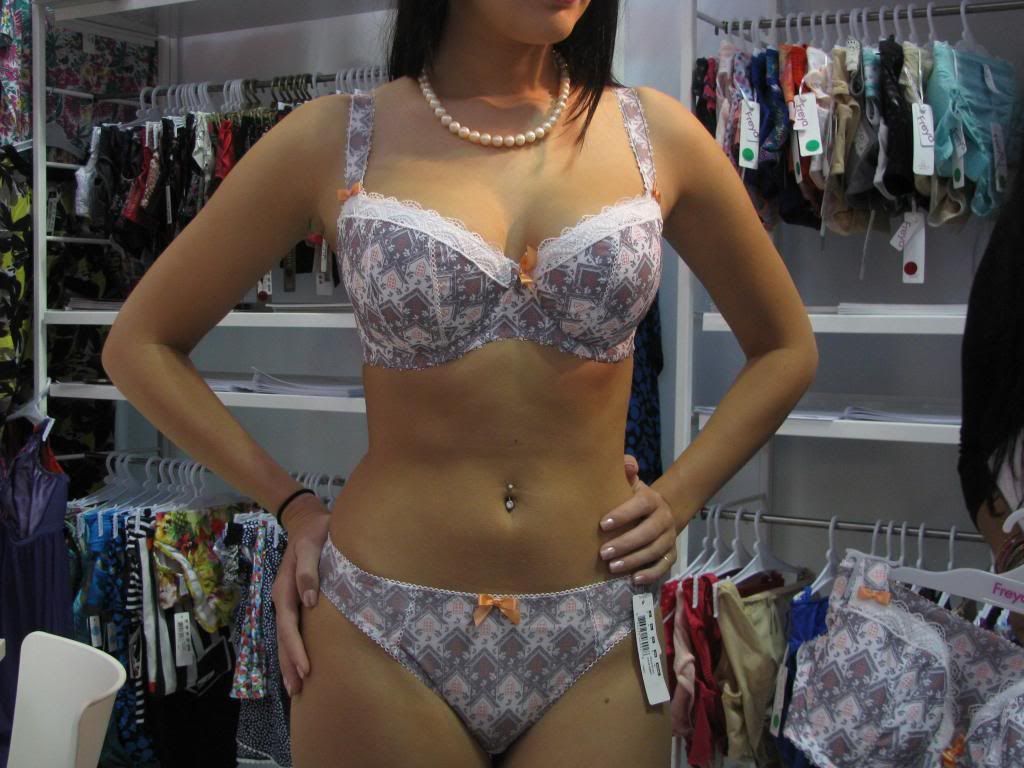 Thimble Cottage in "Mist" (April)
The Deco Delight in "Dove" (April)
I prefer the subdued look of the Deco Delight and it reminds me of a Huit line -- the Huit is Biofitul. In the future, I'd like to see Freya's designs veer a little closer to Huit's so this visual cross over was a nice surprise. One "nit picky" thing -- I wish they'd continued the white lace through out the band. Does it look slightly unfinished to you?
The Bombshell in "Chiffon" (April)
CLAM SHELLS. With stripes!!! Exceptionally well done, Freya.
The Gem in "Blackcurrant" (May)
The Flourish in "Blossom" (May)
I wasn't impressed by these two sets (the Flourish colorway above and Jungle Fever below), they felt like design missteps. The Flourish is a highly "designed" look with it's lace, scratch-and-floral print and multi-colored scheme, but it worked in Autumn/Winter 2013 because it was darker and thus, some of those elements were toned down. Since there's a higher contrast with Spring/Summer's Flourish, all the details are brought out at once and it ends up looking a bit overwhelming.
The Jungle Fever has similar potential -- the monochrome, sheer, and zebra fabric is genius, the bows are alright and the embroidery is pretty enough. Like the Flourish above, it needs a quieter touch. If the embroidery consisted of two simple stripes, instead of that complicated Aztec business, it would've improved. If the embroidery was black and the bows were white, it could've been fun. I found the zebra AND the hot pink AND the shimmering silver AND the monochrome too much for me.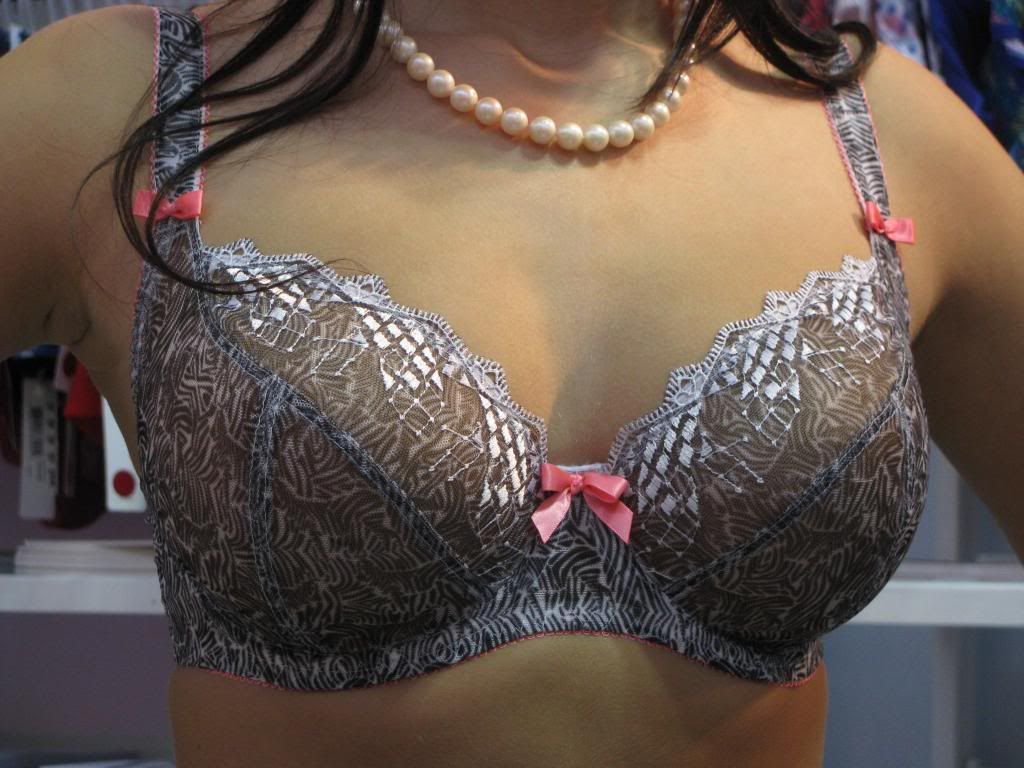 Side notes:
In the pictures above, only the sample sizes are represented so if the fit is off in these images, the bra doesn't necessarily fit badly. There are a limited number of pre-exhibition items made and while they do the best they can to match up model and measurement, sometimes it isn't perfect.
I've included the schedule for these releases, but these deliveries are never guaranteed. Factories take longer than expected, companies change their mind about their own timing and very occasionally, a line won't perform and thus, gets cut from the season.
At my meeting with Eveden, we missed the Deco Honey in "Topaz" so I haven't included it here. If you'd like, I could put up a promotional or trade image. What do you think?
Also, if you'd like more specific information about which shapes (longlines, half padded, etc.) will be available in which styles, just ask! I'd be happy to take a look.
The Marvel's beige option has changed, there won't be any circle pattern -- it'll be a solid beige throughout the cups.
What do you think of Freya's Spring/Summer 2014 collection? Would you like to see the Bombshell and Thimble Cottage half padded bras available in 28" band and G+ cups or do you feel alright with the cute new Patsies? And of course, what was your favorite???