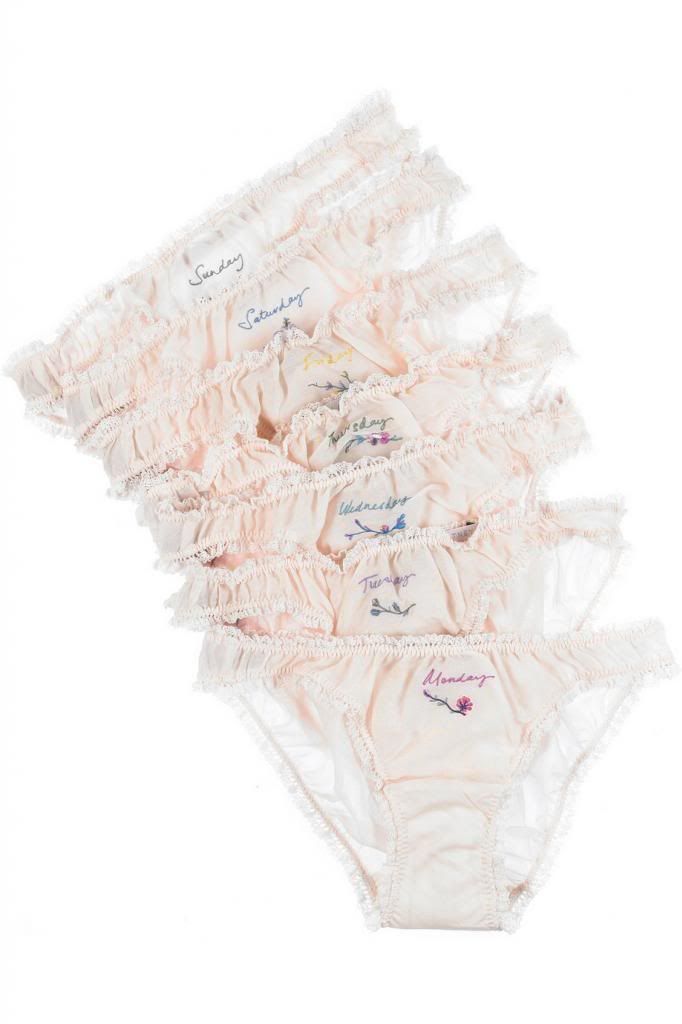 I've consciously skipped gift guides this year because I've realized 1) the pressure of the holidays make me spaz and I completely forget what my friends and family might like and 2) my friends and family ask for gifts that aren't on any traditional lists (No joke, Zack wants women's floral skinny jeans this year!?). But I know what's made my wishlist and there are a few people who'll be doing last minute holiday shopping (*cough, Mr. Floral Pants, cough*) so here are a few things I'd like to see under the tree. Day of the week underwear isn't exactly seasonal and I know that some crazy people find them silly, but Santa, let's get it on:
If day of the week underwear is cool enough for Stella McCartney, they're definitely cool enough for me. I've wanted one of her
luxurious packs
for a while and she's made multiple versions over the years with funky variations in color and embroidery (
fruit motifs
, anyone?). The delicate flowers and feminine font on these really appeal to me, especially atop the ruffle-trimmed, cheeky brief.
I saw these on
Pinterest
yesterday and for a minute I panicked, thinking that it was a one-of-a-kind vintage set. Later, after I'd put my lingerie detective hat on, I found them on Etsy -- they're hand made to order, reasonably priced, and you can choose the colors you'd like included!
This pack
fulfills so many of my pin up girl fantasies, they've skyrocketed to the top of my Christmas wishlist.
What's classier than day of the week underwear? Underwear that tells you what day it is
in French
. Never mind that my French is pathetically rusty and I might not know if I'm wearing them on the right day,
this collection
is too cute to resist. Their fun prints, combined with the handwritten type, put a big smile on my face.