In today's full bust market, it's near impossible to use floral embroidery in a way that's fresh and unexpected. The feature has been incorporated so repeatedly -- with good reason, it's beautiful! -- that it feels traditional, comfortably familiar which is exactly why
Ewa Michalak's SM Margot
stuck out to me. It's blooms are oversized in a punchy deep pink and the surrounding vines are made from green polka dots, making the entire embrodiered element look like bursting fireworks. It feels different and somehow, surpring as an Autumn/Winter arrival. Suffice it to say, I love it!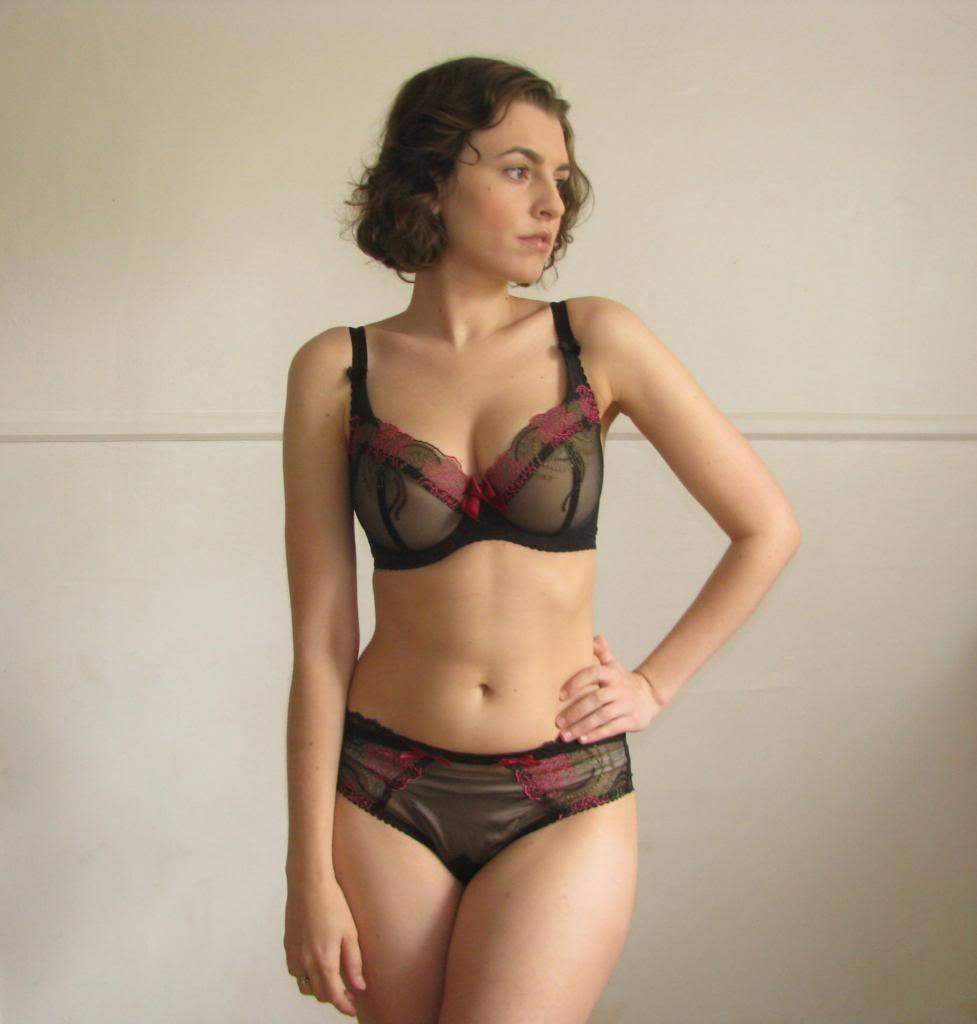 The Margot isn't just a surprise in the context of the season, it's also different from the rest of Ewa Michalak's current collection. Her latest designs have taken on a straightforwardly seductive air and crimson red, black, and smokey beige predominate, with the saucy and kitsch inspiration that we expect from the whimsical brand. I love
the corsetry-inspired Femme Fatale
and
the smouldering Aga babydoll
on the way, but they're a far cry from the Margot's popping flowers. All of this makes the Margot so much more special and even though it's an outlier, this line is one of my favorites from this season.
I also adore the way the design is balanced, that it's nether excessively sexy nor obviously feminine. The oversized bows and embroidery are flirty and fun, but the mesh black material is more enticing. For reference, I have hazel eyes, brown hair and a pale, yellow-undertoned complexion and I found the Margot's color combination very flattering, despite the fact that black often washes me out. In the photographs, the scalloped cup edging is subtler so when it's on the body, it's tremendously sophisticated and really pops!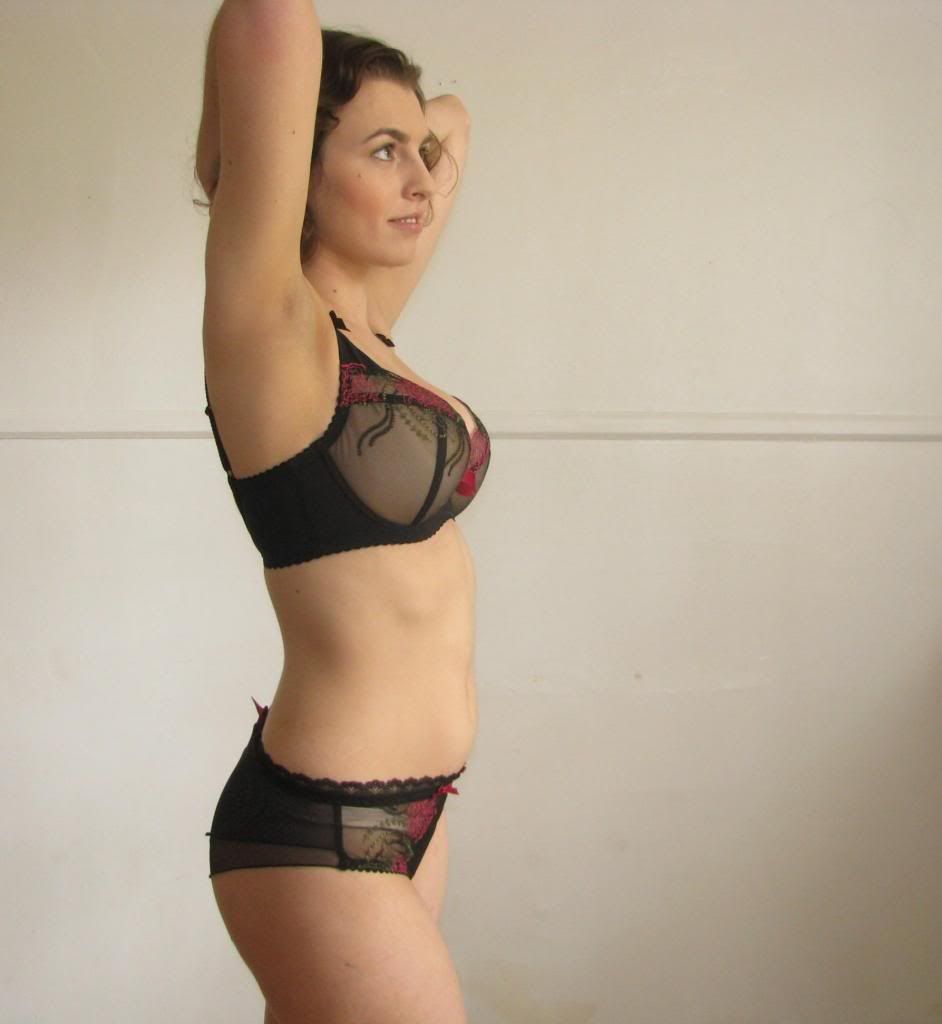 In the full bust market, the best sheer lingerie is coming out of Poland and
Ewa Michalak's SM shape
is pretty unbeatable. It's a three piece plunge with all the usual hallmarks associated with a "Polish fit" -- it boasts a perfectly rounded silhouette, narrow wire placement, and a more revealing neckline. Cleo by Panache has conquered the circular profile challenge in Britain, but the SM's cleavage effect and Ewa Michalak's embrace of sultry materials make this construction feel more "grown up" and perhaps better suited for
"the middle market".
Regarding the Margot more specifically, I felt the set was true-to-size; the band was on par with the CHP Gazeta and the cups fit like my other SM styles. I'm wearing a 65FF and a 38 brief in the photographs.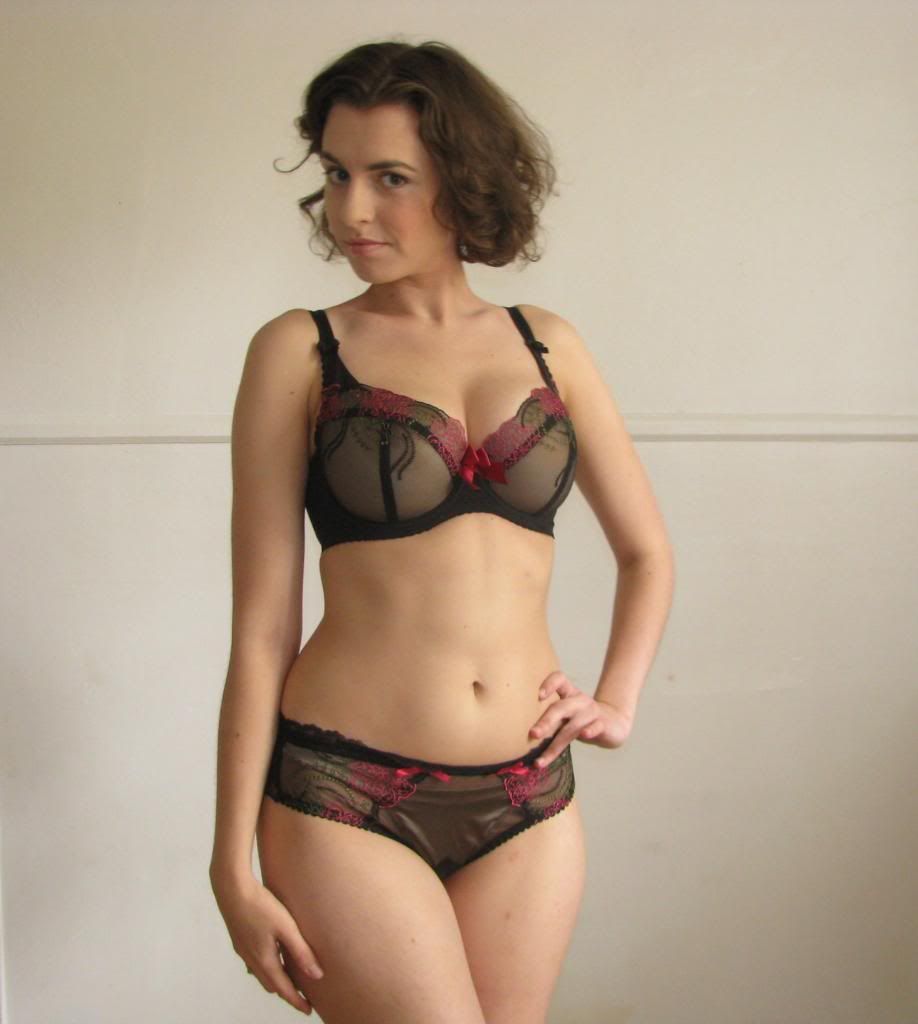 This season, I'm partnering with Ewa Michalak to provide more information about the company to their English speaking fans so I've also reviewed their two other recent debuts,
the PL Charlie
and
CHP Gazeta
. For another opinion on the Margot line, Caroline from Curvy Wordy has
a great write up
!