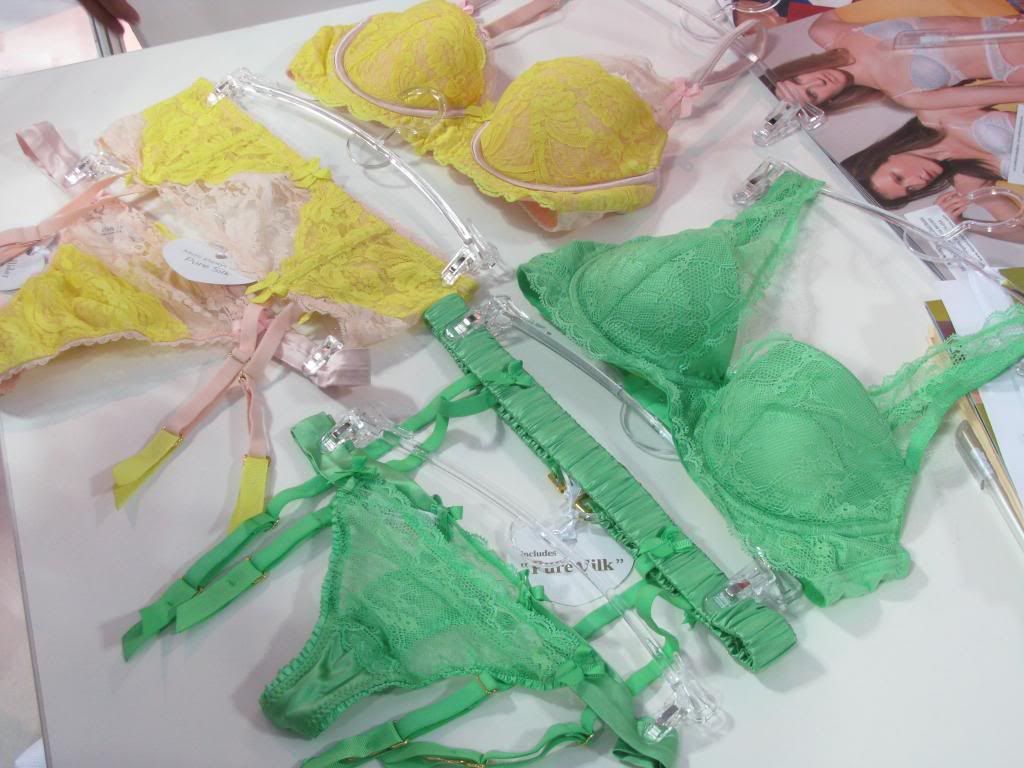 Battenburg & Apple Tart
Last August, I had my first Curve meeting with
Mimi Holliday
and alongside my sister (notetaker), my boyfriend (photographer) and two fellow bloggers, I previewed the entire Spring/Summer 2014 collection. Only two weeks later, I was in Selfridges and got to try on Mimi for the first time and let me tell you, I'm a convert! I've been wondering around ever since, muttering to myself, and wondering, "Mimi! Where have you been all my life!?". I love their irreverent use of color and the way they remix a familiar collection (the Bisou Bisou) each season. The laces are soft and luxurious and they offer a ton of my favorite things -- sheer bras! High waist panties! Silk! Polka dots...
le sigh.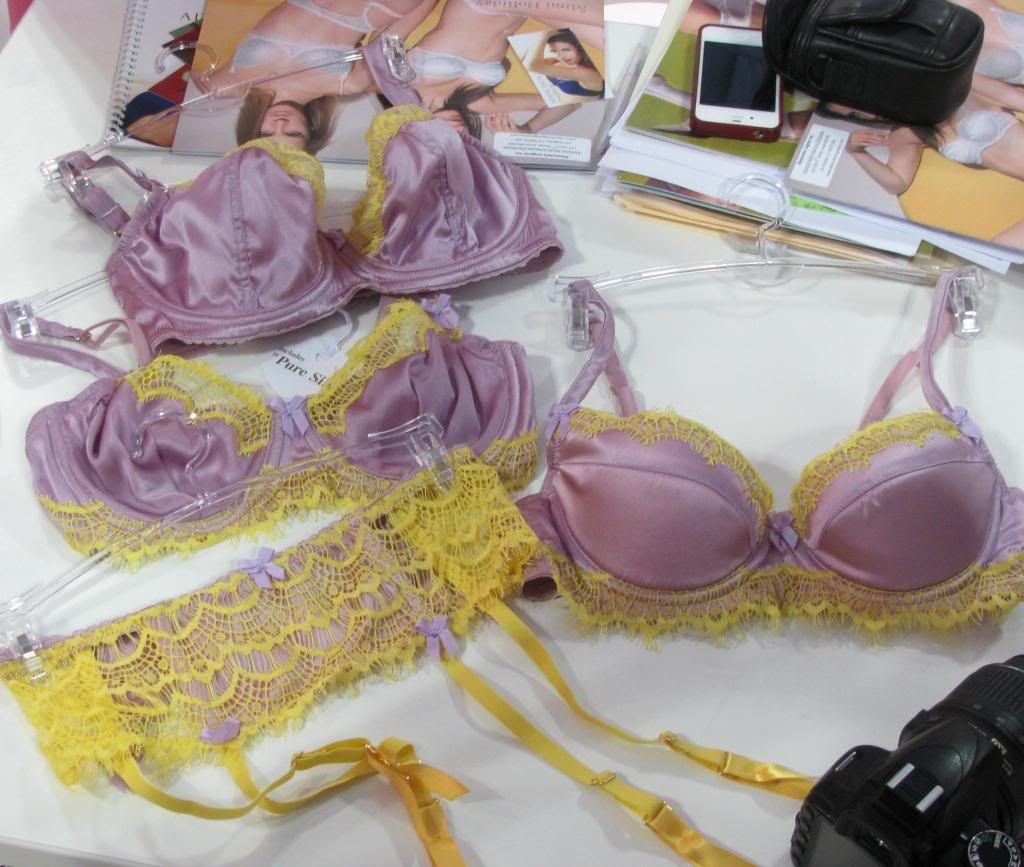 Banana Split
Mimi Holliday makes several constructions that reach FF cups, including their comfort, shoulder, padded super plunge, and super plunge shoulder styles. Currently, their soft maxi is the brand's go-to for FF+ cups and for a company that doesn't specialize in full bust lingerie, it has a generous size range! The maxi bra is available in sizes 28FF-GG, 30 FF-GG, 32E-GG, 34E-GG, 36E-FF, 38DD-F, and 40D-E. I was impressed by the wide selection of this construction too -- seven lines out of the total 15 offer a maxi.
While it was the fan favorite among the ladies I was sitting with, I wasn't crazy about the Banana Split when I first saw it. The design has grown on me since then, but it's still not one I'm bowled over by. It's seems like the most controversial piece of their season, what do you think of the bright yellow and lavender?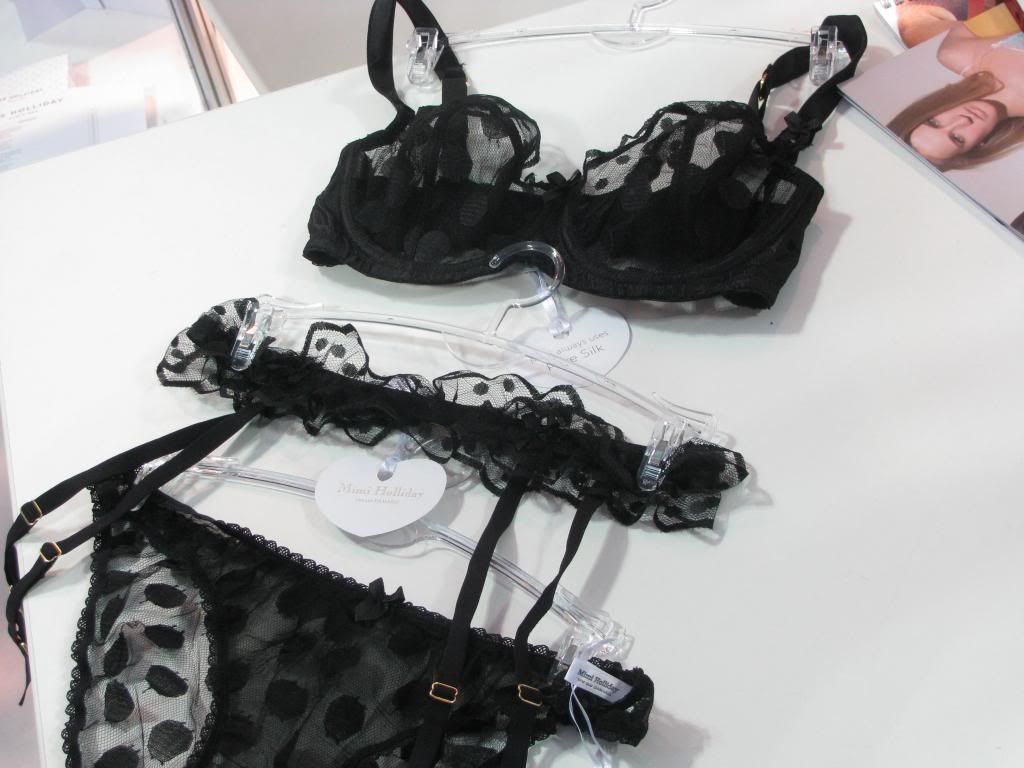 Knickerockerglory
Ohhhhh, the Knickerockerglory! For Autumn/Winter 2013, Mimi Holliday produced two interesting polka dot styles --
the Dotty Nuit
and
Dotty L'Amour
-- but neither one incorporated a bra in my size so I was psyched when I saw this one would. I love sheer patterned fabrics that are all one color and the fact that it mixes ditsy and oversized dots feels very fresh. In my most recent post,
The Middle Market and Why Freya Should Join It
, I made a collage with examples of the sheer lingerie I think is in keeping with my taste/fit preferences/age, etc. and it included several tone-on-tone bras like the Knickerockerglory.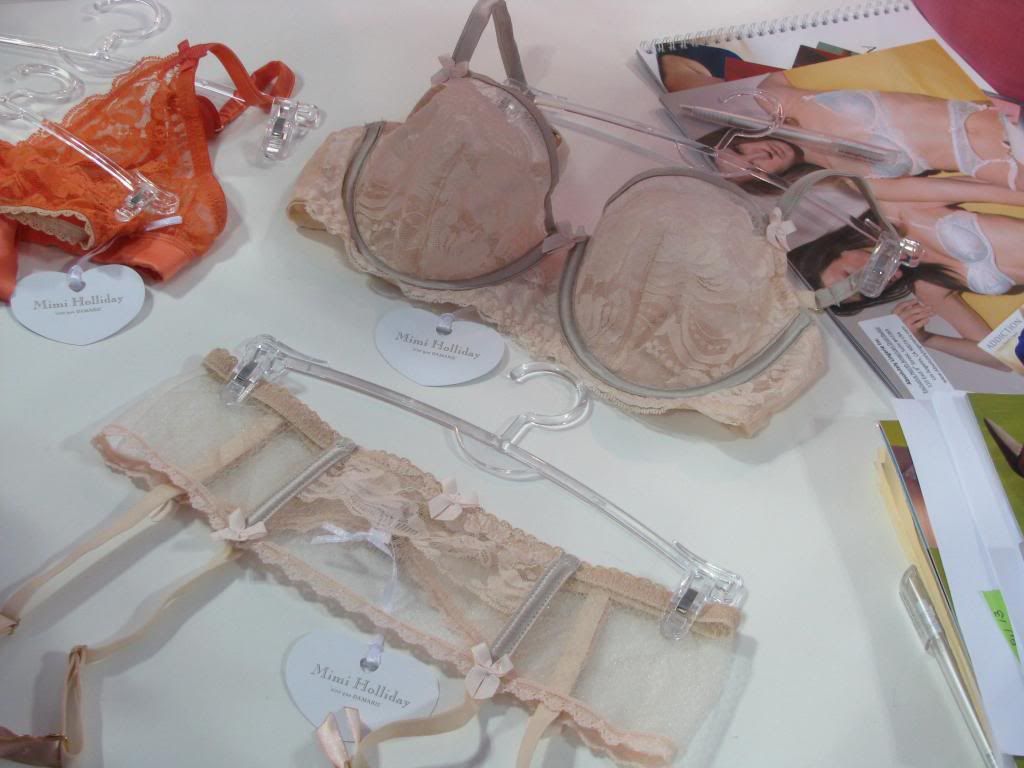 Sticky Toffee Pudding
The Sticky Toffee Pudding embodies two huge trends from Curve with it's light pinks and peaches, which were rampant, and soft dove grey accents. I love that Mimi Holliday balances their use of bright colors with muted ones, it really feels like there's something for everyone, but the collection is still neatly unified under one vision.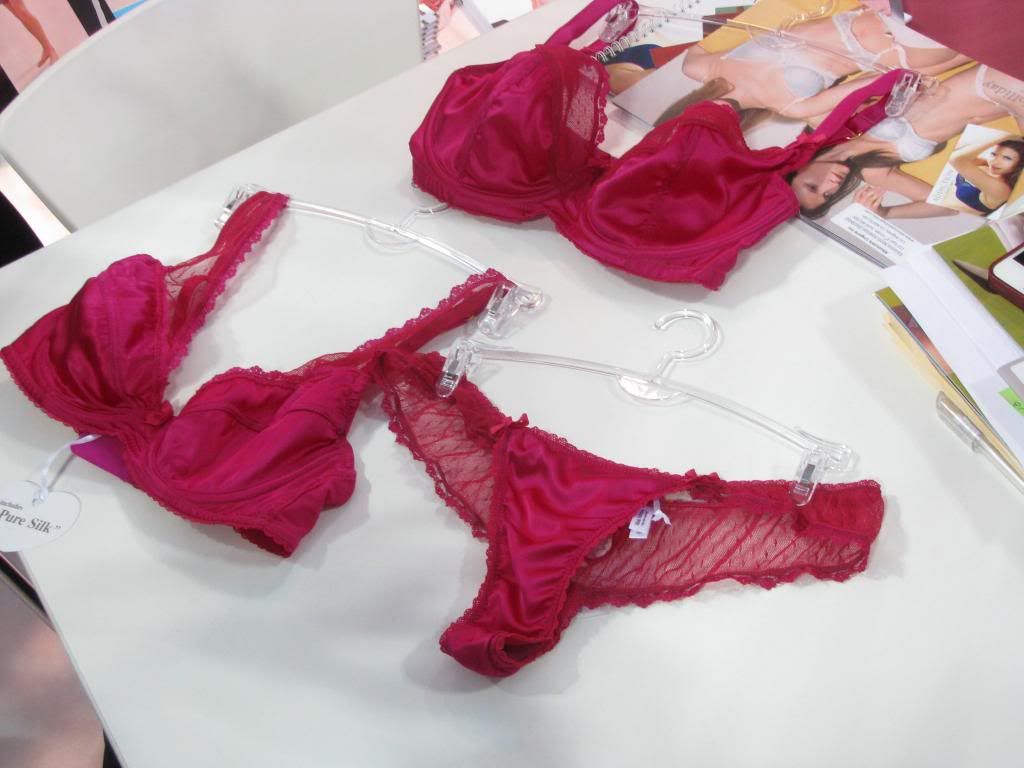 Raspberry Ripple
I was instantly smitten with the Raspberry Ripple because it's a more sophisticated fuschia than the hot pinks I saw elsewhere and it's one of those shades that flatters my skin and hair. I also imagine it would compliment a range of complexions, what say you?
Above: Raspberry Ripple & Brandy Snap
Below: Meringue & Sticky Toffee Pudding
I grouped these maxis together because online, the shape looks as if it gives a ton of coverage, but when you see them up close, they're just as delicate as Mimi Holliday's other designs. I also have to apologize, we somehow left our meeting without grabbing a proper photograph of the Meringue. It's the maxi on the bottom left and up close, the design deftly combines stark white satin and dramatic eyelash lace.
Bisou Bisou Strawberry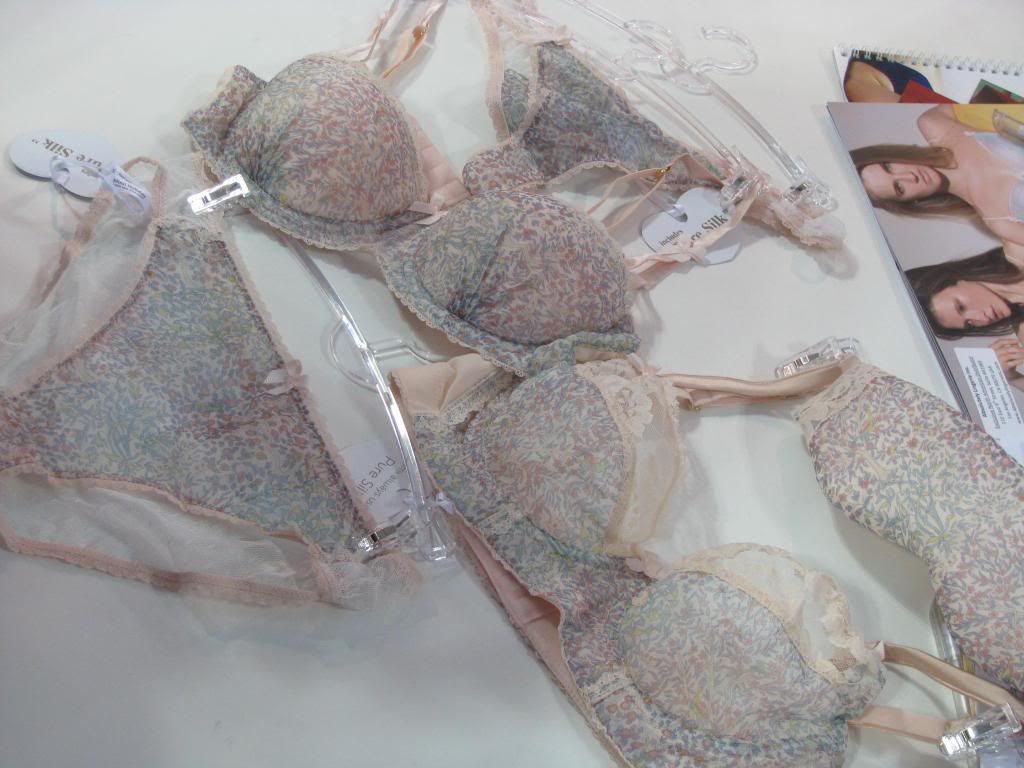 Blueberry Muffin
I had my back turned when the Mimi Holliday representative pulled the Blueberry Muffin out and someone said, "Cecily, you're going to love this!" and then I turned around and let out an embarrassingly audible gasp... people were staring, but I didn't care. Our pictures don't do it justice -- the 1940s-style Liberty print contains the sweetest, most feminine arrangement of branches, vines, and flowers. There are so,
so
many beautiful things at Curve, but after each show, there's always one design that sticks with me and I can't shake it. Last season, it was the red Empreinte Ludmila and for Spring/Summer 2014, the Mimi Holliday Blueberry Muffin stole my heart.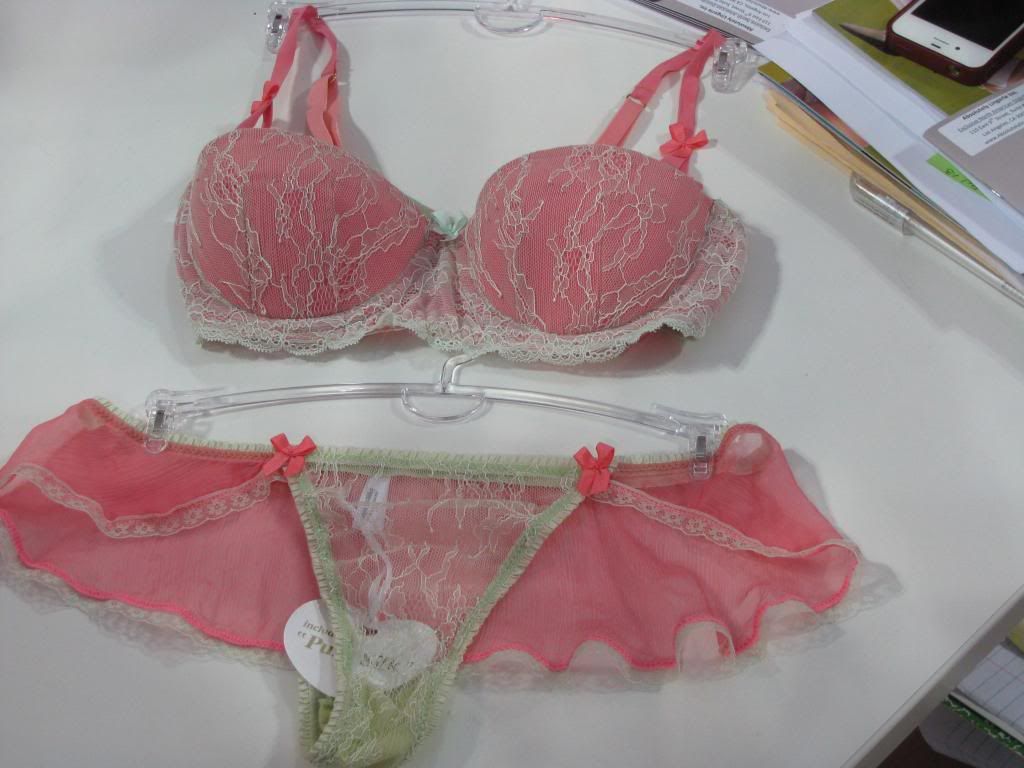 Kiwi Pavlova
Brandy Snap
I feel a bit burned out by all the brights from this summer and I'm not usually a fan of orange, but the contrasting lace in the band and cup captured my interest. That's the magic part of Mimi Holliday --- the brand manages to win me over with their designs, despite what my preconceived notions are of what I like or not, and it's that surprise that has me really, really excited about their presence in the full bust market.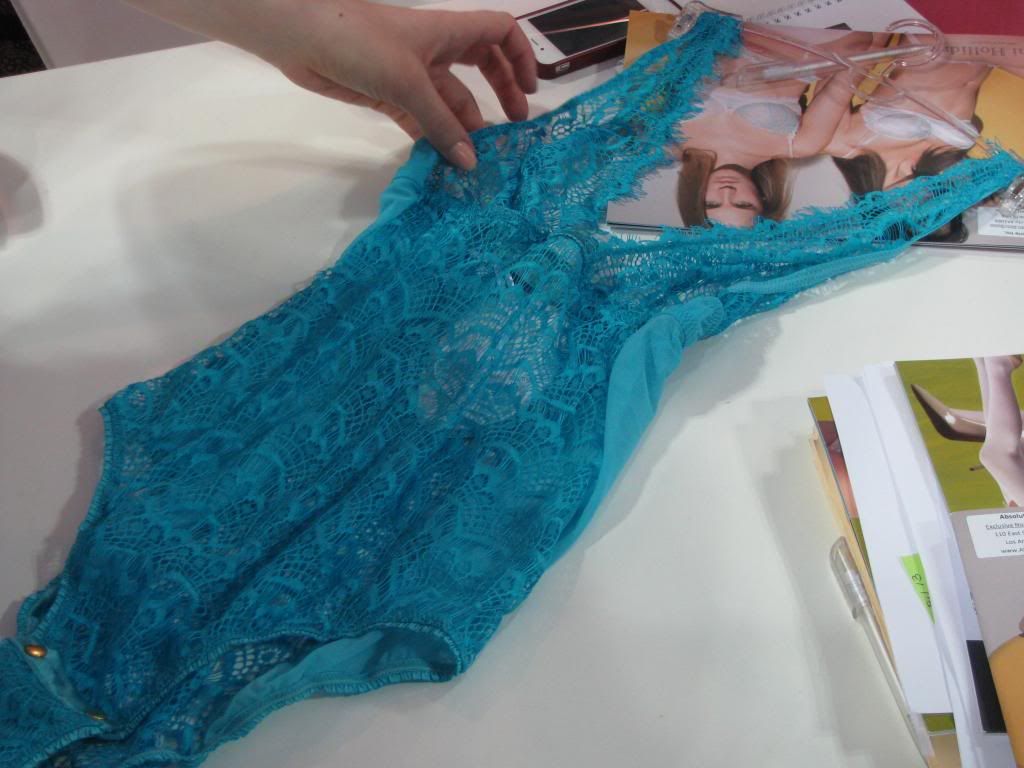 Bisou Bisou Goosberry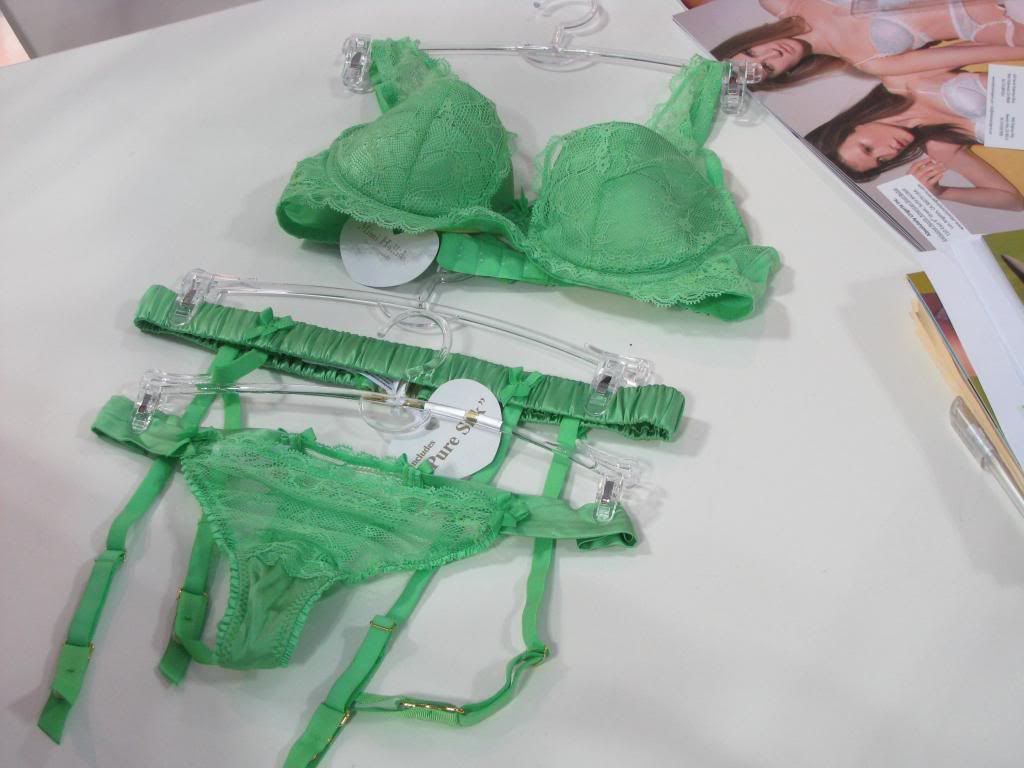 Apple Tart
Mimi Holliday is a popular choice among American brick and mortar stockists, but I've noticed they rarely carry a complete size range so if anyone knows of retailers who do, please let me know! Like most of the brands in the "middle market", Mimi Holliday's lingerie costs slightly more than bigger names like Panache or Freya. On their website, an individual bra retails for anywhere between £54/$87.30 and £57/$92.15 US, bottoms £37/$59.82 - £46/$74.37 and garters £32/$51.73 - £46/$74.37. International shipping to all countries costs £12/$19.40 (except Australia where the fees are £32/$55.15 AUD) and the website holds a semi-annual sale before they launch the next season so rest assured, there are chances to grab a Mimi set if you're on a tight budget.
**I'm so sorry! Zack and I missed our chance to photograph two other lines from this season: Banoffee Pie (a muted pale pink and blue similar to the Sticky Toffee Pudding) and Jam Roly Poly (a second Liberty art print, with brighter tones).
**The Banana Split, Sticky Toffee Pudding, Bisou Bisou Strawberry, Knickerockerglory, Brandy Snap, Raspberry Ripple, and Meringue are the seven lines with a maxi bra.
Well, it's safe to say I'm absolutely smitten with Mimi Holliday!
What do you think of their Spring/Summer 2014 collection?