All Undone's Mai Body
Sleek, modern, and understated aren't words commonly used to describe full bust lingerie. If they are mentioned, it's typically comparative, as in sleek, modern and understated compared to the bright florals, embroidery, profusion of laces, polka dots and bows that dominant the design landscape. All Undone, the new brand from Eva Phillips, aims to change that and while it may not be "edgy" to the rest of the world, it's downright revolutionary for this niche industry.
Beyond the aesthetic of the label, the first collection is also a streamlined departure from the traditional DD+ debut. There are three lines -- the Mai, Didi, and Lola -- which will consist of the same five pieces: balconette bra, suspender, thong, brief, and body. The sets will be out first, in the middle of this month and the bodies will be out later, in early 2014. Like Sunday Intimates in the U.S., All Undone captures the smaller end of full bust bands, offering 28" - 34" backs while the cups are thinly padded three piece constructions, available from DD to GG.
The Mai
Since there are three variations on one theme, Eva told me she made sure to design each with a particular mood or function in mind, explaining that
the Mai
is more of a weekday option and is suitable under any clothing. This line is named after and inspired by Eva's Swedish grandmother who she described as "pure","wholesome" and the type of person who wanted to make sure everyone else was alright.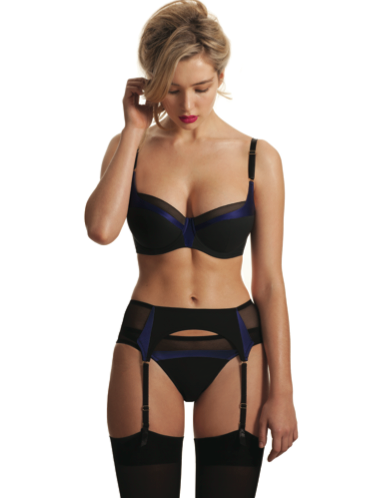 The Didi
The Didi
is best for nights out, as well as moments when you'd like to telegraph a sassier side and let your lingerie peek out. The strong blue silk trim was difficult to replicate since Eva was looking for the exact hue of a 1930s nightie she'd worn out, which had belonged to her other grandmother --- an English dame, society lady and great lover of gin and tonics, who the line is named for.
The Lola
The Lola
, the seasonal colorway for Autumn/Winter 2013, uses French Leaver's lace and coral silk to provide a foxier and more fashionable option. Within the clean and graphic lines of the All Undone vision, the references to current trends feels contemporary and subtle.
Side notes:
-The entire collection will be available online and All Undone has confirmed stockists in the U.K. and Australia. Bras retail for £79 ($122 U.S.), suspenders for £46 ($71), briefs for £42 ($65), thongs for £38.50 ($60), and bodies between £132 -£140 (roughly $205 - $217).
-The price point reflects Eva's commitment to quality material: the silk, lace and hardware are purchased from superior producers in England and the Continent. Instead of outsourcing her manufacturing to ethically unreliable Southeast Asia or China, All Undone is made in Britain where it is guaranteed to provide a sustainable wage, humane work conditions and stimulate the local economy.
-I first found about All Undone through
a post on Invest in Your Chest
and if you're curious, there are
Autumn/Winter 2013
and
Spring/Summer 2014
(AHHH, THE YELLOW ONE!!) previews up on Lingerie Insight.
I'm tremendously excited to see All Undone premiere because, while I'd never describe my personal style as "streamlined", I feel as if I've been waiting for this brand for a long time. I'll never give up my flowered, bow ornamented and wildly embroidered concoctions, but these architectural designs feel very, very cool and completely unlike anything I've ever seen in my size.
What do you think of this androgynous, striking collection?