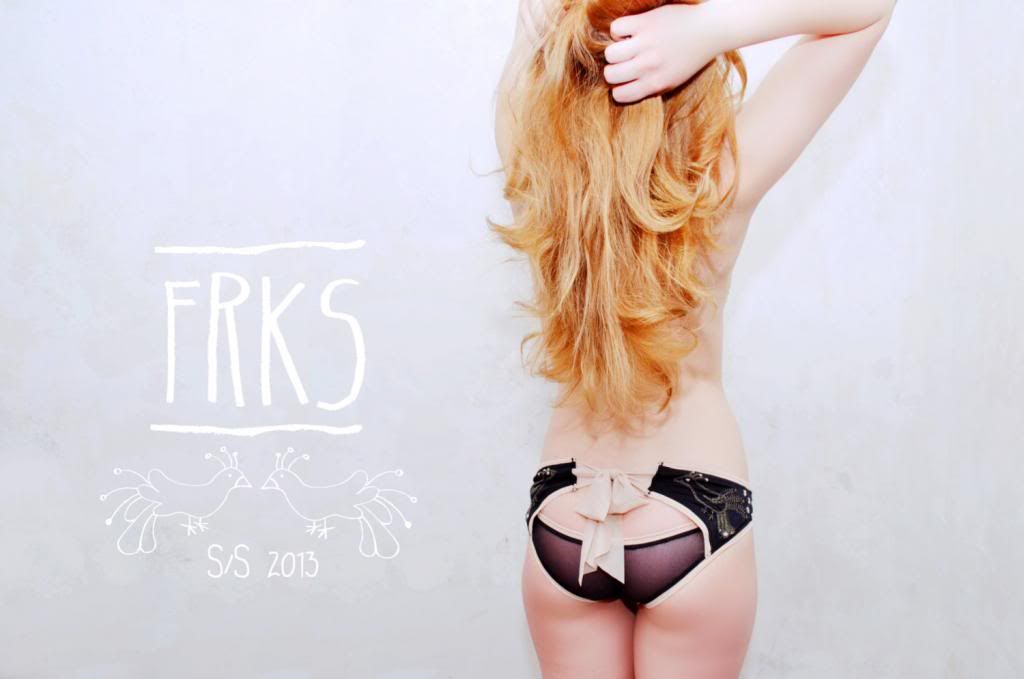 I stumbled upon this Hungarian Etsy shop through one of my favorite lingerie blogs,
Scarlet's Letter
, and I haven't been able to look away since.
FRKS Lingerie
combines folkloric embroidery and ouvert panty details to create wildly original, delightful, and energetic designs. Sure, these panties are sexy but they also seemed to have danced out of some bizarre dreamscape where underwear can cast spells and explodes into technicolor fires on your butt.
Back
It's not a party until someone flashes their sheer paneled, peacock embroidered, tasseled purple/turquoise/lime colored panties.
Am I right!?
Because they're often made from black sheer, mesh or lace, ouvert panties often look unappealingly clichéd. I like sexually enticing lingerie, but I prefer designs which are less crudely obvious. Enter FRKS Lingerie's Flowers II panty which flips all those stereotypes around with it's wholesome white base, charming floral embroidery, and sweetly sassy ruffles. This isn't the Evil Stepmother's ouvert panty choice, it's what Snow White and Cinderella hide in the back of their drawers (C'mon, homegirls have to be prepared for anything!).
Not ready to dive into full bum barring mode? The Neon Birds would be a great set of training wheels, as the keyhole is big enough to show off some crack, but it's accompanied by a comfortable amount of coverage.
If you aren't keen on this color combination (which I am!), FRKS Lingerie offers the possibility of choosing colors from other designs or contacting the designer, Zsófia Farkas, to discuss a custom order.
This is the panty that started my hysterical love for FRKS Lingerie; I've never seen anything like it and like all genius designs, it feels as if I've been unconsciously dreaming of it my entire lingerie-wearing life.