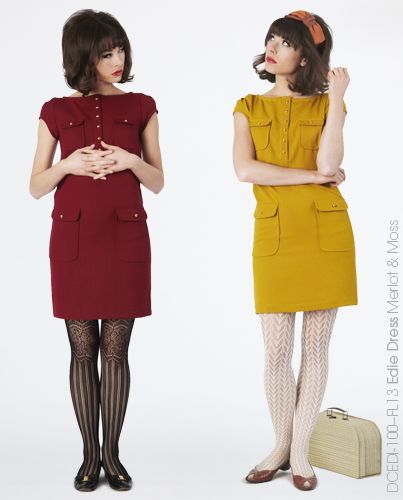 Dear Creatures Edie Dress in Merlot & Moss, $99
Dear Creatures
is one of those brands Zooey Deschanel has championed and anything Zooey likes I usually do too. I've never had the chance to try them and I've always stayed cautiously optimistic about my potential success with the brand. They've released several babydoll styles and their voluminous or runs-large-at-the-waist dresses are two of my shopping warning signs. But then, I saw
this
-- this ridiculously cool, Moonrise Kingdom-ish Autumn/Winter 2013 collection and I realized,
I WANT IT ALL NOW.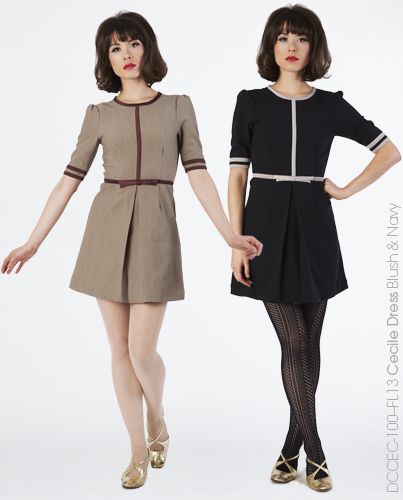 Dear Creatures Cecile Dress in Blush & Navy
The contrasting, architectural lines on the Cecile are simple, but unquestionably sophisticated and the way they change slightly -- doubled on the sleeve, a bow at the waist -- enliven the muted or neutral tones. I love the princess seams and pleated skirt too. (P.s. I know this dress isn't named after me, but can we all pretend?)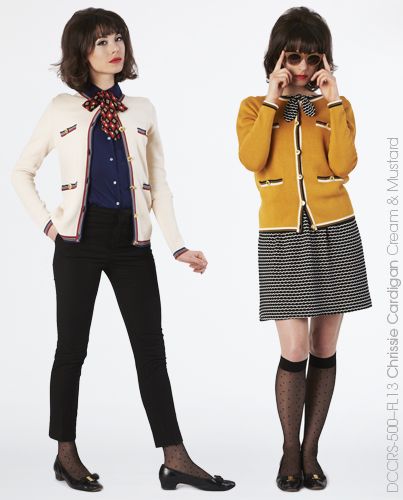 Chrissie Cardigan in Cream & Mustard, $85
I want everything on the left -- the preppy grandpa cardigan, the chic black pants, the Salvatore Ferragamo shoes, the brilliantly styled hosiery and most especially, the ability to pull off blunt bangs.
How charming is the Elizabeth dress!? I'm obsessed with it's scalloped details, those two colors are my all time favorites and like the Cecile dress, I bet the princess seams and bow belt are super flattering.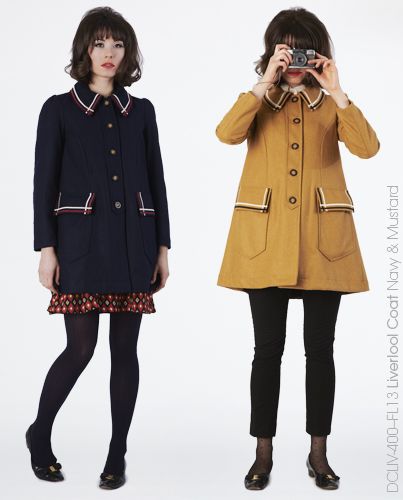 Liverpool Coat in Navy & Mustard
It's probably the most unflattering shape for full bust women and I couldn't care less -- the Liverpool's big collar and oversized pockets are irresistible.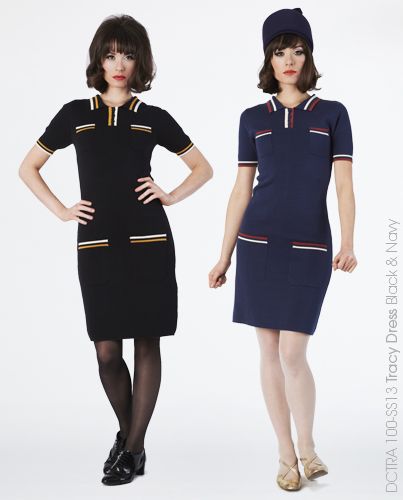 Tracy Dress in Black & Navy
I love how the Dear Creatures designers add contrast with clean lines and unusual color juxtapositions. This collection isn't loud or overstated, although the pieces contain a lively eccentricity and mischievously play with scale.
Equestrian Sweater in Mustard & Merlot, Addie Skirt in Merlot & Navy
Every item in this collection pays respectful homage to French New Wave and midcentury mod design, but I think Dear Creatures reinvents the era with an exciting, classy contemporary vision. Look at the damn horse. Genius.
Size range: XS-L, but Modcloth has some styles up to a 4X.
Dear Creatures make my eyeballs ooze happiness, do you like their A/W 13 collection?