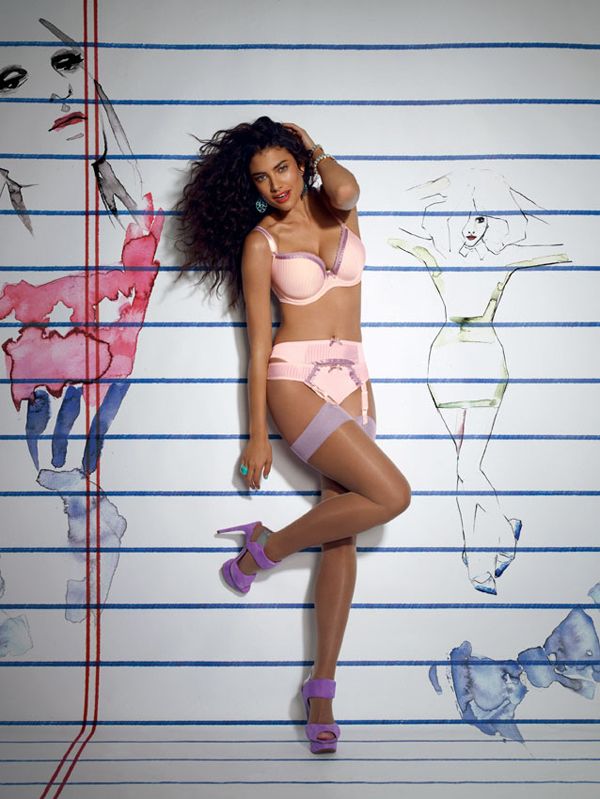 Freya Look Book Spring/Summer 2013
The youthful side of the full bust market is becoming overcrowded and if that is a threat to any brand it's Freya, the longstanding champion in this arena. The brand hasn't been sinking as much as it's been coasting on previous successes, like the Deco and Patsy, which wouldn't be obvious if they were churning out original, interesting designs alongside their staples. But compared to their fresh faced opponents, Freya's non-Deco, non-Patsy side fades into a middling group of just
okay
lines. While other brands have increased or maintained a wide size range -- making it standard practice to include G+ cups and 28" bands -- Freya is reluctant to do either. I'm sure their current approach might be a success, I'm not convinced it's sustainable in the long run.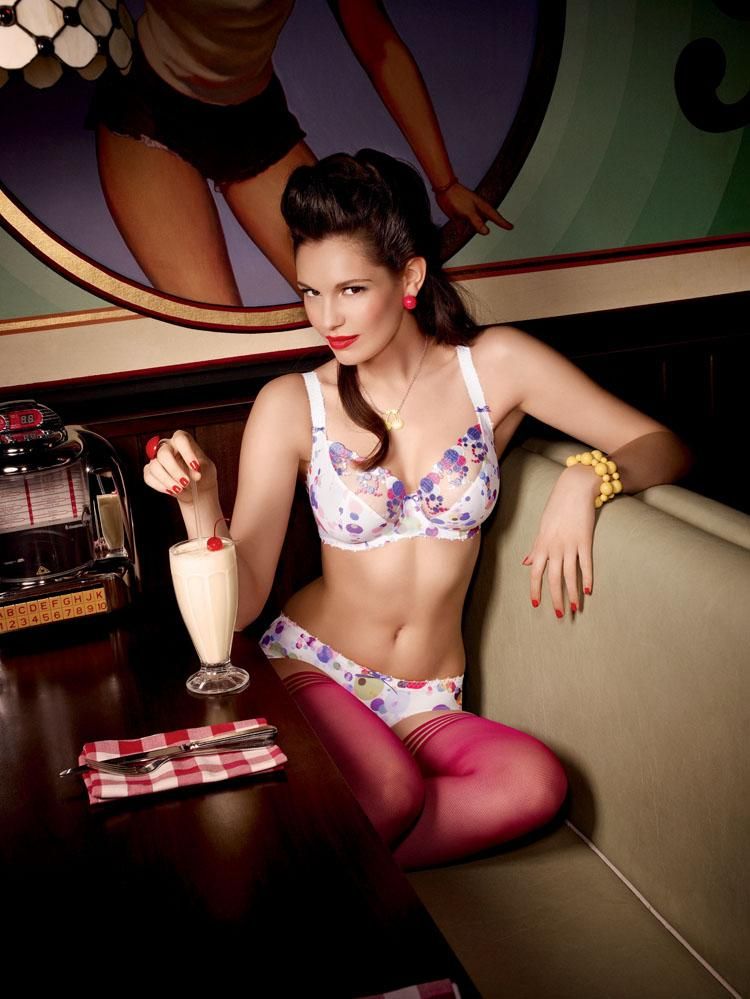 Freya Look Book Spring/Summer 2010
For a very long time, Freya was the brand women turned to for bright colors, eccentric prints, and playfully sexy styles. In a moment of extreme brilliance, they unleashed the Deco and every full bust brand has scrambled to copy it. With that trump card in their pocket and season after season of free spirited designs, Freya has been unstoppable...until now.
The market for "young at heart"lingerie has welcomed many new players in the last few years and they're fresher, bolder and sometimes, less expensive than what Freya's offering.
Shall we take a look at the competition?
Cleo Look Book Fall/Winter 2012
Cleo
is the most obvious rival and while Panache has been unsteady on it's feet lately, Cleo has become increasingly courageous. They're pouring money into their moulded Neve plunge and Maddie balconette with confidence, their Spring/Summer 2014 swimwear is absolutely fearless and the bestselling Marcie will have a babydoll. In their current and upcoming seasons, the lines have swayed more dramatically towards the youthful, energetic direction (neon animal prints, ditsy polka dots, and colors you'd find in the juice isle) and they show no signs of slowing down.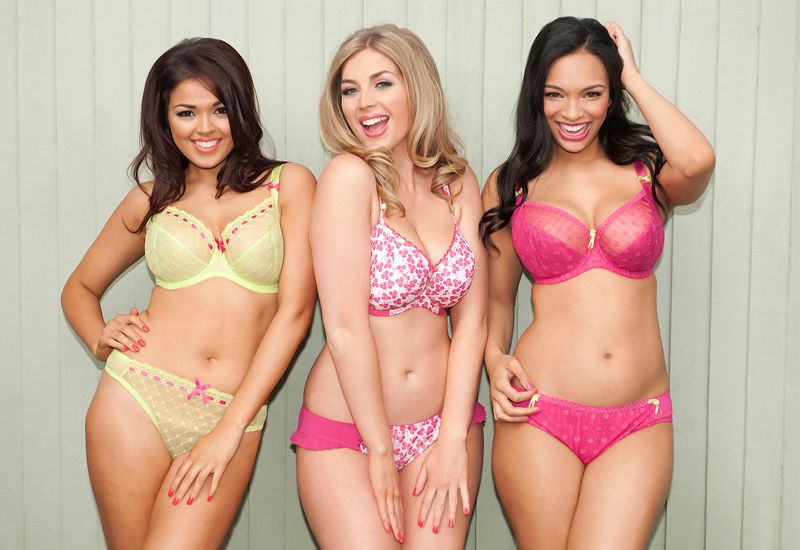 Curvy Kate Look Book Spring/Summer 2014
When I first began blogging,
Curvy Kate
was a brand you could only find on Bra Stop and two years later, they're
everywhere
. Boutiques and major e-commerce retailers seem equally enthused to carry their products and the "Star In A Bra" model search was an incredible marketing idea which gave them a friendly, down to earth reputation and won them loyal fans. Soon, they'll introduce their own babydoll, padded longline (a shape Freya popularized!) and across the board, their designs suggest a carefree happiness.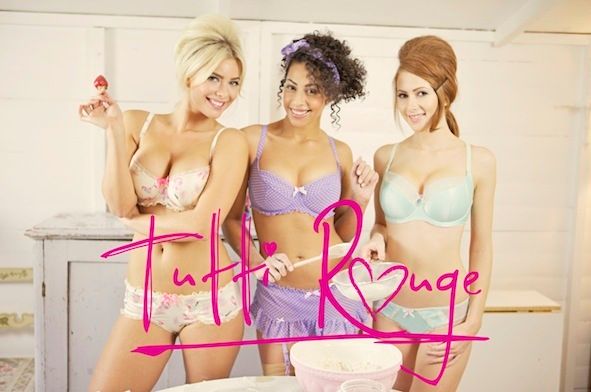 Tutti Rouge Look Book Spring/Summer 2013
Tutti Rouge
debuted this year and I feel very confident in their future. Like Curvy Kate, they have a friendly online presence, they reacted quickly and publicly to fit issues, and are eager to offer their customers an inclusive size range. Like Cleo, they're committed to providing their customers with an affordable product (which pleases women of any age!). There's always been a sweet, frilly or girly vein in the youth market but brilliantly, the brand took that whisper and blew it up into a jubilant and celebratory shout.
Bravissimo
has made a serviceable product for awhile but it hasn't been until recently that they've fully explored what their in-house lingerie could do. The Alana is a cult favorite, they've experimented with a strapless bra up to a J cup, and their seasonal fashion group has grown considerably. Currently, the website offered 22 options for 28" bands and they still sell cool exclusive collaborations with Curvy Kate and Cleo.
These four brands are simply the ones most widely available, many commercial brands on the outskirts (Gorgeous from Debenhams, Just Peachy and Midnight Grace from Figleaves, Boux Avenue) put out products in the same neighborhood and while the fit might not be stellar, they're inexpensive and/or more accessible. To say nothing of brightly lit and funky Claudette, Parfait and Miss Mandalay!
During my London meeting with Eveden, I presented this argument and while I obviously believe it's credible, it also reflects many of the comments on the
Curve NY: Freya Spring/Summer 2014
post:
"I have to say, I'm not generally impressed by Freya anymore. As I've said incessantly, I used to love, love, love the brand. But now it all looks same-y and dated." -- K.Line
"Same here. I'm not into any of these. I have one style from Freya (the Jolie) which they have discontinued...Sigh. It would be nice to be tempted by more from Freya, but the brand is just not doing it for me." -- Allison
"I'm sad to say I'm pretty disappointed. I'm disappointed in the size range, but also the designs. There is some pretty stuff here, but not one single design that screams to me that I must have it." -- By Baby's Rules
"I think Freya has almost sort of passed its prime as a G+ brand. I still think their swimwear line is the most progressive G+ brand that exists, but their bras just don't deliver." -- Bras I Hate
"Sucks about the 28" bands. I guess we can only hope that the other brands jumping on the much awaited 28" bandwagon will have a lot of success and that Freya will take notice and rectify this mistake they made." -- All the Pretty Dramas
Coming up later this week: I think there's an easy solution to Freya's current or future challenges...