For nearly two weeks, I've been traveling through the U.K. to meet with full bust brands and designers and I have
a lot
to say and share here. However, I'm going to begin with one of my favorite experiences from the trip: spontaneously meeting Jessica Prebble, the creative director and designer behind Tutti Rouge and catching sight of her Spring/Summer 2014 collection. Next year, the company has several exciting things planned: a major size extension, an updated fit for a classic staple, a sixth new shape, and a printed fabric which is very close to Ms. Prebble's heart. Curious yet...?
Up until this point, Tutti Rouge has offered five shapes:
-padded plunge
-half padded plunge
-padded balconette
-half padded balconette
-three part cut and sew bra entitled the "non padded bra"
For Spring/Summer 2014, that all changes with the arrival of
the Fifi
, a non padded balconette and sixth shape option. The line will include the bra and a mini brief option, in two fresh colorways, apple green and créme. I couldn't be more excited! Sheer + polka dots + flirty colors + a ruffle underbust and most importantly, a vertical seam balconette shape!? I'm in lingerie heaven and
this is the type of bra I've been requesting for a while
. Yayyy!!!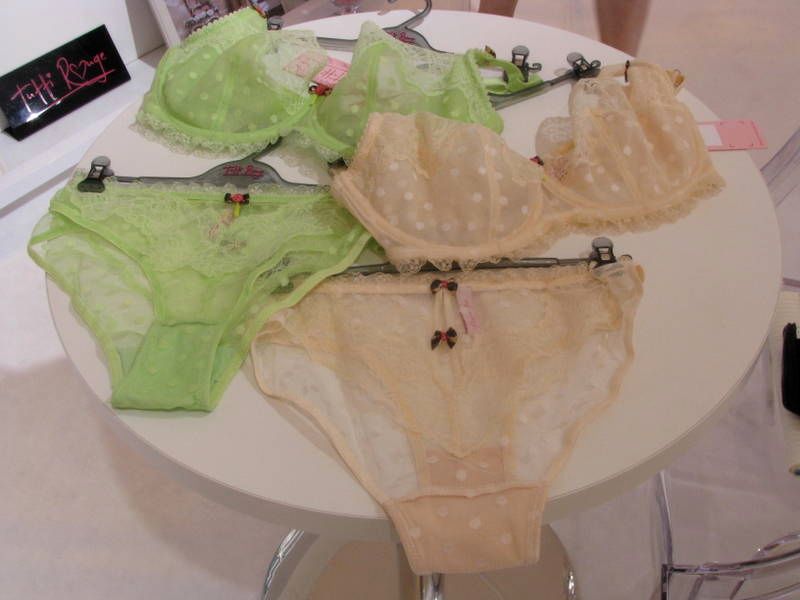 Soft interior side sling on the Fifi
While
the Nichole
isn't a new bra shape, it is a new design for the season and there'll be a wide offering of three colorways -- créme/noir, sugar pink/noir, and powder blue/noir -- as well as two matching pieces, the short and brazilian. Out of a stronger-than-average collection, the Nichole didn't speak to me especially, but I imagine it'll spark the interest of those ladies who loved the graphic definition of
Parfait's Arabella longline
. Bonus points: Check out the little pink "Tutti" heart on the leopard bow affixed to the bridge!
Nichole in Powder Blue, Sugar Pink, & Créme/Noir
When I asked Jessica what had inspired
the Rosa's
print, she told me the initial spark had come from the packaging on garden accessories she'd spied while out shopping. It's her favorite line from the collection and was particular about bringing this print alive as she had envisioned it. It went through numerous drafts before this version, which incorporates flowers, bows, butterflies and the inscription, "imagination take flight". She also mentioned that for buyers at MODA so far, it had been a favorite and I can completely understand why - Jessica's contagious enthusiasm would win over any cynical or print-phobic visitor. It'll be available with a skirted short or brazilian bottoms.
The Rosa in Créme Floral
Spring/Summer 2014
Liliana
will be exciting on multiple fronts - the first two continuity colors will be made available (noir/sugar, créme/
nude
), the bra will have a new and improved fit, and there will be a pretty spectacular size extension from 28-44 D-J! I've liked a lot of the colors for Liliana in the past, especially when the base is a white or cream color and the trim is popping, but I think Jessica has really outdone herself with this group. I'm so, SO excited to try the new fit too!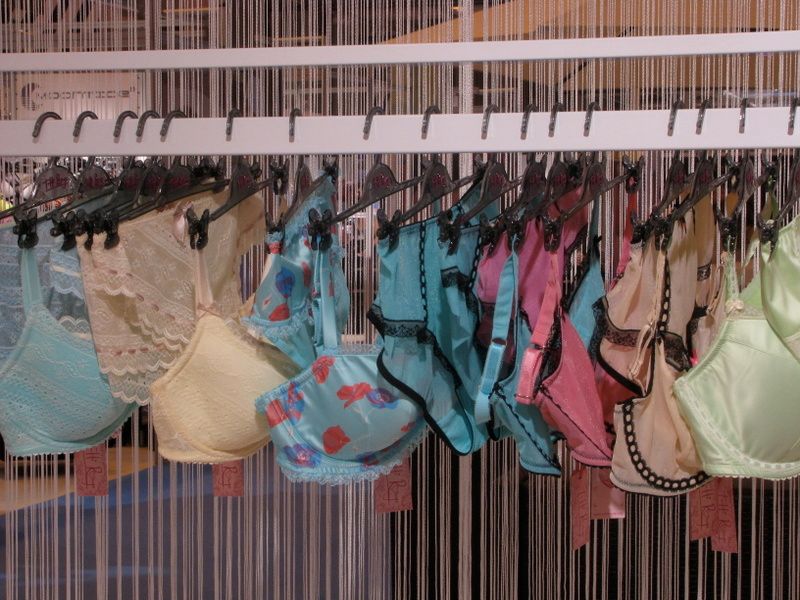 From left: Liliana in Powder Blue/Créme & Créme/Nude - Betty in Blue Floral - Nichole in Powder Blue/Noir, Sugar Pink/Noir, & Créme/Noir - Beatrice in Apple Green
While
the Betty's
shape -- the padded balconette -- will stick around, this will be the print's last incarnation so if you love the soft and sensual petals, grab these up while they're still around! I've liked this design consistently through the three seasons so I'll be looking forward to becoming a collector. ;)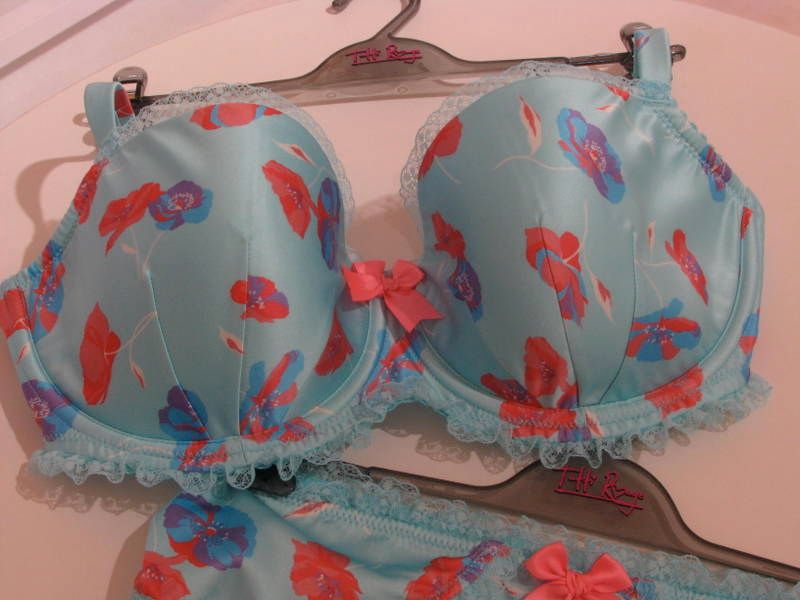 Like the twee print of the Rosa,
the Beatrice
isn't usually my lingerie cup of tea so I was surprised by how much I liked it. It's a perfect contrast to the Nichole too -- where that bra is bright, with graphic black details and soft fabric, the Beatrice is padded, pastel, and the trim is a subtler contrast.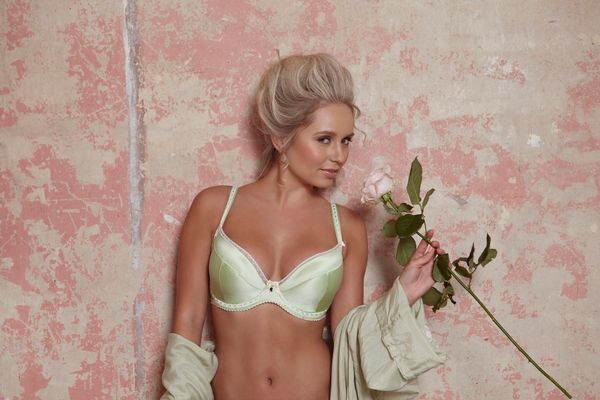 Loved the tiny black and white cameo at the Beatrice's bridge -- Tutti Rouge styles always have such great details!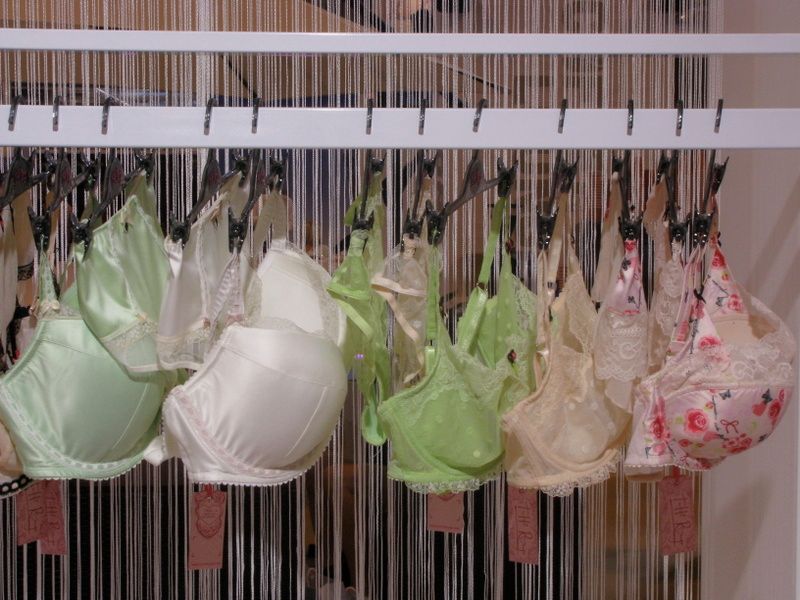 From left to right: Beatrice in Apple Green & Créme, Fifi in Apple Green & Créme, and Rosa in Créme Floral
Other size extension news --
the underwear will be made from size XS to XXL and the lowest cup, along every line, will be a D rather than the current DD.
Tutti Rouge is a very, very new brand and every new endeavor will have it's ups and downs, but I think the company has done an exceptional job listening to customer feedback, responding as swiftly as possible, and committing themselves to an intimate and open connection with their fans. The Liliana's fit was problematic for some and an updated version will be out within the year, more sizes have been added according to demand, and after
my critical analysis of their promotional videos and photography
, their "French Bliss" imagery is...well, it's
perfect
. I think it's this factor -- they are willing to be part of the community rather than occasionally witnessing the conversation from afar -- that will guarantee their success in the years ahead.
Are you excited by the size announcements for Liliana & Fifi??
I think this collection is terrific! What are your thoughts??