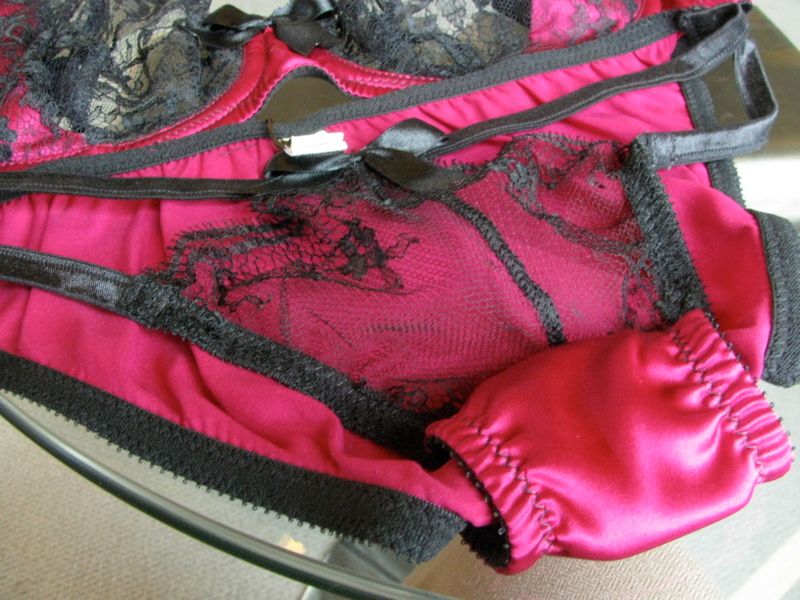 Beaujais
launched their first collection for Autumn/Winter 2011 and their luxurious, romantic, and supportive lingerie for full busts was immediately captivating. At the time, there was nothing with silk, Leaver's lace, and seductive sheer cups on the market for this size range so two years later, I'm delighted to see the company going strong and releasing products the commercial brands wouldn't dare touch. Two weeks ago, I met with Alice Warner, the designer and director of Beaujais, for a breezy outdoor lunch in Bristol. There were some big surprises during our chat and it was great to get a peek "behind the scenes" of this mysterious luxury brand.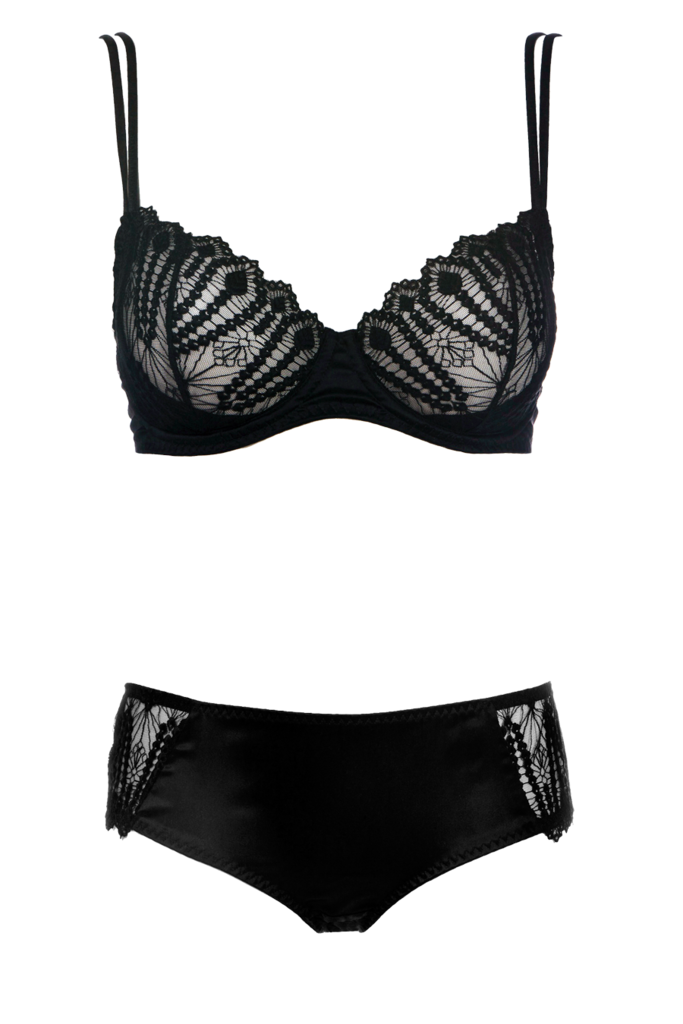 I didn't get a chance to see this line, the Inkling, but it's one of my favorites for the art deco embroidery!
Beaujais aims to offer the most delicate sensation and finest materials for a fuller bust, without sacrificing a supportive fit. Alice's designs are a balancing act between lively extremes -- her bras are sexy, without becoming obvious. They're strong, but must look and feel light. Within this atmosphere, she creates a sensual web of textures and engineers her garments to be as practical for everyday as they are for a seductive night in.
The Sweet Nothings
belonged to Alice's debut collection and the soft pink "Liquer" colorway continues to be her top seller. The selection has grown since the initial launch and now includes the Teal, bright pink "Sorbet" or the ethereal mint "Celadon" option. The bra's cups consist of eyelash French Leaver's lace and a thinly padded and silk enclosed side sling.
The Sweet Nothings Balconette Bra in "Sorbet"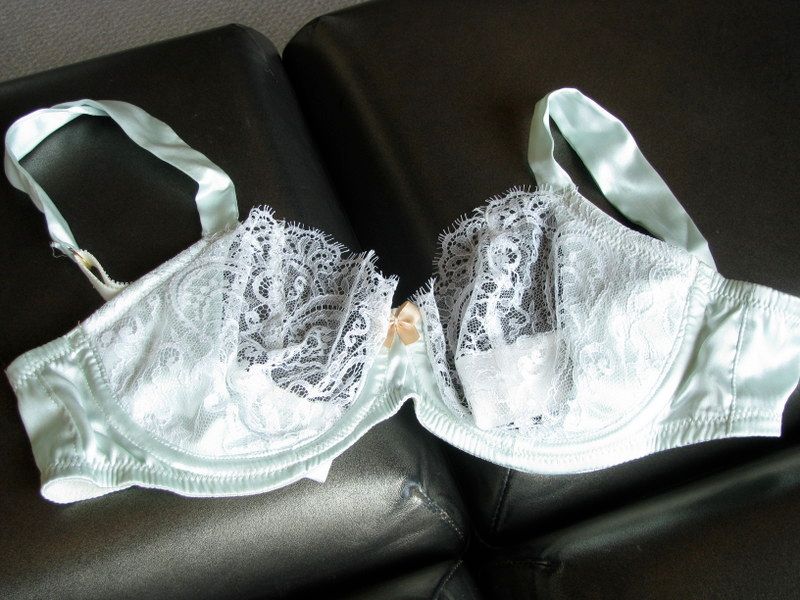 The Sweet Nothings Balconette Bra in "Celadon"
The Shadow Wrapped
, also a member of the first collection, is entirely silk lined and it's split straps are comfortable up to a GG cup. The color isn't a pure grey -- it leans towards a mysterious, slinky lilac which is partially accented by eyelash Leaver's lace.
The Shadow Wrapped Balconette Bra
Alice told me that the women who go for
the Smokey Taboo
set are usually looking for a sleeker and materially streamlined look. Like the Shadow Wrapped, it boasts split straps, a thorough silk lining and more uniquely, a cotton corded eyelash lace accent.
The Smokey Taboo set (Balconette & Mini Knicker)
The Dark Paradise
was released for Autumn/Winter 2012 and is a design meant for the Beaujais woman who prefers perfectly flat seams and needs lingerie to disappear under clothing. Instead of the balconette shape of the Sweet Nothings, Shadow Wrapped and Smokey Taboo, the Dark Paradise is a deep three part plunge shape. The matte georgette straps hold denier reinforcement for a superior fit and the knickers -- a Brazilian and High Waist brief -- are bubble hemmed to restrict panty lines.
The Dark Paradise Plunge Bra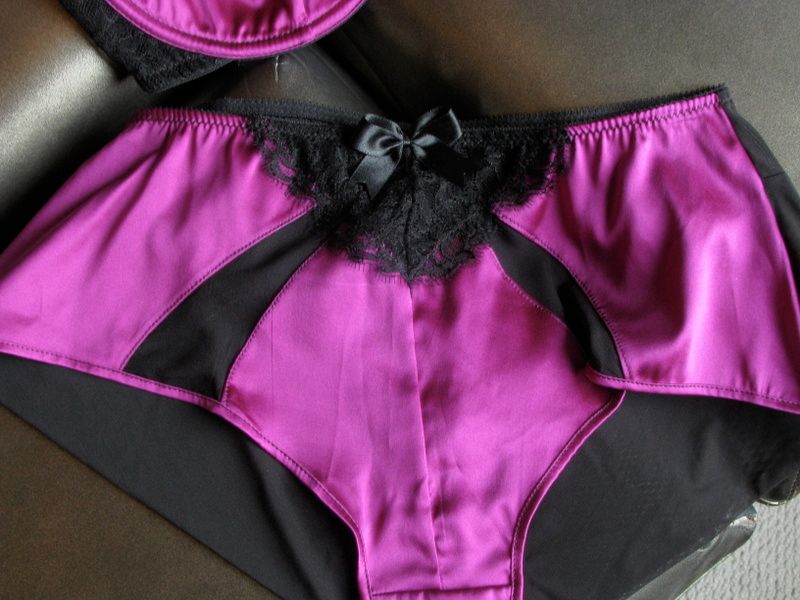 The Dark Paradise High Waist Knicker
One of my personal favorites,
the Caligo
was released for Spring/Summer 2013 and is the second plunge bra in the Beaujais collection. When I inquired about the brand's fit, Alice had two pieces of great news: she told me that the fit has been updated from what Cheryl experienced in her early 2012
Invest in Your Chest review
. The company's sizing now mirrors the bigger full bust brands and so it's best to order the size you already wear. She also recommends her balconette for firmer, higher breasts and the plunge for those with softer tissue.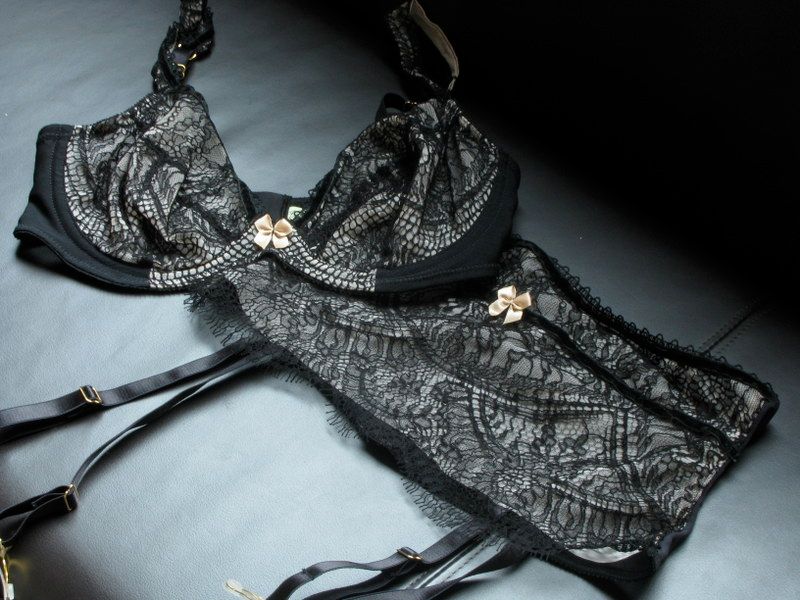 The Caligo Plunge Bra & Waspie
What does the immediate future hold for Beaujais??
Alice shared that her Autumn/Winter 2013 additions may debut as early as mid-September, although she hesitated to give me an exact time as -- like many independent designers -- she doesn't have to follow the industry's semi-annual release schedule. She did share two surprises coming down the pipeline sometime soon:
Shapewear! Alice explained that for such a long time, it had been impossible to find shapewear pieces if you were full busted and she wanted to create something practical that could work for the upcoming office or holiday festivities. She'll be carrying it exclusively online and if it sells well, she's open to expanding the endeavor. The piece I'm wearing below is gorgeous -- the seams pull up and in everything you'd want to smooth down and it's an intoxicating mix of architectural lines, color contrast, and complementing textures. The longer length was flattering and I felt so, so sexy (not a feeling shapewear has given me in the past...). I loved this!!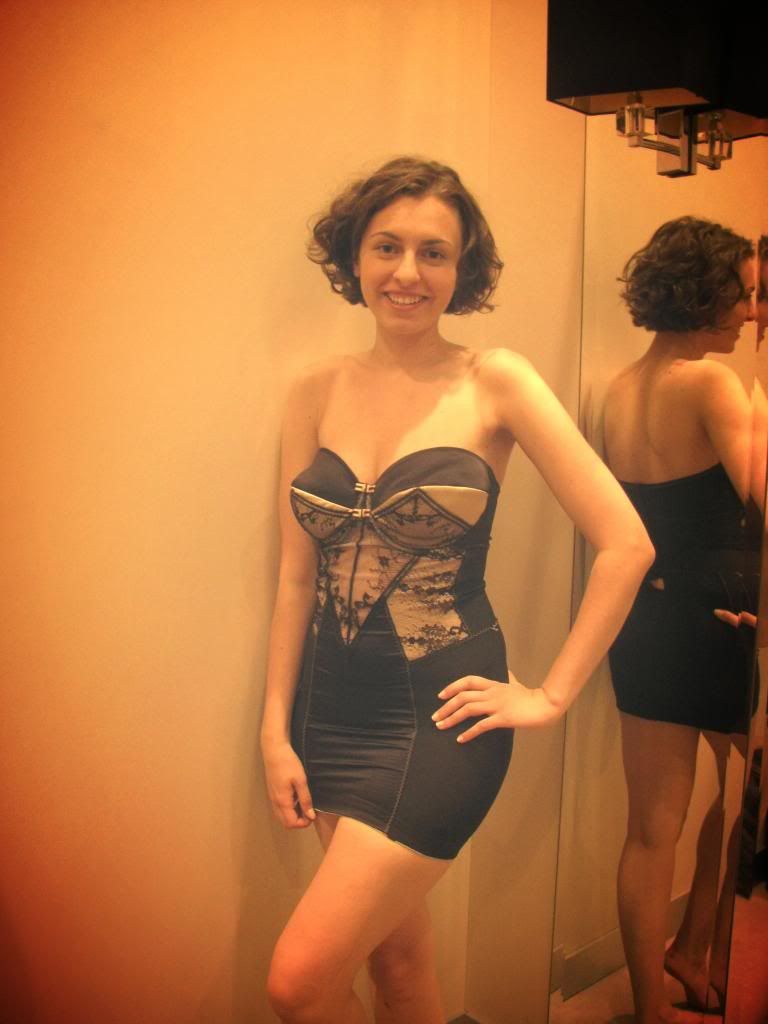 Oh gee golly, that's some great lace! I was shocked when Alice pulled this English lace out of her bag and explained how inspired she was to incorporate it into a design. I pointed out that it will be Beaujais' first foray into floral territory, but she said she loved how directional it was. Can't argue with that, can you? It's also absolutely beautiful, duh.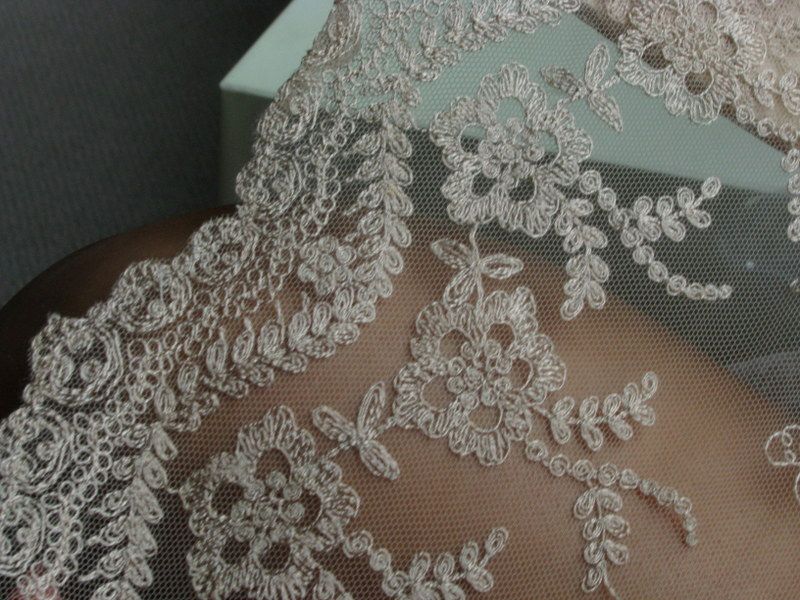 Side notes:
- I would've given you more information about fit and I did try some Beaujais sets on, but they were the sample or overstock sizes so I don't have any expert tips in that department.
-Beaujais offers a core size range of 28-38 D-GG and if you don't see your size available from her, you can get in touch. :) The bras are made to order so it would take a week before your purchase would ship.
-Since Beaujais manufactures in Britain, provides those workers with a liveable wage, and uses the highest quality material, it retails at a luxury price point. Bras cost £86 - £98 ($134 - $152), matching bottoms go for £47.50 - £69 ($74 - $107), waspies or suspenders between
£55 - £78 ($85 - $121).
-Beaujais has had
it's first sale
this summer and select styles and colors are going for £30 or less ($47) so it's worth checking out to see if your size is left! Additionally, if you buy an entire set at once, there's a £20 - £25 ($31 - $39) discount.
Are you a fan of Beaujais too? Have you ever ordered from the brand before?
What do you think of the sultry collection? Or, her new shapewear direction?