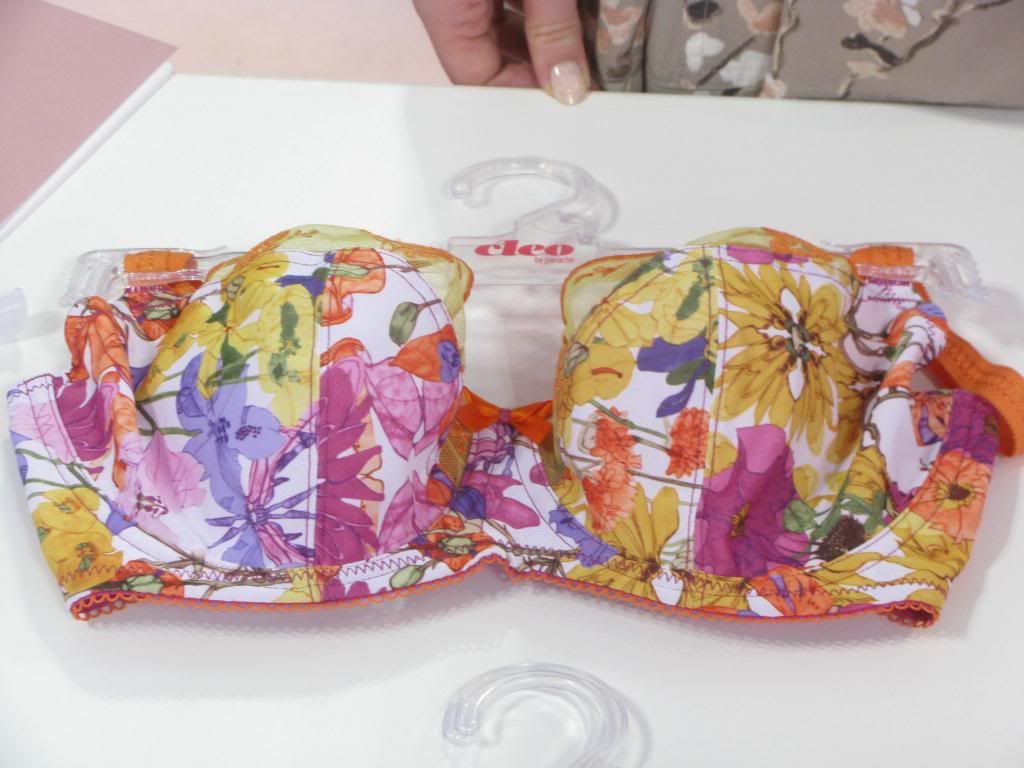 The Pixie in "Floral Print"
So far, I've analyzed two collections:
Freya
had some fantastic pieces, but the collection as a whole wasn't as focused as it could be and they announced
a size extension set back
.
Masquerade
, on the other hand, needed improvement and while they're not finished yet, their collection was stronger than the current one. I had a love-hate thing going on with Cleo's last season. I was attracted to their subdued and unexpected moves (the Lori, the neon orange/white Lucy) and turned off by their use of "juvenile" details. For Spring/Summer 2014, I'm much clearer: I think it's a solid collection full of what the brand stands for -- fun, flirtation, and an optimistic confidence in itself. With all that said, I'm not personally attracted to Cleo's
entire
look this season either, but there are a few stand outs. Excited??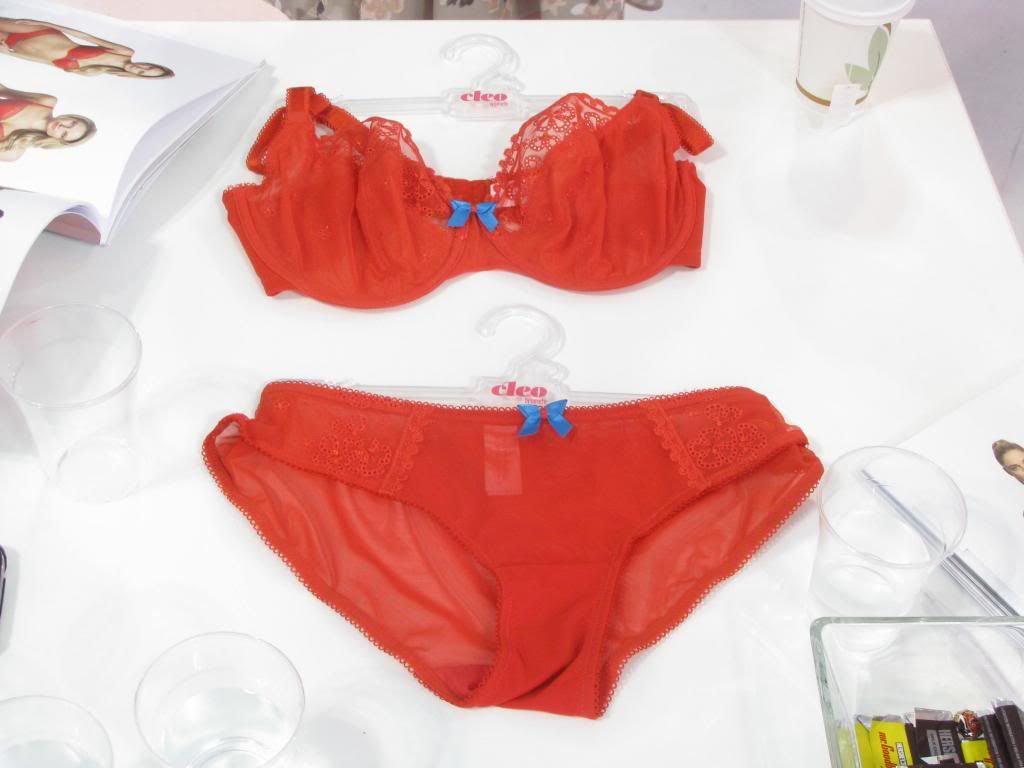 The Lucy in "Red"
We saw blue-tinted reds in almost every booth and I thought this colorway paired well with the popping cobalt bows. However, it's also a bit of a let down from the current season, the contrast Lucy felt much fresher and this tone-on-tone embroidery quiets the design again, despite the saturated hue.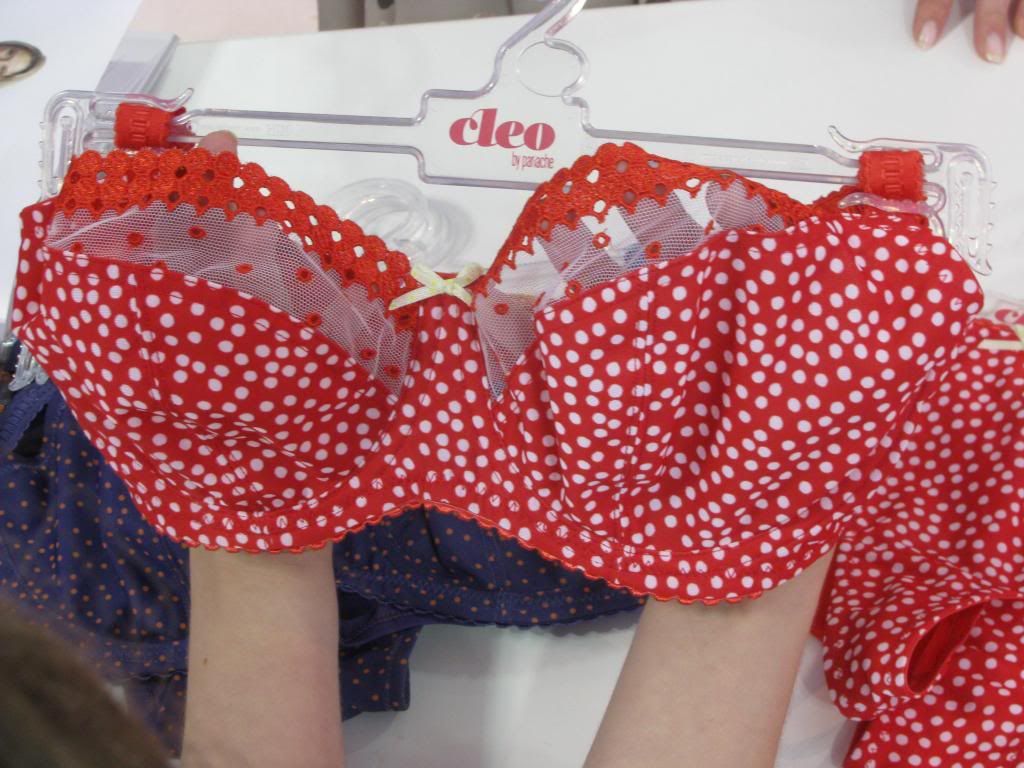 The Minnie in "Red Spot" (above) and "Blue/Orange"
For this season, many of the leading full bust brands decided to produce their bestsellers in multiple fashion versions so that their fans would have a beginning and end of season choice. Usually I felt that one recoloring spoke louder than another, but here, with Cleo's Minnie, I want both!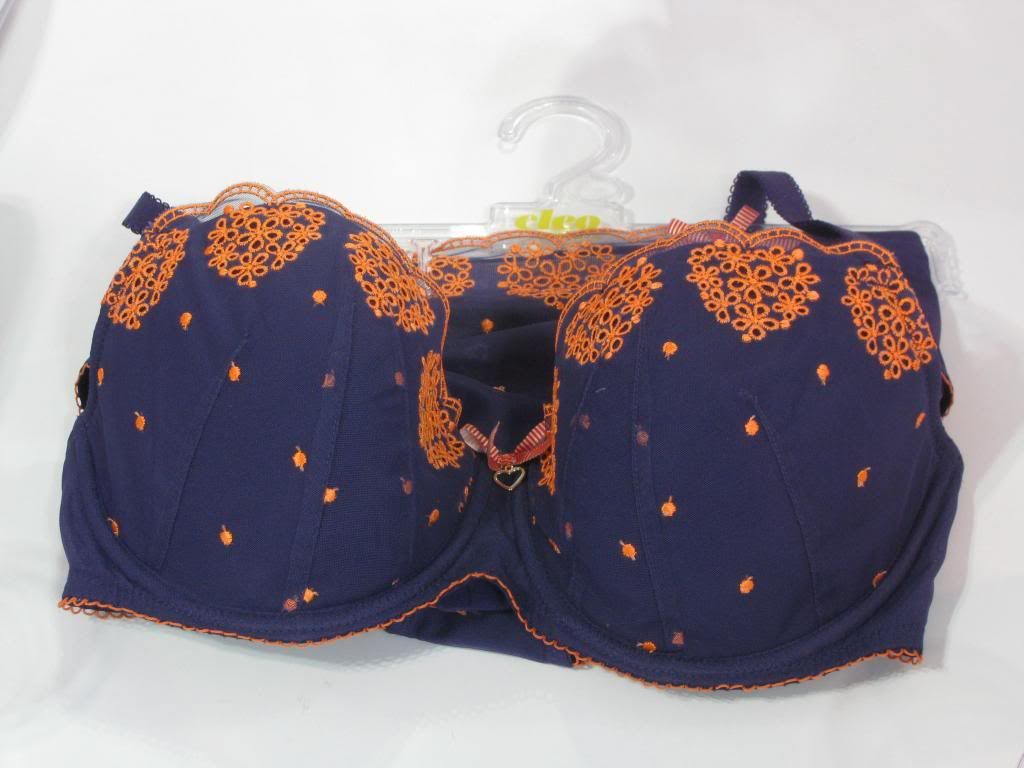 The Christina in "Blue/Orange"
When Mr. Underpinnings and I saw Panache's new seasons, we were sitting next to two fabulous bloggers -- the Lingerie Lesbian and Sweets of Sweet Nothings -- and brilliantly, Sweets remarked that the Christina looks like a Masquerade bra. Masquerade and Cleo have very different aesthetics so this design's heavy reference to it's glamourous sister brand is a smart move. If they continued this way, it's an easy way to guide Cleo fans into Masquerade's realm, it's makes the transition from one to another smoother.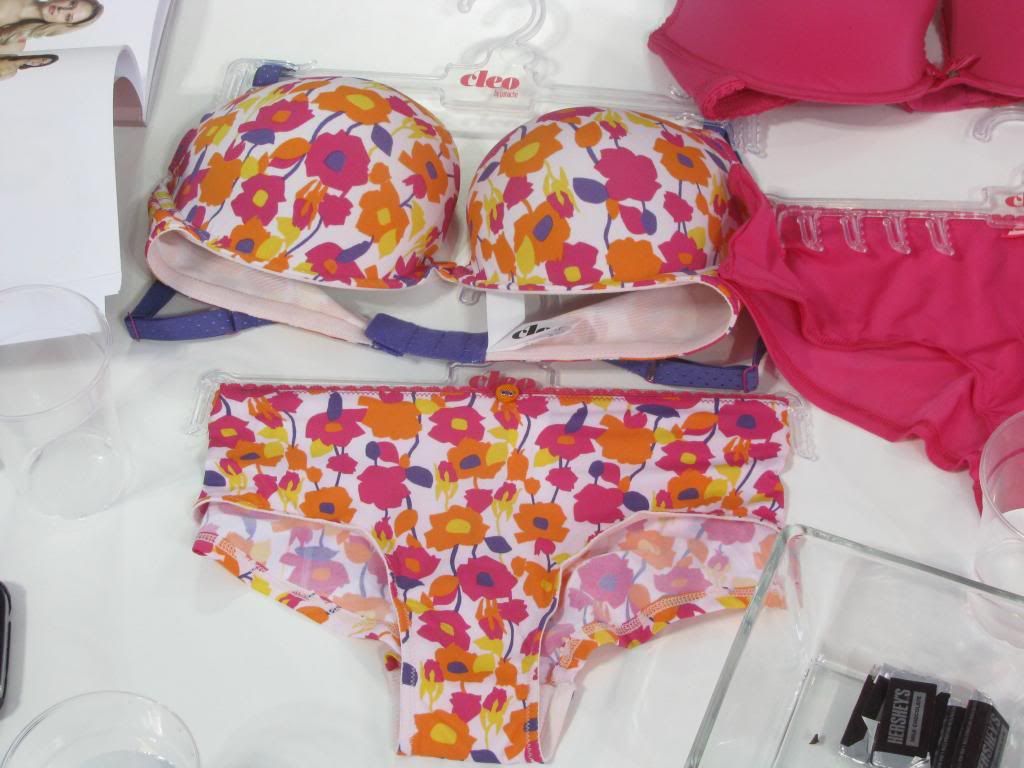 The Neve in "Floral Print"
The Neve in "Hot Pink"
The Neve in "Black/Magenta"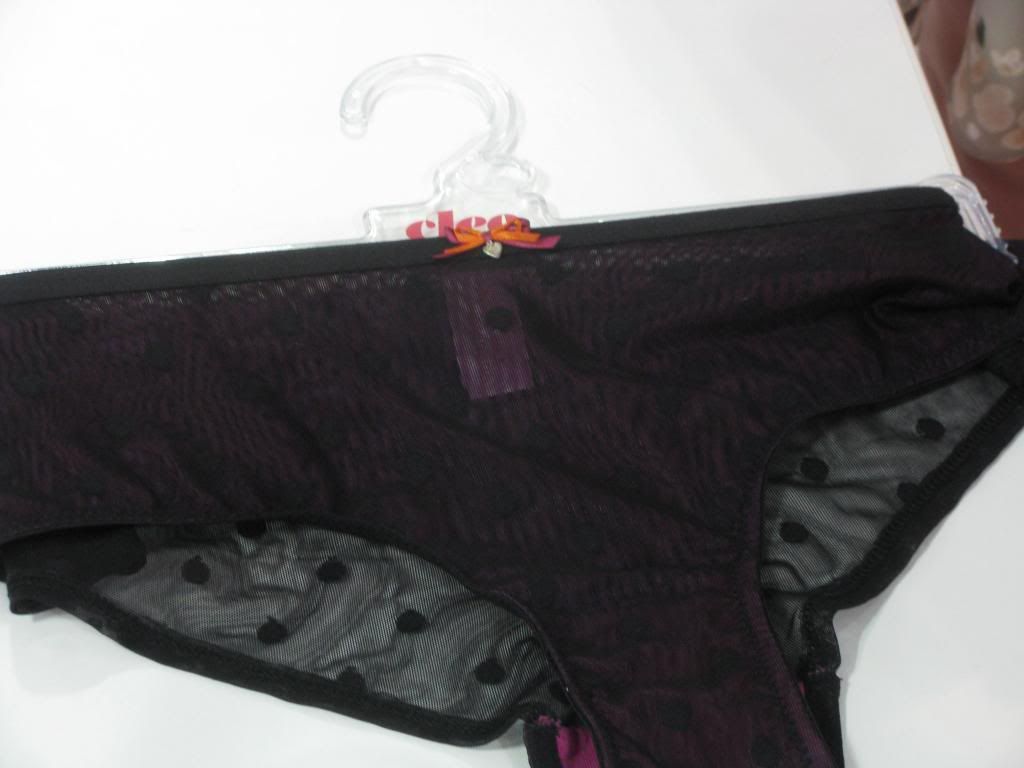 Like many full bust women, I'm always on the hunt for a cool strapless bra that doesn't wiggle, remains visually appealing and will work under a range of necklines. The Neve Spot moulded plunge strapless is already on my wishlist. I love that Cleo introduced it in this polka dot and magenta combination and the Panache representative was extra confident discussing it's fit.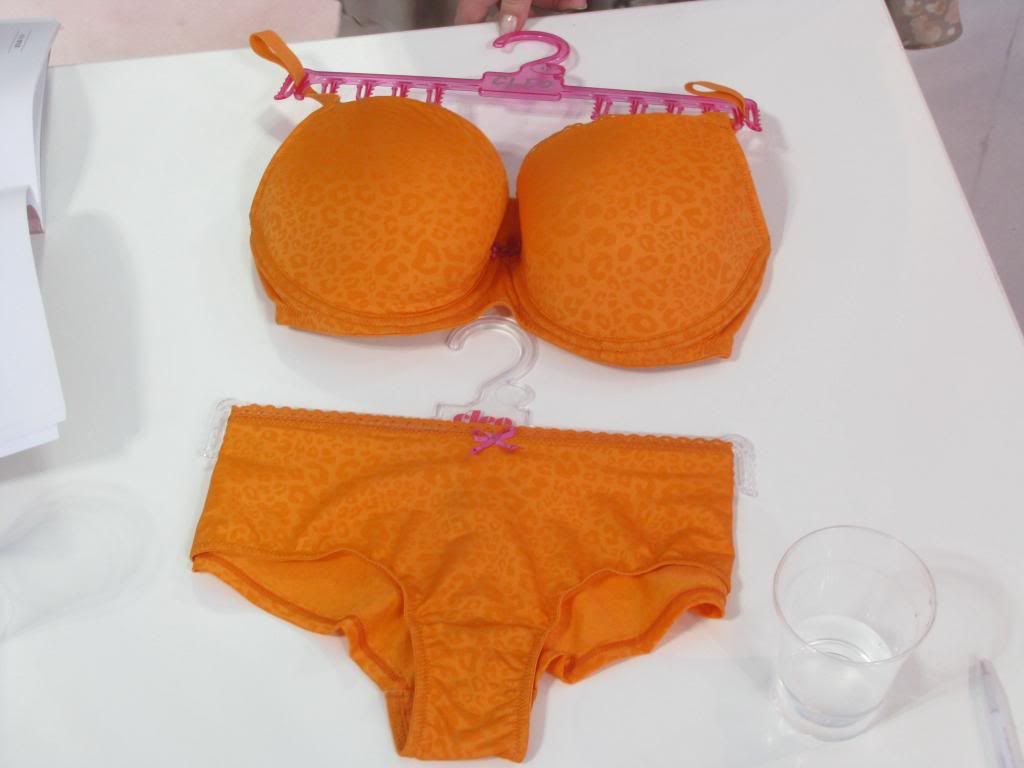 The Maddie Animal in "Animal Print"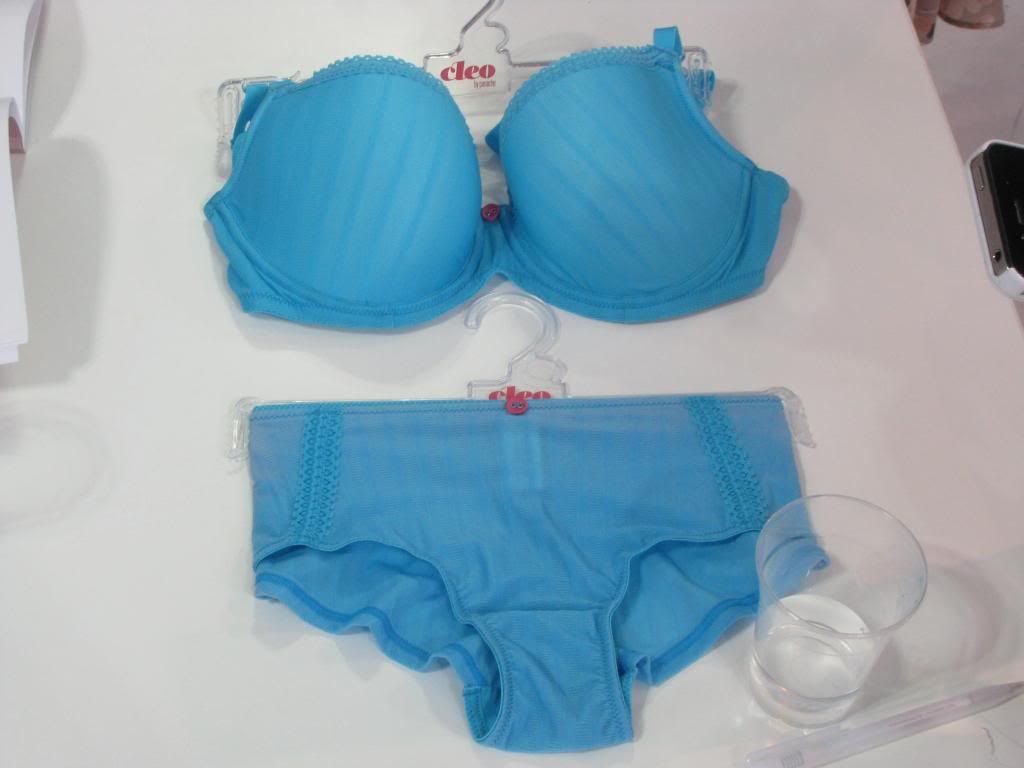 Here's where it gets real: the Maya is a mistake. Even as I write these words, I know some of you are going to lovelovelove it and I'll stand my ground. I saw a trend at Curve that I don't even how to define...like, '80s glam club wear or early Britney Spears? By this time next year, who knows, maybe I'll be wearing the trend happily but from where I stand, I'm going with "OH WOW! NO! WHY!?".
Continuing with this season's Floridian vibe, the Darcy will appear in a pink flamingo print. Mr. Underpinnings took all these pictures (Many thanks, King of Bras!), but the neon limey shade wasn't captured perfectly. It's a lot brighter and higher contrast in the flesh. I'm conflicted about this bad boy -- what say you?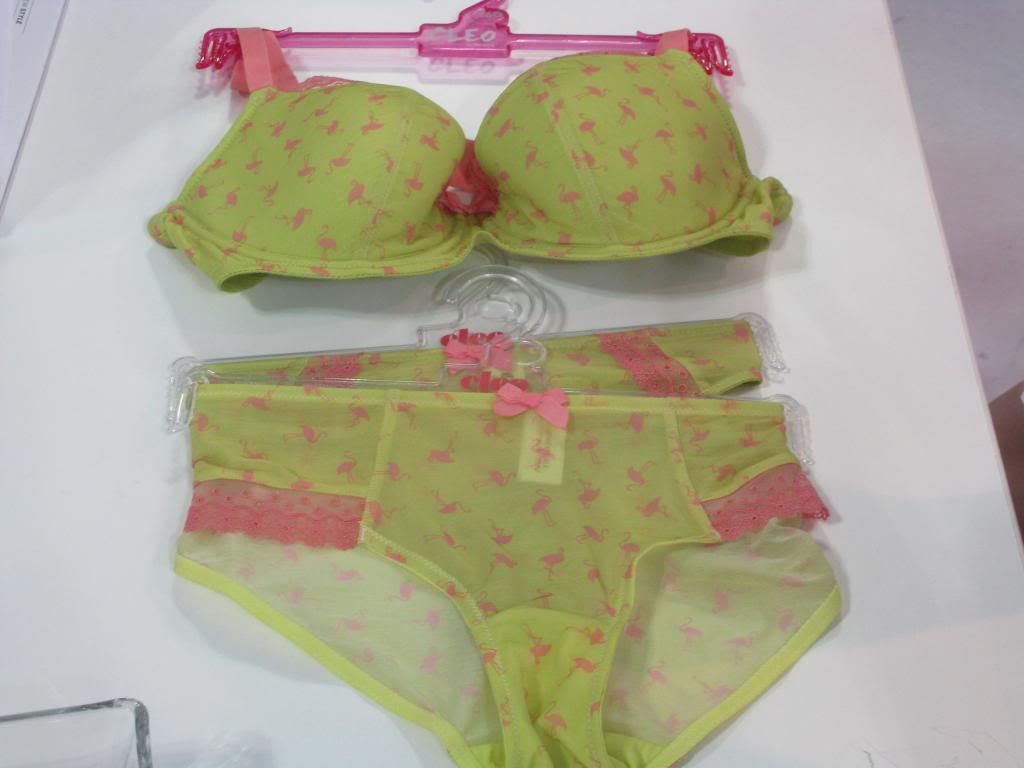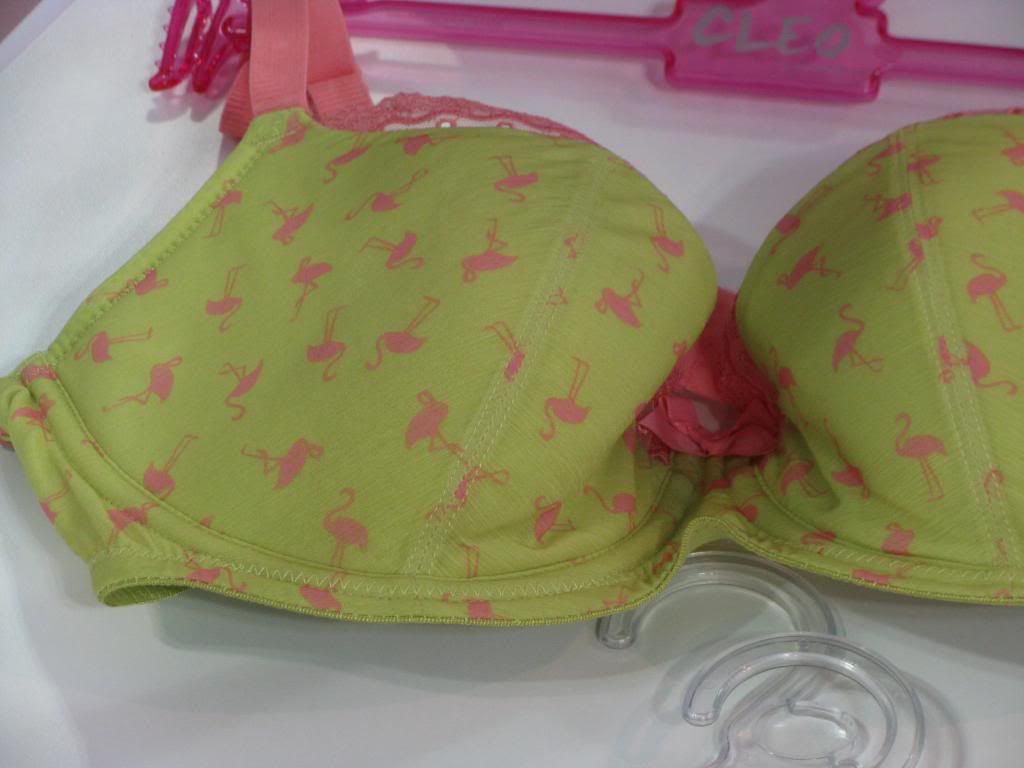 The Darcy in "Bird Print"
Squeee, aren't these next two
adorable
!? Again, this season I prefer the subtler designs from Cleo and want to avoid anything too sugary sweet or bombastically bold. I prefer the Minnie in terms of print, I'm dying to get into a yellow Marcie, and these two Lily colorways are charming. I'll pass on the funkier stuff -- I want a streamlined collection with sass.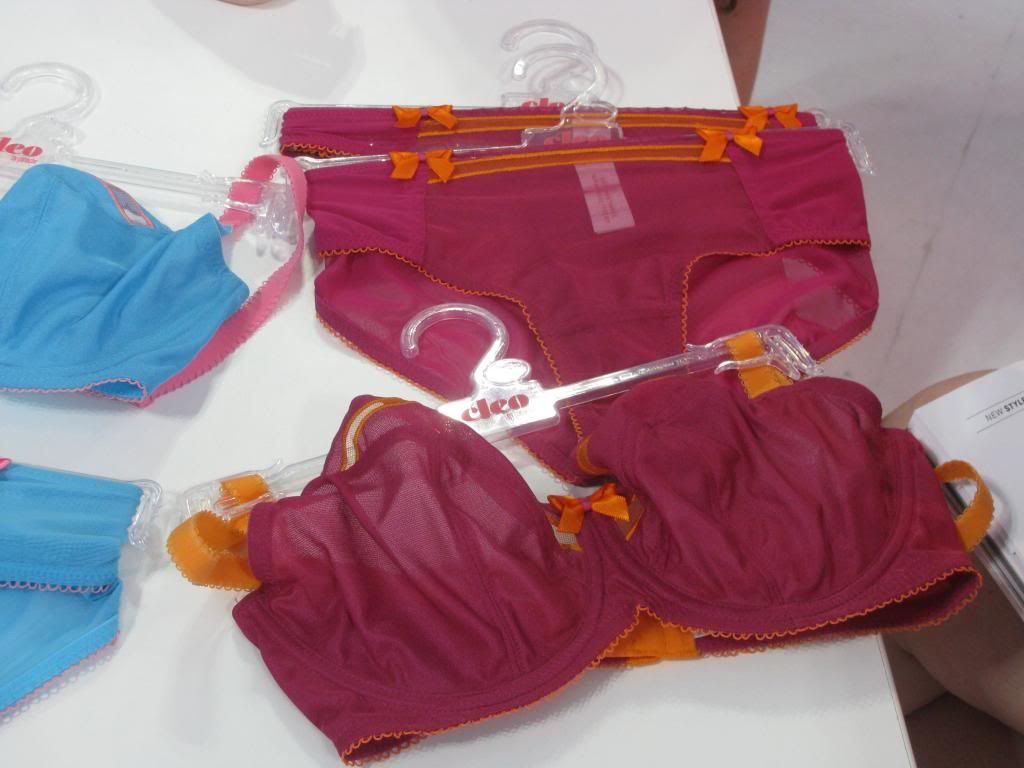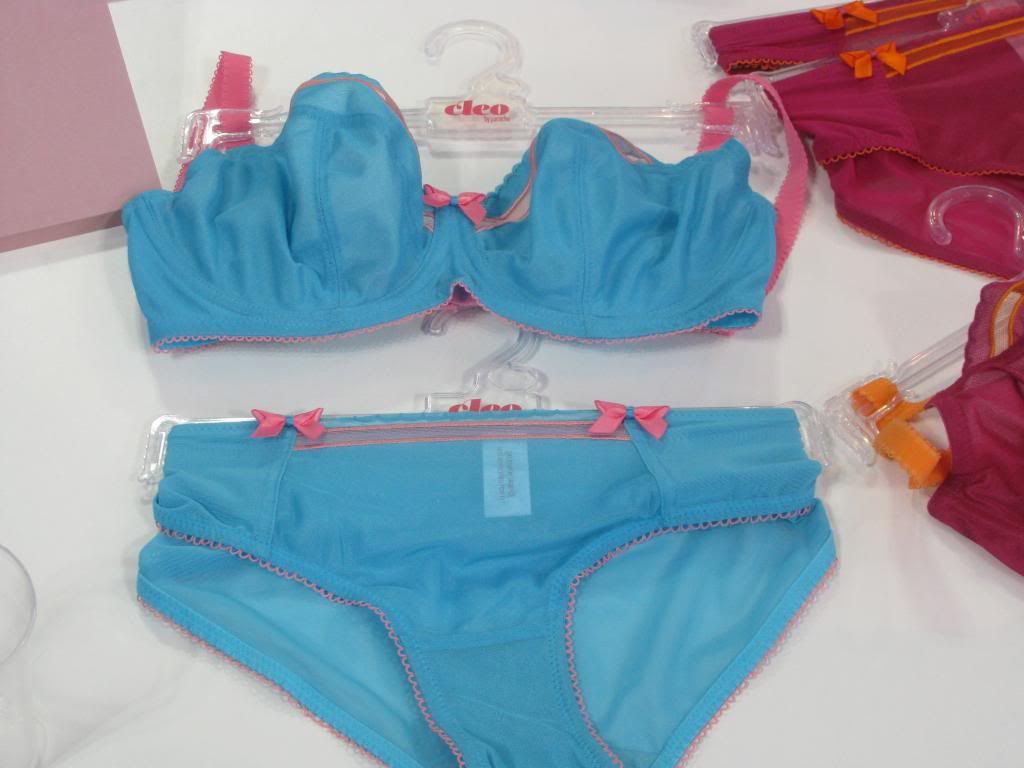 The Lily in "Aqua/Pink" and "Magenta/Orange"
Ask and ye shall receive! I know that many of you have commented here that you'd like to see a yellow Marcie and here she is! Don't you love it when brands actually listen? Way to go, Cleo.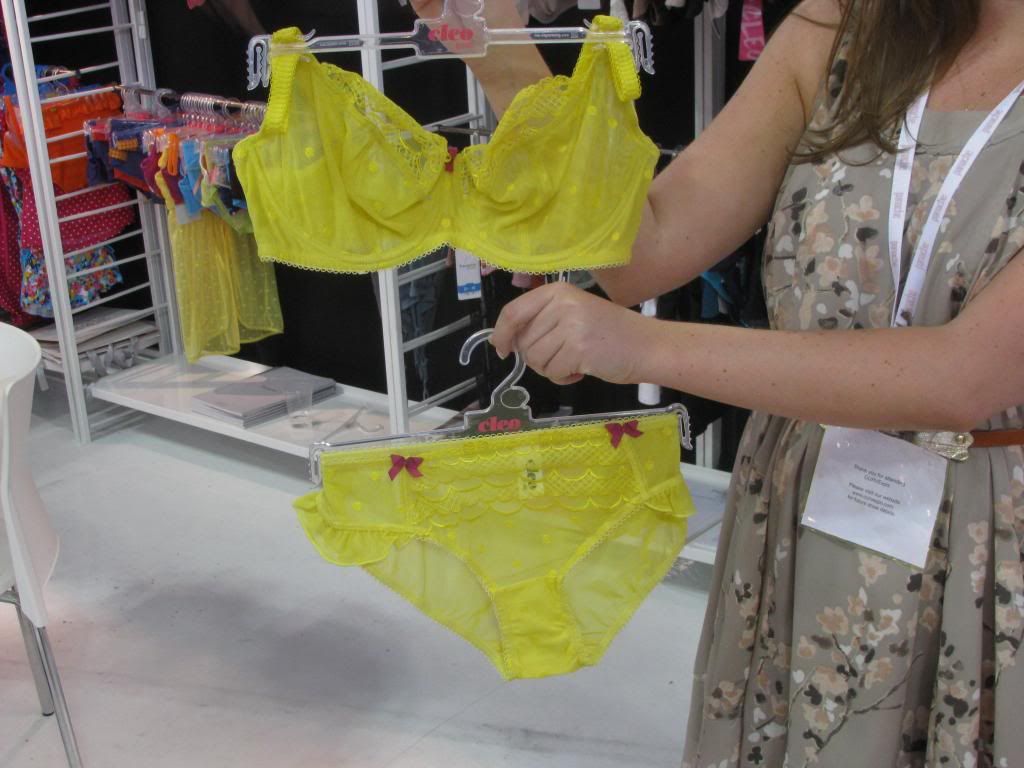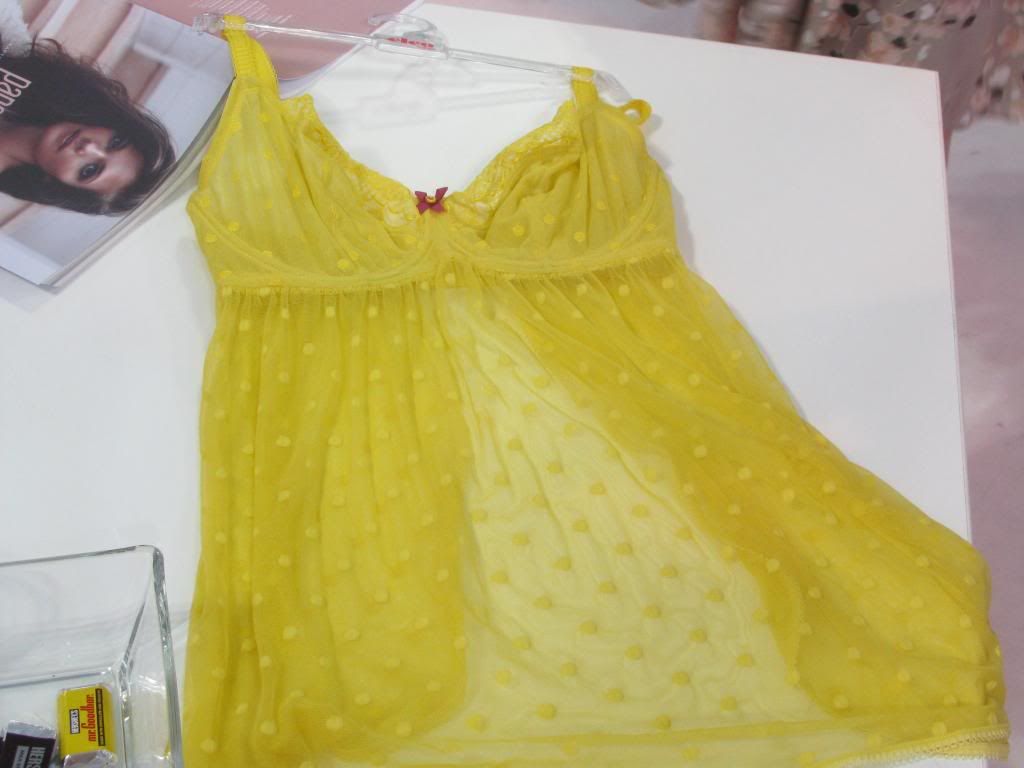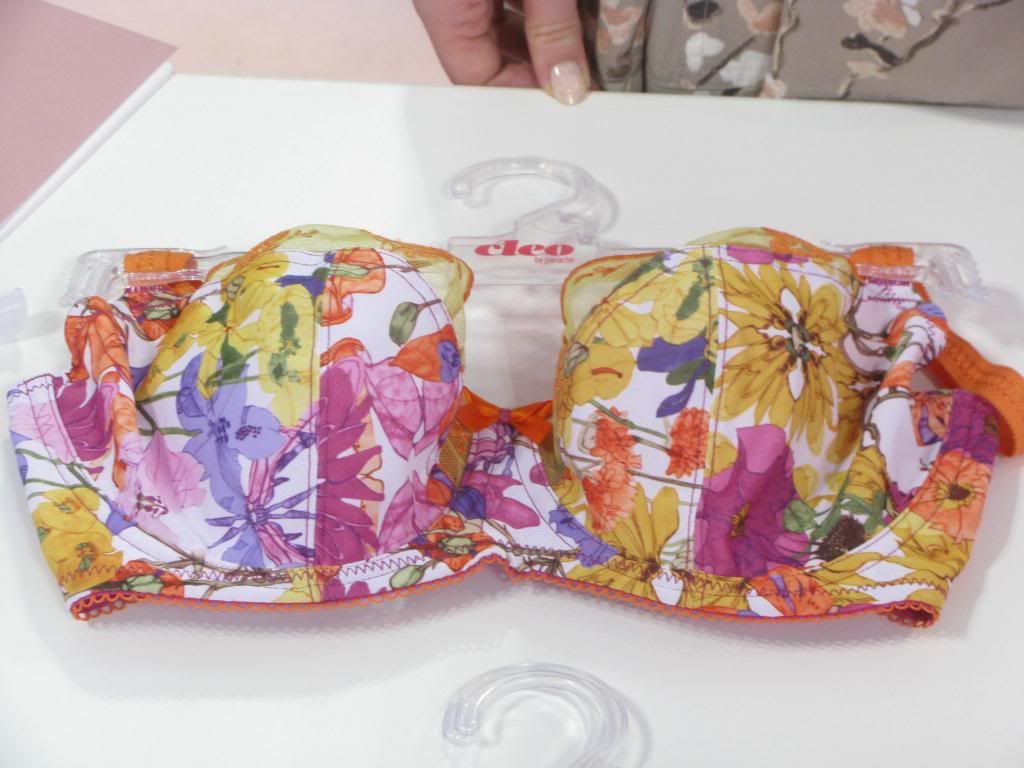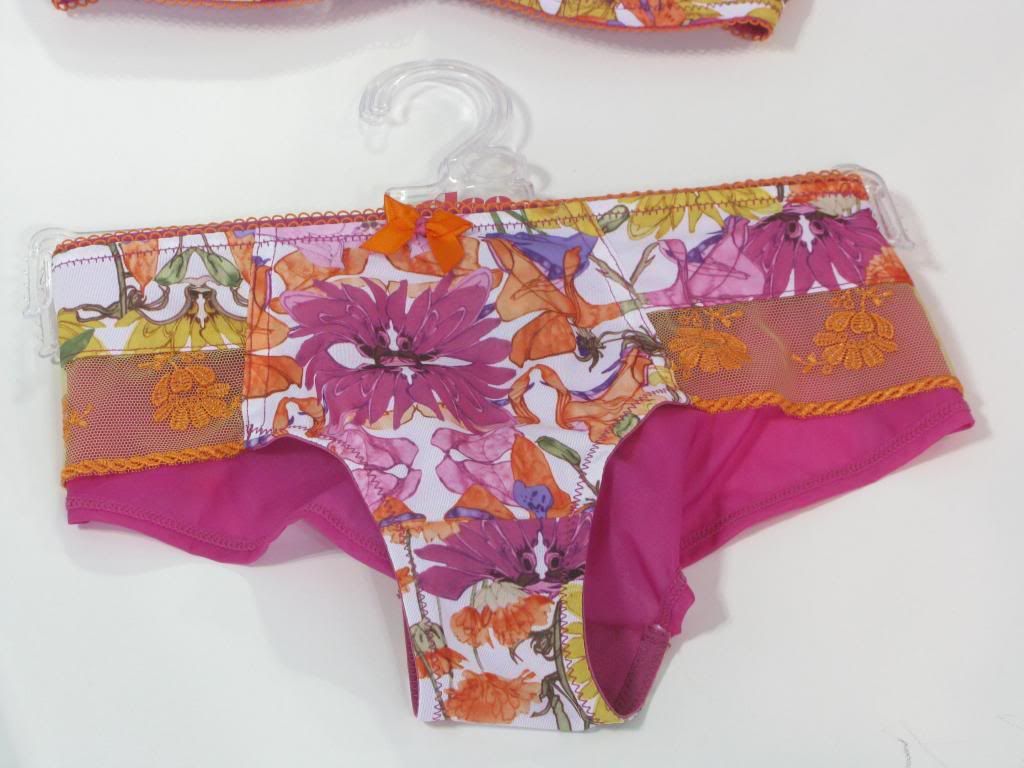 Disclaimer: I've had an hour and a half's worth of sleep so if this post sounds crazy, it probably is and I'm sorry. My brain will be better tomorrow, I promise.
OK, let's break it down. I've decided Cleo put out a reliable and unified collection for Spring/Summer 2014 and while I'm not into everything they represent, I cannot deny the charm of lines like the Minnie, Marcie or Lily.
What are your thoughts? Last season, I felt Cleo's collection (the current one) looked like a "Delia's catalog" or a department store's juniors section. Would you say that assessment still applies or do you feel Cleo has something for everyone? And duh, what are you most looking forward to?