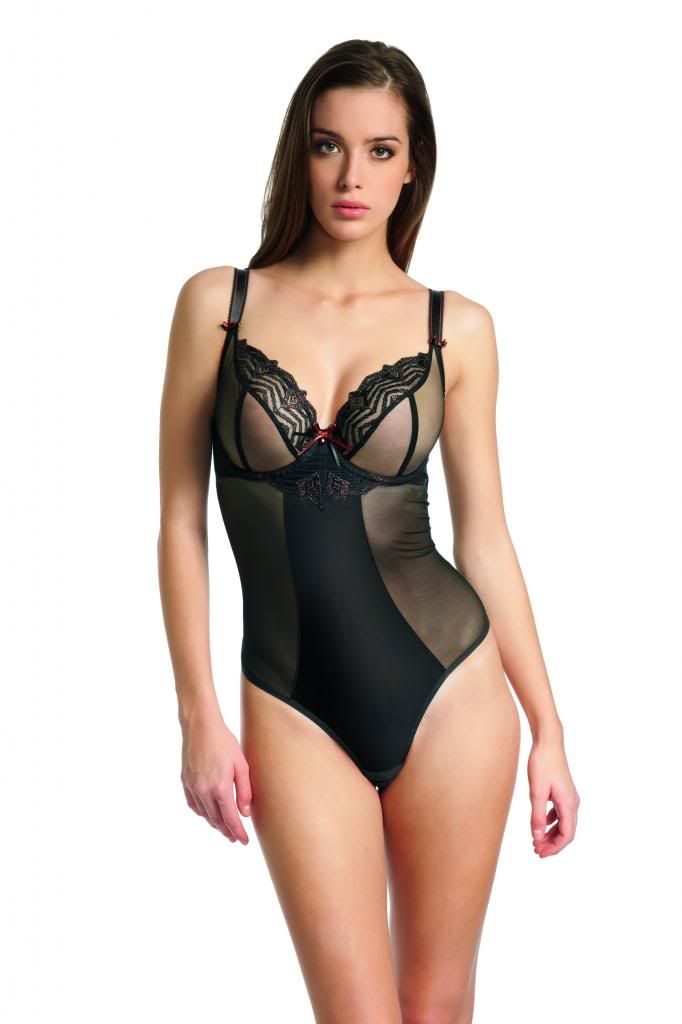 Freya Ohh La La for AW13
Like binge watching a television series before a new season starts, I wanted to give a brief recap of where we left the major full bust brands. I realize many of you were reading this February, when these Autumn/Winter 2013 collections were unveiled, but for those of you who weren't, I thought it'd be nice to know...well, what the hell I'm talking about. I've also included a brief outline of where
I
would like to see these brands go for Spring/Summer 2014. After these go up and a little closer to the event itself, I'll be publishing your suggestions, requests and questions for the brands so if you haven't weighed in yet, there will be another chance to concur, vehemently disagree, or state your own beautiful case.
FREYA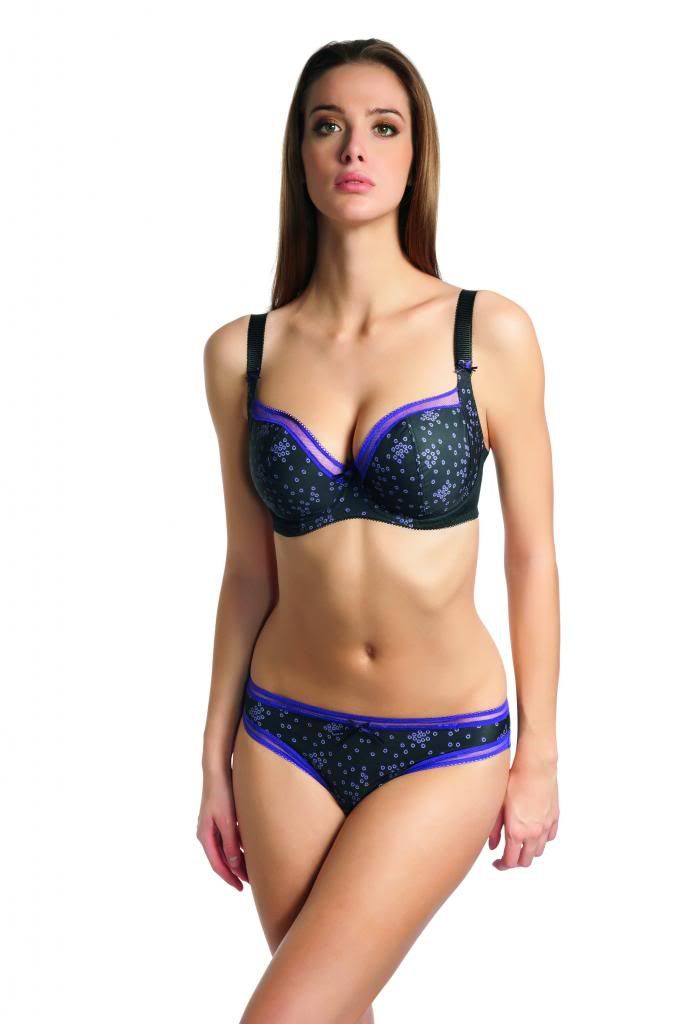 Freya Marvel for AW13
Freya surprised everyone with their plans for Autumn/Winter 2013 by announcing that they'd make their padded half cup shape in 28" band and G+ cup sizes. Their current season revolves around their previous bestsellers (the Deco fashion varieties, longlines) while incorporating an experimental new shape for the brand (the soft rounded Marvel). There were also interesting additions, including basic black shapewear for holiday, an underwired bodysuit, and a truly unique fan print.
Freya's
Autumn/Winter season
is strong, but it did have an Achilles heel: the soft half cup. I've heard from multiple sources there's a flaw in the fit and it's a virtually untapped element of the market (I sound like a broken record!). I'd love to see them develop that and spend less energy on recoloring their classic padded plunge. I might as well be talking to myself on this one though, the company's goal is to release two Deco fashions per month.
PANACHE SUPERBRA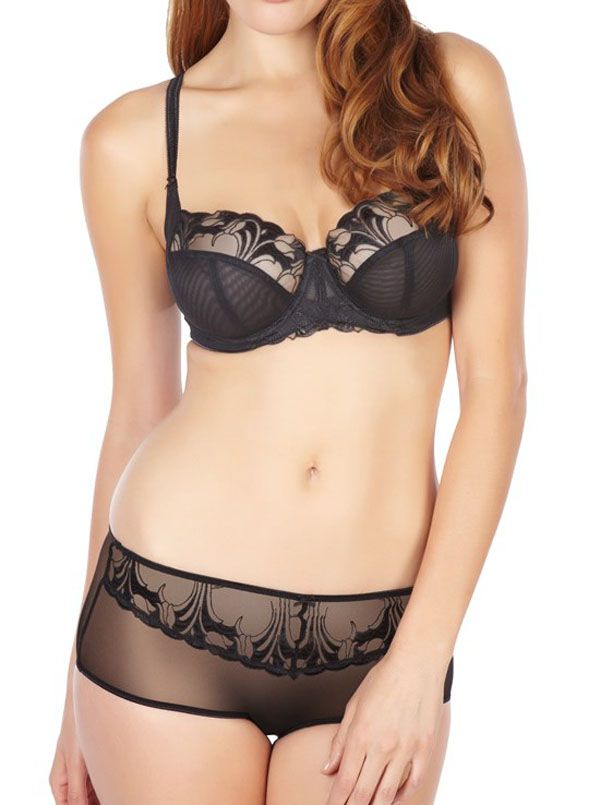 Panache Dahlia for AW13
I gravitate towards collections that feel organic and whole so if you saw the entire line, there would be an aesthetic story being told throughout. Pananche Superbra achieved that delicate balance in their
Autumn/Winter 2013 collection
: first playing with a swatch of colors and prints reminiscent of a Monet still life, bridging with soft blues and lilacs, and concluding with trumpeting red shades for the holiday season. Besides their fashion, their new basics were a sight to behold -- the art deco Dahlia line was enchanting and the Envy has a rarely seen houndstooth paneling.
Panache produces their Sienna range exclusively for winter and while I know they must have their reasons, I think there's room for a similarly sexy line in the Spring/Summer arena. It doesn't have to be too smokin' hot, simply romantic, lacey, and light. Of course I'd like to see them continue with their high waist/shapewear underwear options and I'd be interested to see what a fashion color would look like on the new basics.
CURVY KATE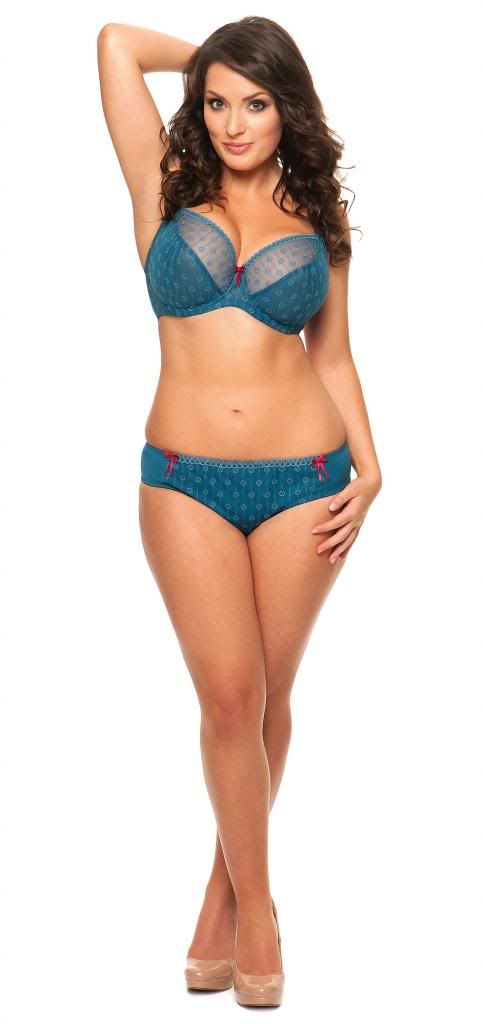 Curvy Kate Dreamcatcher for AW13
For
Autumn/Winter 2013
, Curvy Kate grew up and took a moment to redefine themselves. They've been the brand best known for their kooky colorways and burlesque inspired Showgirl range, but that's beginning to change. Their current collection is still fun, but it's also more sweet and demure than what we've seen from this brand before. They debuted their new soft lines, the Daisy Chain and Dreamcatcher, with tone-on-tone color and a quiet, subdued embroidery. Their AW13 padded releases are based off of their prior shapes (the Scarlet after the Smoothie, the Lola after the Smoothie).
Curvy Kate Carmen for Spring/Summer 2014
Curvy Kate has an unmatched confidence when it comes to Spring/Summer and they've rolled out a confident, eye catching smorgasbord for 2014. They've put the entire collection up online before the show and it's...it's perfect, really. I mean, I shouldn't jump the gun because I haven't seen it up close yet, but they seem as if they'll be the full bust brand to beat.
CLEO
Sheer brilliance (did you see what I did there?!): Cleo Marcie babydoll for AW13
As opposed to the clean and unified collection Panache Superbra put out, Cleo for Panache was a little wild. I don't mean that as negatively as it may sound, their
Autumn/Winter 2013
went in several different directions (from Barbi pink to a brown graphic mod print) and this quality assured their fans that there was something for everyone. However, I feel as if this brand hasn't quite gotten it's footing or isn't confident of exactly what it wants to be. I shouldn't short sell their triumphs -- the soft grey Lori, the neon and white Lucy, and the brand spanking new Marcie Babydoll are all gorgeous.
Cleo is meant to fit a wide market of young girls or youthful spirited women who are looking for cute, fun and flirtatious designs. I've always loved Cleo for exactly those reasons, but this AW13 collection wasn't cute, it was cutesy. It wasn't just fun and flirtatious, it was preciously preteen in the fashion department. If I'd like to see one thing from them in Spring/Summer 2014, it'd be a little less Olsen twins' made-for-tv movie and a bit more
10 Things I Hate About You
.
Okay, stay tuned! I've got Fantasie, Masquerade, Claudette and Empreinte in the next round...