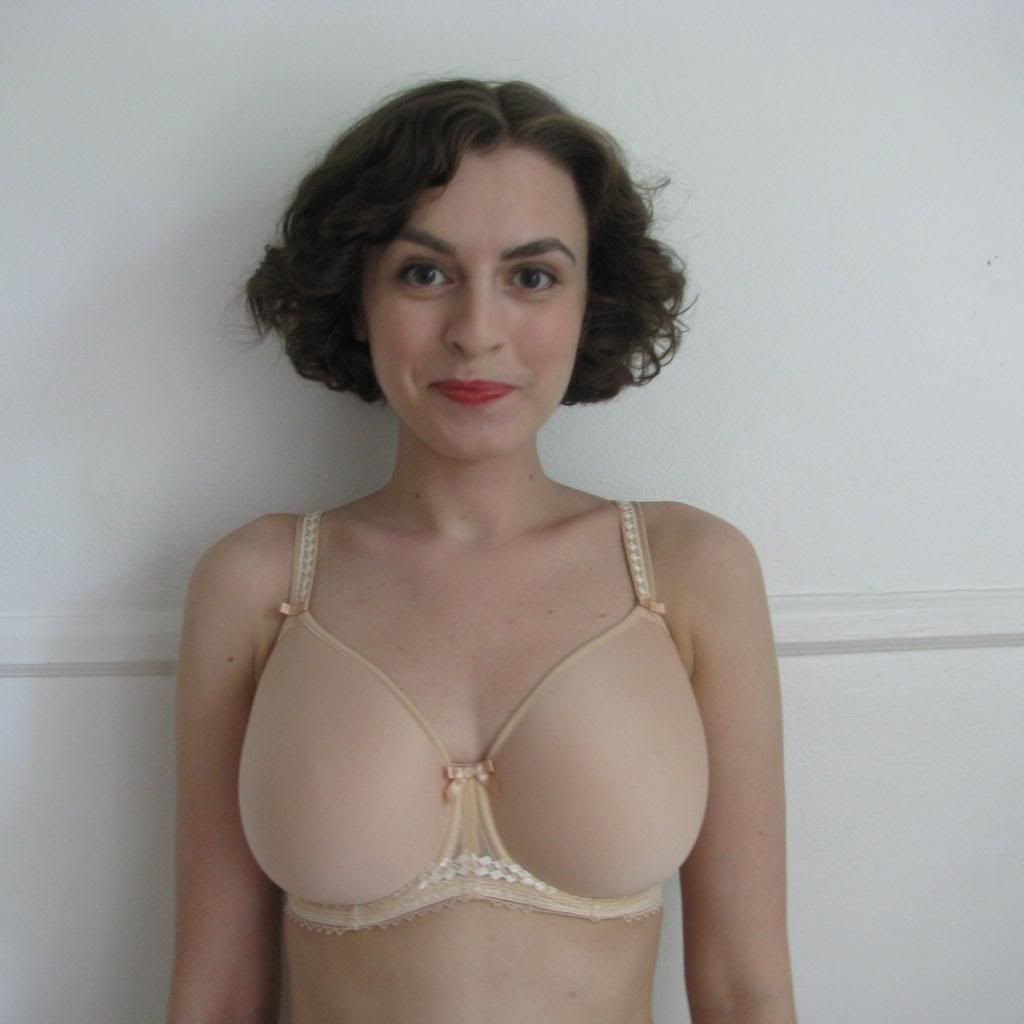 Rebecca, at last we meet! I've heard so much about you and I was curious if you'd live up to all the hype. I've been pretty proud of Fantasie lately (see my press day coverage
here
) and I have a hunch they're proud of themselves too, especially with the new basics they've been launching. This bra, the Rebecca spacer, and Jana's moulded cup -- an adaptation of their beloved Ava -- have been the company's darlings and boutiques' bestsellers. Although I'm attracted to their more daring ventures, i.e.
the SS13 Deliliah
and the AW13 Martina, even I have to admit that this is where Fantasie traditionally excels: good, solid basics with popular appeal. Let's take a closer look at this juggernaut: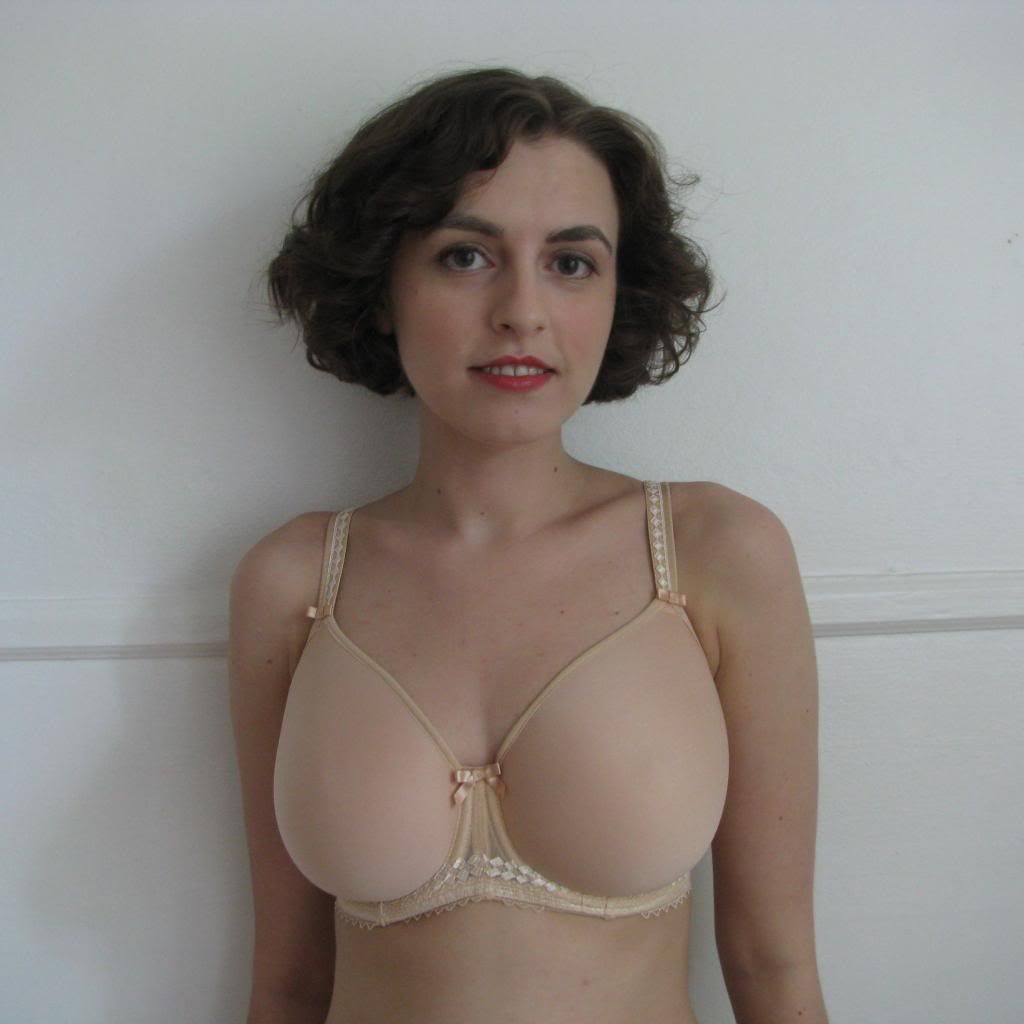 Spacer fabric, a delicate moulded foam, is enjoying a moment of fantastic popularity and it's easy to see why. The traditional padded, push up or moulded bras are inflexible and thus, difficult to find a good fit in. But many women want a seamfree, nipple disguising shape and spacer bras are the compromise between the desired look and difficult fit. This material is soft and comfortable against the body, almost as if your boobs are cradled by a personal Tempur-Pedic sling. It comes with one imperfection: the foam is malleable, but it's also easier to damage than your run-of-the-mill contour bra so handle these babies gently.
With regard to fit, I was pleased. The cups lay flat and as you can see, there was no gaping or overspilling. I'm wearing a 30FF in the pictures and as someone who takes either a 28" or 30" band, I thought it was true to size. On my frame, this style was definitely a full cup and I felt contained when I wore it, however there's also the case for
that's a lotta bra.
For many, many women, this attribute will be a godsend and I could get into it...but if you're someone searching for low coverage or if you're short waisted or high boobed or small framed, it's something to take into consideration.
Beige is not my favorite and most of my neutral bras are black or white, this color wasn't represented in my lingerie drawer before now. I'll concede it's practical for the summer, given my obsession with white blouses, and professional, I fit tested it when I was in New York for blog business. My biggest gripe is the tone on tone choice, the geometric Swiss embroidery is
gorgeous
, but you don't get a complete sense of that when the entire product is one color. The monochrome Rebecca Nouveau, coming out in December, is closer to my style.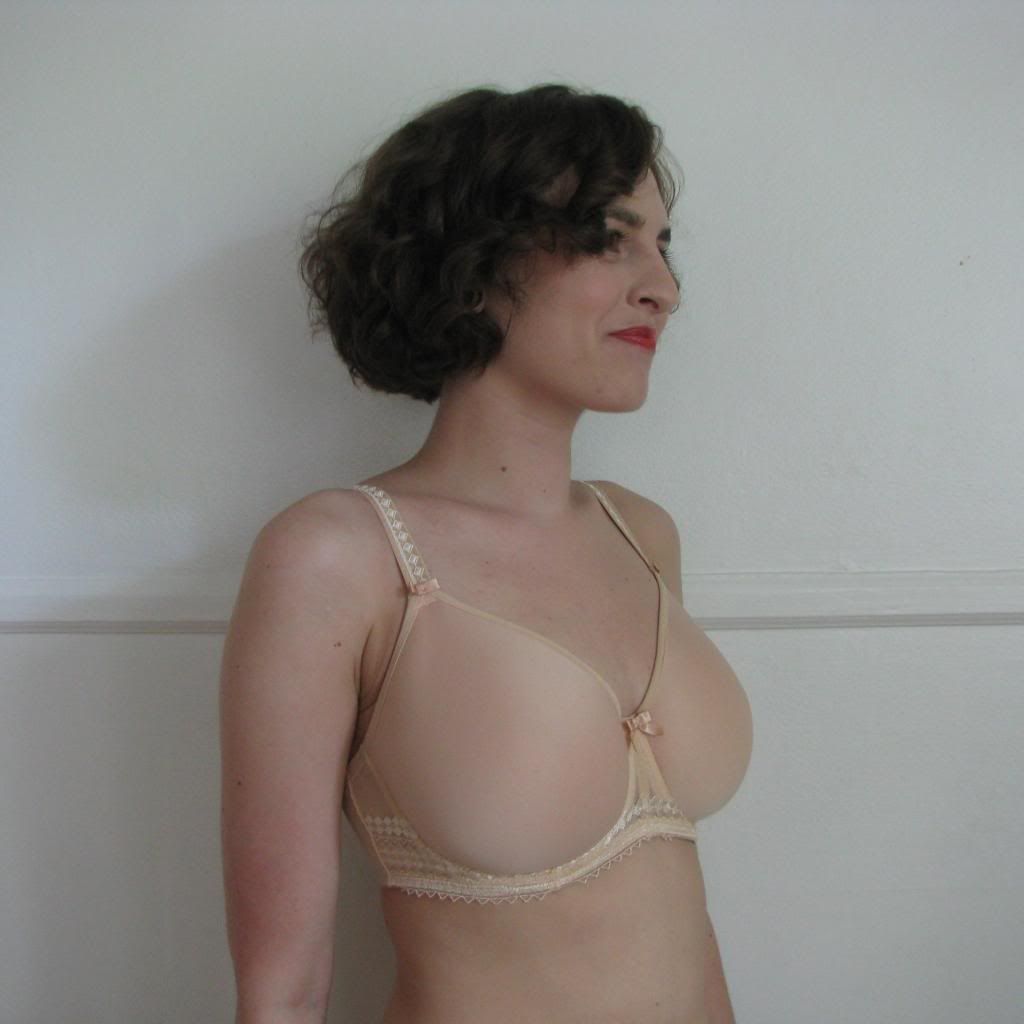 As you can see above, Rebecca gave me a contained and natural shape which was perfectly orb like (No pointed seams here!) and minimizing for a foam construction. As much as I love my "sky high lifting" bras, I like this shape as well. It's just your tits...hanging out in their own Tempur Pedic.
I received this bra as a sample from Eveden, this did not effect my opinion, preferences, or lame mattress jokes in any way.