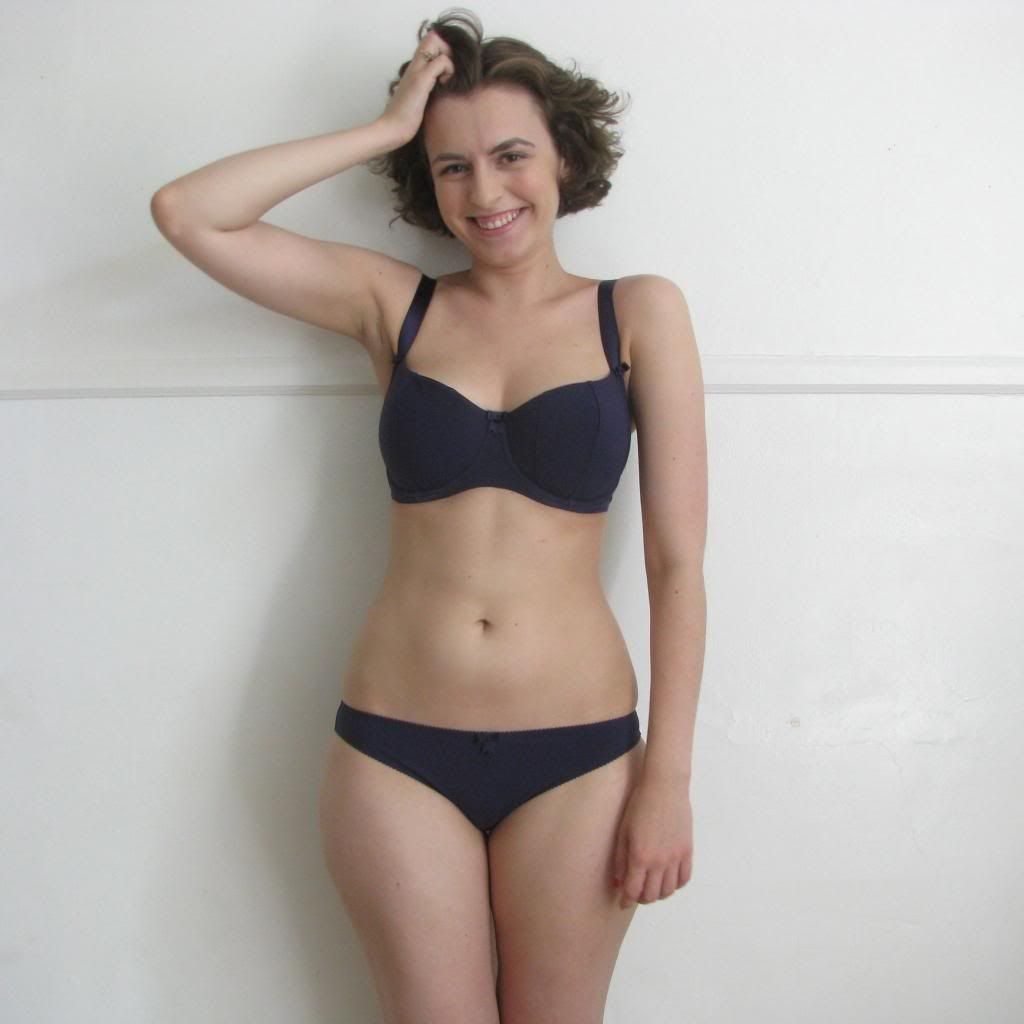 I could sum up this review in one word:
Hallelujah!
I had written Claudette off for a long time as a brand that I loved, but didn't work for me personally. The ethos and energy behind the brand is tremendously appealing: they've been kind, open and gracious with bloggers, their catalogs featured full figured or full busted women from the beginning, and for DD+ women, they offer a sleeker or sexier aesthetic. The Sophia belongs to the former category and while it's never my first instinct, I'm a huge fan of this sportier, simplified set.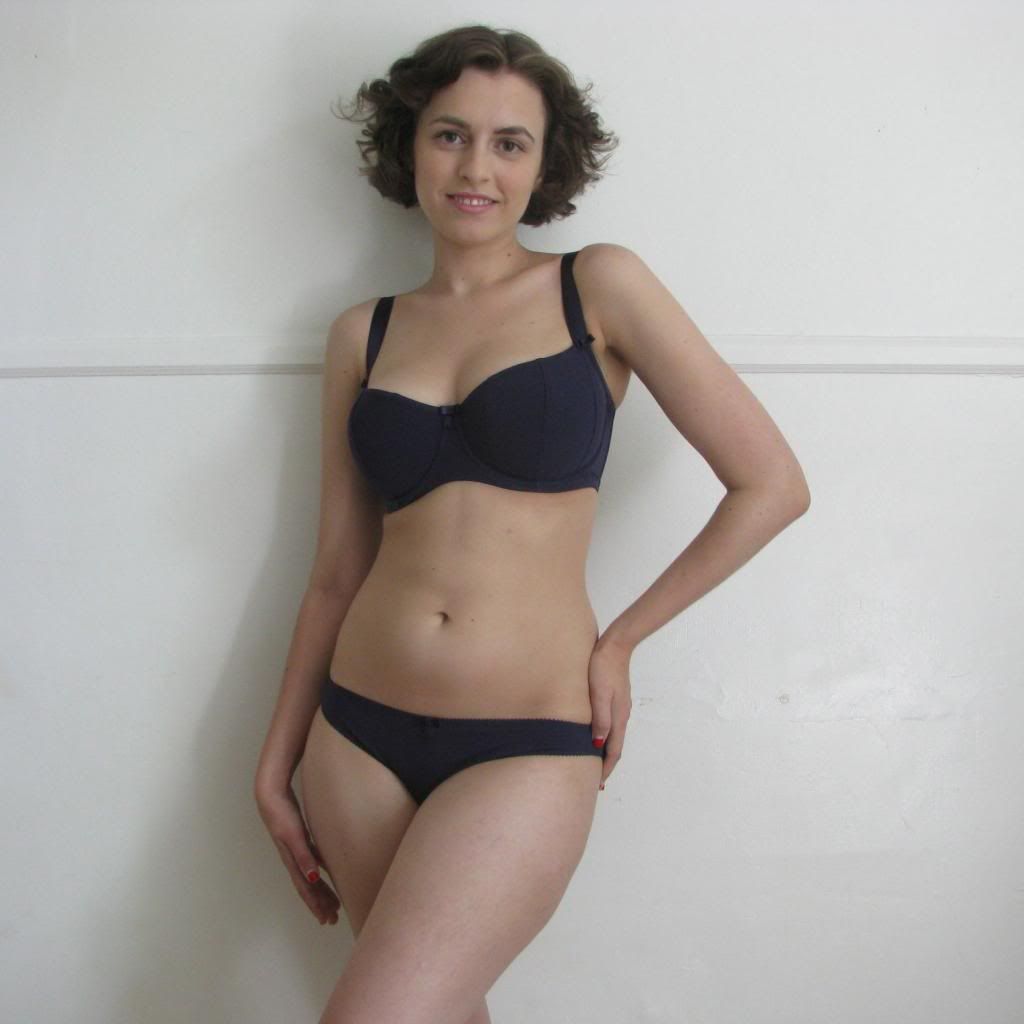 I tried Claudette for the first time last November and
we weren't the best match
, the En Dentelle Intense seemed better suited for someone with the exact
opposite
shape. The bra wasn't a good fit either, it was too large in both the band and cup, which made me hopeful for this season's new 28" bands. Once the Sophia arrived on my doorstep, I tried it on and breathed a sigh of relief. Like my Tutti Rouge Betty, the 28G was a stellar fit.
The band was comfortable, rather than rigid, and I'd recommend ordering a band smaller if you're on the cusp between two sizes. The cups were perfect and from my own lingerie drawer, they were an equivalent fit with my 28G Curvy Kate Gia, Masquerade Rhea, Freya Lyla, and Tutti Rouge styles. At the very bottom of the center gore or bridge, the material didn't lay 100% flush against my body. However, I have this problem with many, many other styles because my chest is rather close set and I have fullness throughout the middle, my breasts often push this section out slightly.
The Sophia Icon is a two part lightly padded half cup, with two additional seams on the exterior of the bra as a design component. Navy is one of my favorite classic colors, with thorough rotation in the rest of my wardrobe, so I was delighted when this infrequently seen shade popped up in their
Spring/Summer 2013 collection
. For full busted women who fall into Claudette's size range, there's nothing else like them. There's simply no DD+ company offering a similarly unique, directional perspective. I haven't loved everything they've put out (i.e.,
the camouflage sheer Dessous
), but I've appreciated them all the more for taking their brand into unchartered, off trend territory. I also know that if I don't like a particular piece, I'm guaranteed to love another daring, spectacular creation in the future, with no rival or equal in the market. Like the credit card ad says: that's priceless.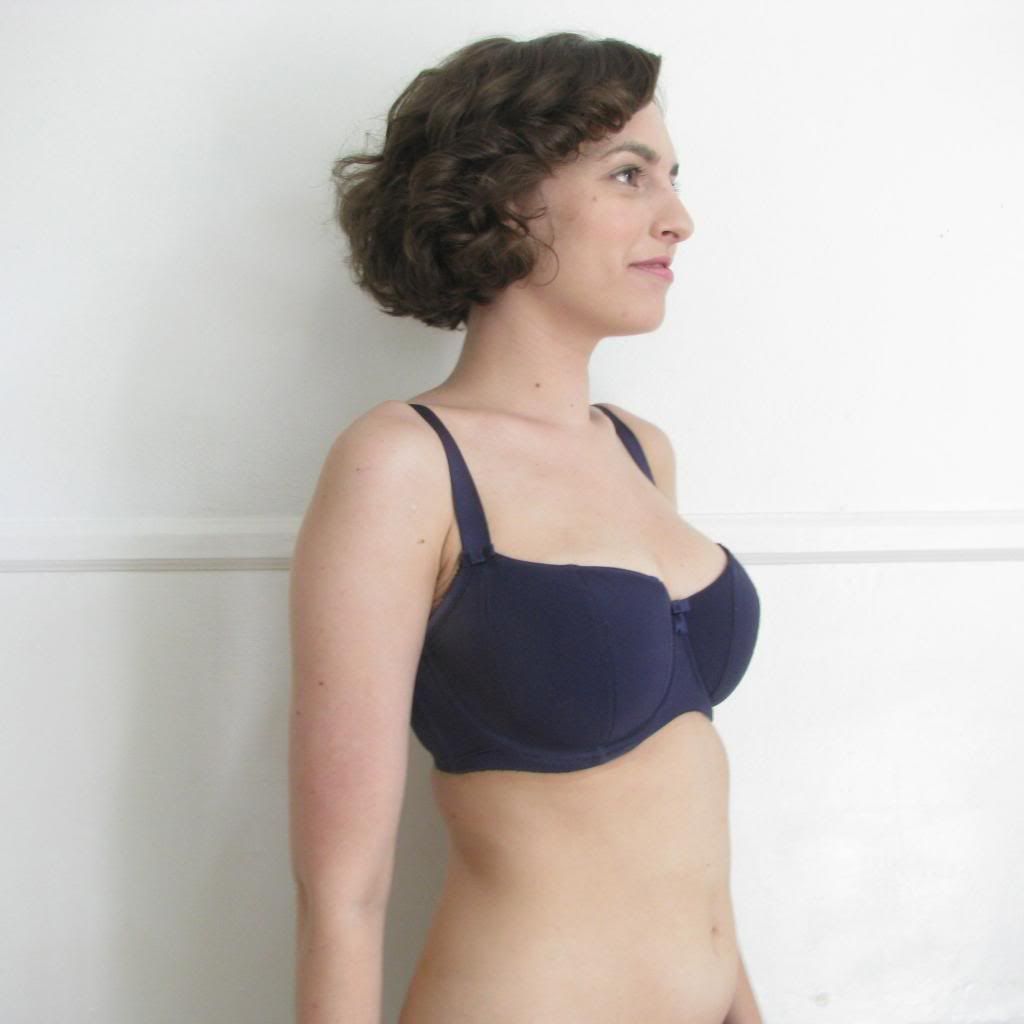 Side note on knickers, panties, or whatever you call the pieces of cloth on your butt: I'm wearing the sheer-backed ruffle panty in the photographs which is unsurprisingly adorable . However, Claudette is another company where it absolutely pays to check out their matching items. They also make
a high waist brief to go with the Sophia line
, with removable garters and in the other colorways, contrast trim.
Swoon.