Hanky Panky's booth at Curve NY. (Image via Hanky Panky)
Next week on Miss Underpinnings, my posts will revolve around the new collections debuting at Curve in New York City. If you're unfamiliar with the event or new to Miss Underpinnings, it's a semi-annual three day exposition which takes place in both New York City and Las Vegas. Brand sales representatives, C.E.O.s, lingerie store owners, professional buyers and darling members of the press (like
moi
) converge at once to sell, buy, or report on intimate apparel. It can be a bit difficult to understand what goes on so I'm going to break it down here because at the end of the day, we're all talking about what
you
want! :)
The schedule:
The lingerie seasons may be the toughest thing to comprehend about Curve because it's counterintuitive to whatever season we're actually in. Even though it's late July and we're still enjoying the summer temperatures, we're now in the Autumn/Winter 2013 lingerie season. I previewed the A/W13 lingerie way back in February (at the last Curve) so those styles have begun to come out and will continue to arrive through the winter. During August's show, the A/W13 styles will be on display and/or available for sale, but the real concentration will go towards selling/buying collections from the next season, Spring/Summer 2014.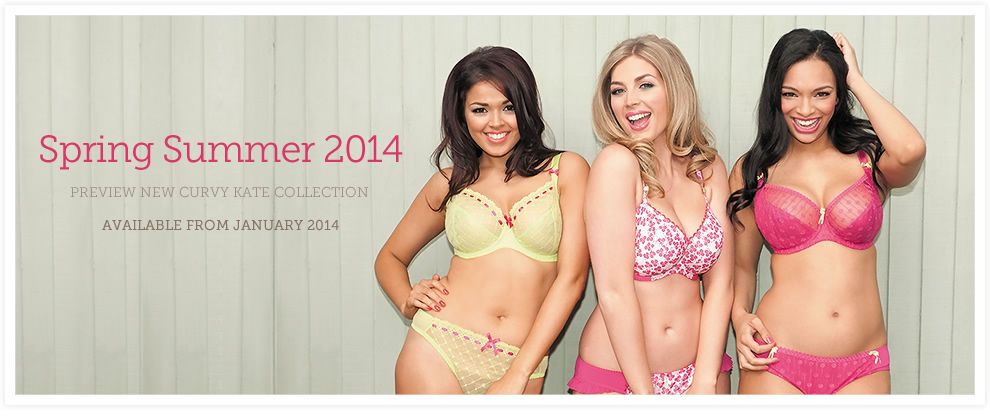 New Spring/Summer 2013 styles, like these from Curvy Kate, are going to receive most of the attention. (Image via Curvy Kate)
The setting:
Each company buys a booth, which vary in size from a large closet to an outdoor wedding tent, where they hold meetings with their clients, the buyers. These booths are organized into rows and have to hold a lot -- a live model or models, two seasons worth of lingerie or swim, and space for a table and chairs.
The players:
Generally speaking, brand representatives are assigned to specific accounts or retailers so, for example, John Smith might handle all the New England retailers for Panache. In the best case scenario, the rep. has an intimate relationship with the retailer -- knowing the buyer's taste, remembering what sold well at their shop, and predicting what will be successful for the business in the future. The buyers have someone to count on within the company and trust their advisor to help them make the best possible purchasing decisions.
Faire Frou Frou is a great example of a boutique that is fun, directional, and isn't afraid of a little color. (Image via Frou Frou Fashionista)
The mood:
Except for directional boutiques (Aristelle Lingerie, Faire Frou Frou) and major retailers (Herroom, Nordstroms), the North American retail climate is pretty conservative. Reps. are quick to point out that a new style will be available in white, black, or beige and retailers warn that their customers vastly prefer seamless or contour t-shirt bras. There's an emphasis on items that "won't show through" and red is always a safe "fashion" choice.
So, what's my job?
To represent you! Brands are enormously interested in what your favorite bras are, what your reaction to certain fashion was, and what you would like to see in the market which doesn't exist yet. I let them know what you've shared with me and I report back on what they're cookin' up. In the next week, I'll summarize where the brands have gone for their current collections and where you and I might like them to go next. I'll also introduce a few new-to-the-blog brands which I'll see for the first time at Curve. I'm getting so,
so
excited!