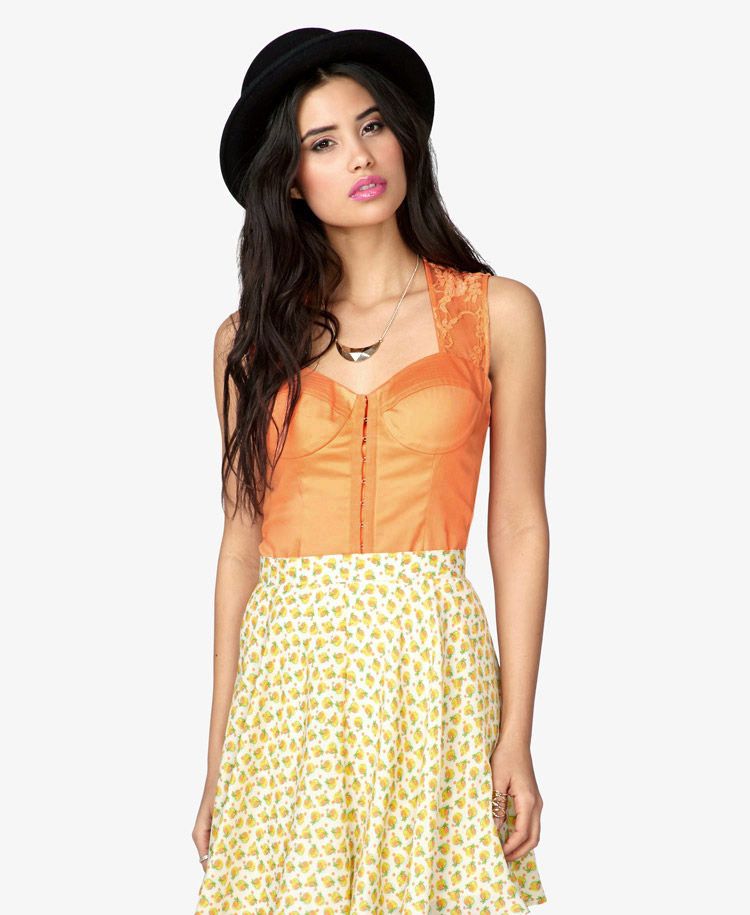 How cool would a DD+ bustier top be?! (This one is from Forever 21.)
I am so thankful to the wonderful DD+ clothing providers that this post feels like a whining betrayal. The offerings from Biu Biu, Pepperberry, Urkye, Midnight Grace, Campbell and Kate, Saint Bustier and DD Atelier should not be brushed aside lightly. Each brand does a phenomenal job giving full busted women garments that they couldn't find elsewhere. For my taste, budget and physical proportions, there's still
something
missing and this post will hopefully clarify the pieces I think are absent or undervalued. I'd love your input too - are you delighted by Biu Biu's casual tops? Or, would you like to see a particular detail on Pepperberry's fancy dresses? I want to dream your dreams too! ;)
Playsuit
Whatever word you use for it -- romper, playsuit, jumper -- I want one. I've tried on tons and it's that ole changing room conundrum: if the waist fits, the bust is squeezed and if the bust has room to breathe, I've got a pouch around my middle. Typically, this is where my DD+ brands would save the day, as they have with white button up blouses, figure slimming tees, and immaculately tailored dresses (NOLI, I'm lookin' at you!). I wouldn't be picky about length, fabric, or neckline. It could be printed or solid, long legged or short, stretchy jersey or sturdy cotton, vintage-y or completely contemporary - I just want to run around in a stylish, sweetly
fitted
one piece.
Bustier Top
Once, when I was studying in the U.K., I returned a dress with a defined bust and the friendly Topshop guy asked me why. I was awkwardly blunt and told him it was too small for my boobs. He looked down, sighed and said, "Yeah, we get that a lot". Predictably, Topshop sells some of the best bustier tops around and I couldn't fit a third of my breast tissue into any of them. I might be an outlier on this request, but I think this style looks incredibly cool paired with full skirts, high waisted pants, or retro shorts. I'd love to see what the fashion-forward Saint Bustier and DD Atelier would make of this trend.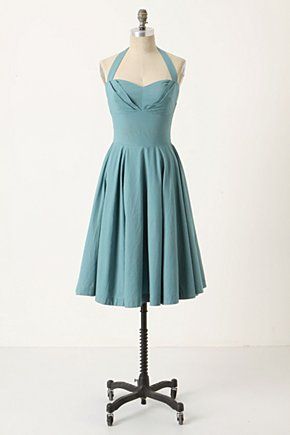 Like Sweets, I'd like to see a halter dress with a similar look/fit to this (sold out) Anthropologie one.
Fitted Halter / Cut Out / Halter Dress
On her
Full-Bust Wishlist: Dresses post
, Sweets asked for "a gorgeous strapless, halter or cross-back dress, cut straight through the back and curvy at the front". I SECOND THAT. I'm sure with enough time, extra return money, and patience, I could find one of these styles to work for me off the (regular) rack. But the full bust brands have spoiled me, I want to order my B/BB or C/RC and know that I'm guaranteed a dress designed with my body in my mind.
1940s-Style Peplum Jacket
In addition to hoarding lingerie, I have a bit of an addiction to jackets. Why jackets? No idea, maybe because I'm constantly cold...? The blazers from full bust designers have been particularly snazzy recently, but the shape is becoming redundant. I would like a peplum jacket with a broad open neckline, trimmed waist, and wide lapels. Still classy and professional, but much more unique.
Give me DETAILS, or give me death!
Echoing my last "dream" item on the lingerie list, I want to see more details on DD+ clothing. To examine the matter, let's take stretch jersey tops with a wrapped bust line because, as far as I can tell, every brand has one (The exception is Saint Bustier, but they offer an abundance of dresses with the same bust feature.). Kudos, to everyone, for designing these tops, understanding their appeal to full busted women, and getting a successful product out there. But the DD+ market is much more competitive than it was two years ago, it's time the brands prove to us why we should buy one item over another. I don't want to insinuate that I believe all full bust clothing lacks detail or personality, quite the opposite. I'm trying to call for more detail, signature, and personality. This is my vote in favor of
scalloped edges
,
Peter Pan collars
,
sheer contrast paneling
,
ruffles
,
bows
,
prints
,
unusual shades
,
voluminous sleeves
,
eye catching buttons
, and anything else those geniuses can think of.
And here's a few more kicking around in my head...
...cut the fancy crap! Who the hell is buying all these fancy dresses?! My life is not a revolving door of weddings, christenings, graduations and balls and if it was, I wouldn't buy a new dress for each occasion.
...in other words, more casual dresses that aren't stretchy or overdressed for everyday living. More
this
, less
that
.
...prints can be
fun and whimsical
l (tiny apples!!!) or
terrible mistakes
. Please consider before choosing.
...never let the sweetheart necklines disappear.
...long sleeves 4ever! :)
...and finally, Asian-inspired prints rock my world right now.
Would you change anything about the full bust market? Is there a design you see everywhere, but doesn't seem to be fit for a full bust?