Marc by Marc Jacobs Taboo Retro Maillot in Envy Green (Photo via ShopBop), $210
We all have our wishlist items -- styles that we're eyeing, saving up for, or anticipating (Freya's 28" band half cups, anyone? Or, the slew of babydolls coming in the fall?). But what about the items that aren't on the horizon, or even discussed as possibilities, that we see available for our smaller busted compatriots? Earlier this year, two of my favorite bloggers -- Sweets of Sweet Nothings NYC and Windie Gardie of Undiegamer -- published their own
Full Bust Wishlist
and
Lingerie Wishlist for Things Yet to Exist
. I wanted to throw my top five "most dreamed of" lingerie and swim ideas into the mix. I'm planning on doing another one, for DD+ clothing I'd love to see, and please let me know in the comments what your lingerie and swimwear dreams are!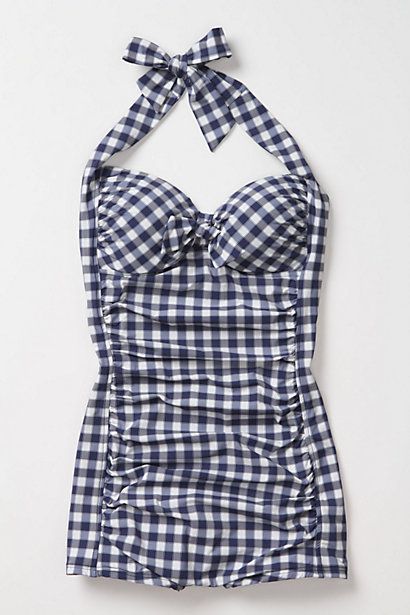 Anthropologie Seafolly Maillot (Black Gingham Sold Out) but available in Black, Pink, & Navy Dot, $148
Full Bust Bra Sized Maillot
These one piece swimsuits, which feature a slightly lower/boy leg and a tank-style body, are insanely flattering. They're often designed with an hourglass silhouette and paired with equally feminine features, like ruching, panelling, a sweetheart neckline, or halter straps. There have been sightings of maillot-style designs on the full bust market before: A few seasons ago, the Panache Paige was close, but it was comprised of two distinct layers which didn't always lay together neatly.
Bravissimo's Letters from Evie one pieces
are very, very close, but the legs mimic a bikini's higher cut. Maillots, which are already designed for curvier bodies, would be a stylish addition to our full bust bra sized swimwear options. All we'd need to add would be those savvy "integral bra" elements!
Longline Bikini Tops for DD+
The big full bust brands are elated with the success of their lingerie longlines so why not push that sold out status further with a longline bikini top? Sadly, the world of full bust swimwear stays timidly conservative in their choices and put out a seemingly endless rotation of halter neck, padded sweetheart, and plunge tops. Bandeaus and high waist bottoms are scarce, even though both designs are relatively safe for a market which see those same styles abundantly available for A-D customers. For DD+ women, who have a grand total of five different bikini top styles to choose from, any change would be a welcome one.
Huit's Cupcake, in a former seasonal colorway
The Freya Cupcake
I've written about this idea before, in
5 Bras I Wished Came In My Size
and in the coverage I did for
the brand's NYC press day
. This basic design, a scalloped solid base with mesh of the same color, was an original winner for straight-sized Huit and now performs well for plus-sized Elomi too. The whimsical details are strongly reminiscent of the youthful, spirited Freya perspective. If the Marvel, their new shape arriving in September, fits well and remains popular, it would be a low stakes gamble to put out a the Cupcake's details on this new model. Freya, don't leave us full busted ladies out of the loop! We're just as into this design as your Huit and Elomi gals.
Three Dimensional Details
This is a long gone style from
Avocado
, the Mimosa, which I'm completely obsessed with. At lingerie shows and press events, representatives are eager to use the word "flat" -- flat lace, flat seams, lays flat under blouses -- when referring to soft bras. They're right on one hand, I choose seamless or flat seamed bras for certain occasions, out of respect or professionalism. But what about when I don't want my soft bras to lie flat? What if, I yearn for directional and artistic bras that aren't law abidingly invisible? I want leaves! Pom poms! Three dimensional flowers! Thick ribbons! Big bows! Ruffles!
Stylish Wirefrees
The full bust wirefree market is so under utilized that it would be funny, if it weren't so stupid. Yes, there are some: the Royce lines,
Freya's Wirefree Deco
, and
Panache's snazzy Sophie range
at Bravissimo. But the bulk of wirefree attention is still focused on maternity and nursing needs, rather than style or sex appeal. I love my wires, but I'm not wedded to them. I'd gladly wear a wirefree bra that didn't resemble a bank's vault. Like the brightly colored, design conscious, and detailed one like the Princess Tam Tam above.
...that could never be the end! I'd also like to put in an order with the Lingerie Gods for:
...cotton lined padded bras (one word: summer)
...white - it's not just for brides!
...more sheer or soft half cups
...Polish-style thongs! They're the best because there is always a party in the back! British thongs? It's more like a group nap.
...colored bodies - How about pink? Turquoise? Mint? Something that hooks at the crotch and would look cute with a full skirt? They don't have to just be for weddings and holiday season.
...CUTE shapewear sets? The Deco Shape is on the right track, but I'm thinking fashion.
Now, what have I left out? What are your seemingly distant and most dreamed of lingerie ideas? And, are you 100% satisfied with the full bust swim options?