Lately, I've been thinking about how the full bust world has changed in the last five years or so. In 2008, I bought the Panache Superbra Porcelain T-Shirt Bra and I swear, I cried with happiness. Now? I scoff at beige contour cups and demand more intricate, fashionable, and unique styles. Since a spotlight has been shown on the full bust market, I can find pretty bras easily. Full busted women also have their own communities -- enormously popular Reddit threads, secret Facebook groups, and a modest chunk of the Internet which blogs about all issues DD and up. But, I've begun to think, has that left us with a few...entitlement issues?
Just like any blog dedicated to a specific physical feature -- plus size or petite for example -- full bust blogging is a niche community. It's responsible for bringing us together: we've all felt marginalized lingerie shopping, we all pay extra for bras or alterations and sometimes, we wait days -- weeks! -- for a bra to arrive so we may try it on. In a world which prizes "straight" or "average" busts, it's been difficult to face both our own self-awareness and others' discomfort at this sexualized feature which seems to fall so far outside the norm.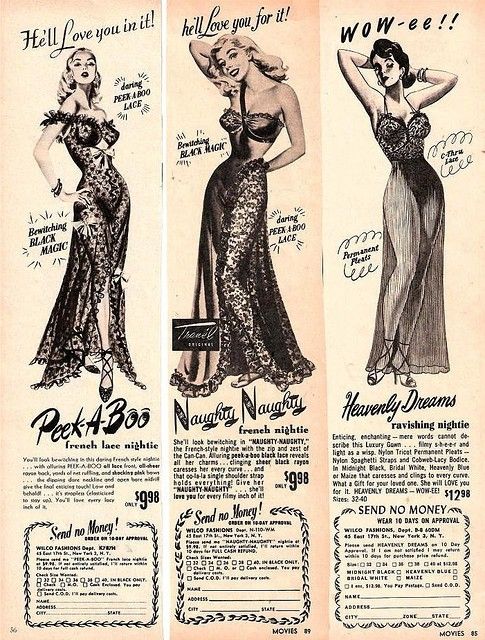 We've come a long way! From this to...(Image via Tumblr)
However, times have been a'changin', especially in the last five years. Nordstroms carries 30" bands, a new full bust lingerie brand sprouts annually, and established companies are eager to make their lines as size inclusive as possible. However, we shouldn't lose sight of the fact that, despite all the improvements, we continue to be a niche body type. We cannot walk into Target or Urban Outfitters or hell, even many lingerie stores, and walk out with a bra in our size. And there's a reason we can't find our sizes widely available -- the expense. Since we're deemed a minority body type and thus, a minority customer, it's a risk for any company to stock a size that isn't guaranteed to sell as well, or as quickly as say, a 34DD.
Therefore, the men and women who create products for the full busted consumer do so on shaky financial footing. They might make the barest of profits or need to sacrifice other business endeavors to keep a wide size range available. Of course, they're working for a salary too, but there are larger ideas at play: they believe in their endeavors, they relate on a personal level or quite simply, they want to help. It's difficult to remain grounded and grateful to these entrepreneurs who have decided to cater their garments to our body type, when we may disagree with their customer service, return policy or fitting technique.
Lingerie is a privilege, not a right. (Image: Lydia Hearst for Myla Lingerie via style fizz)
No matter what keeps them going, they are not required to do anything. There's no law prohibiting an A-KK brand from switching to a more popular and profitable A-F direction. There is no moral statute that dictates Ewa Michalak, Claudette or Elomi must continue to make the products we love. We cannot assume we'll see every full bust bra in every full bust size. But emboldened by the attention the full bust market has received recently, we've grown accustomed to a certain amount of selection, a particular bra construction, and perhaps the most troubling, a strict and universal idea of fit.
I realize there are still full busted women who have a disproportionately small number of bras to choose from and I do not want to diminish their frustration and disappointment. Nor am I condoning every decision these brands have ever made. Far from it, I believe firmly that all of them have made mistakes -- big, small, or in the worst cases, a combination of both. Every DD+ company has areas that need improvement and undeniable successes or bestsellers. There's no need for recriminations or threats, business mistakes may be subtle, but they're always crippling. If any of these companies have misstepped, it'll show up in their sales, which has a ripple effect into their income and quality of life.
Words are power, especially when you've got a rug on your desk. (Gerard ter Borch's "Woman Writing a Letter" via Gladly Lerne, Gladly Teche)
This cycle of expectation seems to begin with a multitude of high or diverse demands and then, when those requests aren't met, a whirlwind of exasperation descends from a community fed up with personal discomfort and cultural discrimination. But I would like to suggest that, while we are a niche market, we are not such a marginalized group as we might think. Entrepreneurs, bra fitters, and industry insiders read our blogs, tweets, and Facebook comments and whether a particular CEO understands our position in this hierarchy or not, we're disseminating information about their products on a daily basis. Through this overlooked and underappreciated power, we can communicate the positive change we would like to see or inquire about an item we can't find elsewhere. If we are genuinely grateful, respectfully grounded and unencumbered by a sense of entitlement, I believe there's nothing we cannot achieve for ourselves.