I first fell in love with Burlington, Vermont's new lingerie store,
Aristelle
, when it was
closed
. Zack and I had arrived at night and took a quick stroll down Church Street, the city's pedestrian-only downtown center. Out of all the boutiques we passed, Aristelle stood out: it's irreverent window displays, the high quality sets on each mannequin, and the sign's elegant font did me in.
When we visited with my sister the next day, my love turned into a little bit of an obsession. The product mix was eclectic and unusual, with esoteric big brands next to independent labels. The dressing rooms, decorated with body positive messages; the simultaneously sophisticated and down-to-earth atmosphere; and the friendly, enthusiastic fitters were all wonderful.
A few weeks ago, I had the opportunity to sit down with the owner of Aristelle, Andrea King. With the transcribed interview below, everyone can get a peek behind the (fitting room) curtain and see the nuts and bolts of a bra fitting boutique:
When you started buying for the store, was it a mix of your instincts and the advice you got from Le Boudoir*?
Yes, I trusted their judgement completely because they've been so successful. And then going to Curve, you see those things that you're like, "Oh my god, that's the most beautiful thing!". I saw those feather silk pajamas by Fleur of England and I had no idea what was going to sell or wasn't. But I figured if they don't sell, then
I
want them! [Laughing] That was my criteria for the first purchase because you don't know who your clients are going to be. I didn't know that we'd have as many 30 bands as we do. And now I get all my tips from listening to customers and I keep a note so when I go to Curve, I've got a list of the things I know I need to find. It's not just about what I want to take home with me, if it doesn't sell.
*Andrea has close ties with the Canadian fitting boutique,
Le Boudoir
. The St. John's, Newfoundland store opened in 2010 and just two years later won a prestigious award from the industry magazine
Intima
.
In terms of your inventory, there's a very European feeling. You have more demis and soft cups than a typical American store. Was that a conscious decision?
That's a good question. I think I wanted to avoid too many of those severe push up bras and that is a more philsopohical issue. We really want to help women embrace the body shape they have and so, not adding three inches of whatever in there.
And there are tons of those on the market already. Women can go anywhere to find that.
We do have some. I tried on the Huit Magic Air yesterday and my breasts did things that I didn't know they could do anymore! There's a place for it, certainly. And yes, I find in North America, moulded cups are definitely what people want and so we've got plenty of them, but in Europe there are more seams and lace.
But I think we're finding, in terms of bra sales, that 60% is basic -- nude, black -- and the other 40% is really fun like that orange one [the Fauve Bronte Longline] or the Aubade. People definitely wanted it, but maybe it doesn't sell because it's not available.
I agree with you. They can't find [colors] so they are buying beige and then it becomes this cycle where they're making more beige and so on.
For me personally, I have eight bras that are good bras, they fit and I wear them all the time. Four of them are red, two of them are white, and one is blue lace. I don't even own a black bra! I think that part of my personality must come into the store so I can move two pink bras and seven red bras. I think it's impossible to not let yourself become part of it.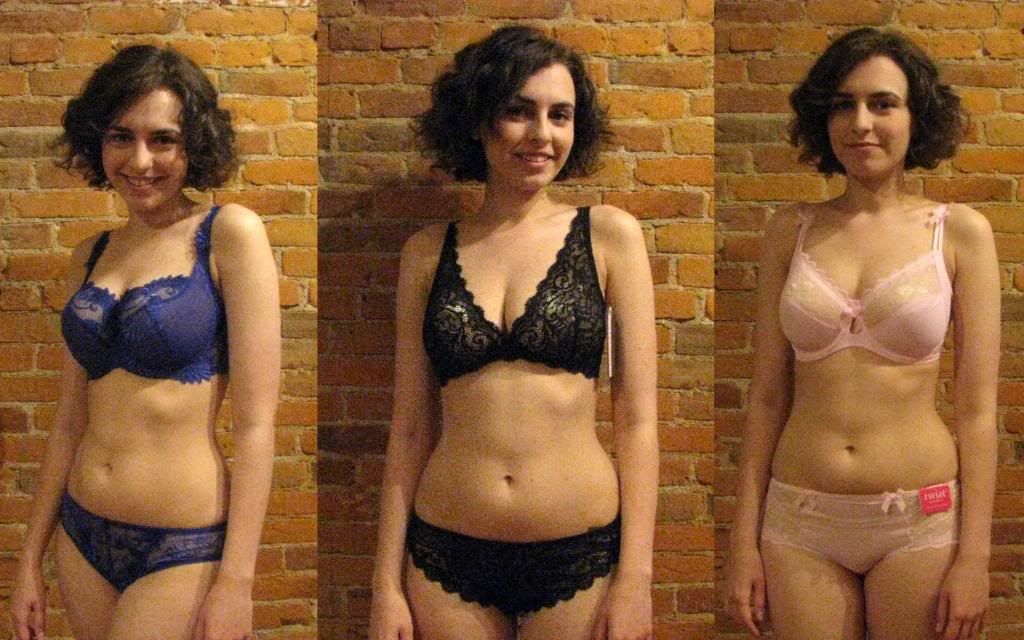 My favorite bras from Aristelle: Empreinte Thalia ~ Simone Pérèle Celeste ~ Prima Donna Twist A La Folie
With your background in development, I've read that you've focused on women's issues and volunteered to help victims of human trafficking. A lot of people would say you've done a complete 180° change, you're doing something totally different now. Have you seen any surprising overlap or skills from other things you've done?
Definitely. I worked in development and on projects in India, mostly Russia, central Asia and a little bit in China. A lot of those were micro-finance, sustainable finance, which incorporated making sure that women had access to finance for small businesses. So, always focused on women's issues even if it wasn't directly like,"Oh, this is a women's project". Always trying to bring that in.
In London, I volunteered with a group that helped women who had been trafficked to London, from all over the world, get mentally back where they needed to be and legally. My job was to help them find what they wanted to do with their life, business wise. It's a really scary issue.
We have one NGO item, we sell these silk beads that are made by victims of human trafficking, who have been rescued from the
Somaly Mam Foundation
-- the money goes to them.
And in terms of skills, were there surprises? Bra fitting is really psychological and...very fragile.
Philosophically, I think being super open minded and nonjudgemental, we want everyone to feel really comfortable. In women's equality and women's rights, I think being comfortable with yourself and feeling comfortable leads to confidence, which leads to more success, which leads to women doing better in business, as moms, everything.
I've never done sales so I think that's probably a good thing. Obviously, I care that we sell things, I have to or otherwise we won't be here. I don't mind if a sale doesn't happen, as long as someone has a good experience and feels that they learnt something because we try to teach everybody what to look for. We're more about long term relationships and I think people feel that too so it's not this kind of weird moment.
Where were you trained and what is your method in the dressing room, technically and holistically?
Le Boudoir. I did a week with them, like 12 hour days. First they let me watch fittings, then they let me do it because you learn how to do it, just by doing it. They'd critique and give me tips so that was amazing. I've read all the books about fitting and did the fit training school, the Eveden one in New York that is part of Curve. And had some storeowners in London also train me, when I went over there. It's awesome to get different ways of doing it...so you kinda incorporate what makes sense.
I can basically look at somebody now that comes in the door and say, this is what your size is and I'm almost always right. But I still do the measurement around here (gestures to the underbust area) it makes them feel better to see the number --
[Laughing] Like you're doing something?
[Laughing] Yeah, instead of just, "There's a number, here's your bra! Oh, I was right, there you go!".
It's a very intuitive process.
The hard part is that you need to know how every single bra fits the body so that you're bringing in things that you know are going to fit. It doesn't matter if it's the right size, if their breasts are really shallow up here, there are certain types that just aren't going to work. It's still a learning process.
But it's more knowing, than any technical process. Once I see them in either the [Marie Jo L'Aventure] Tom or the [Empreinte] Madison, those are the two bras that when I see someone in those, I know where to go. Once I've got that, I can bring them everything.
What are your personal favorite brands or styles?
Marie Jo: the Tom. I have it in nude, red and black and it's just...it's perfect. Pleasure State: I didn't get enough of it because it sold out really fast. That's what I'm wearing right now, it's an amazing fit. Fleur of England. And Marlies Dekker makes the most comfortable bras.
Have you had a big surprise in the inventory or a particular demand you hadn't expected?
We get a lot of requests for wirefree and I'm working on that. Janine Robin is a French company and they've been around for awhile. You hardly see them anywhere - we have the most beautiful piece coming in September! They have a wirefree that's on the way and it goes up to an F cup. We'll have a Prima Donna, but that one only starts at a 34 band so we'll see how that one works. I'm actually even thinking if I can't find one, I'll manufacture them.
Really?! What a good idea!
I know exactly what I want it to be so if I can't find it...we'll see. We've just opened. It does make sense.
So, what else was a huge surprise? I knew nursing was going to be big, but it's huge. I probably order nursing bras once a week to restock because there's been so much demand -- I'm connected with new moms here because I have a two year old and many of my friends are having their second. Evolution Yoga, where I did prenatal yoga, has helped promote Aristelle so all the pregnant moms know us. It's been huge!
But fitting for nursing is a totally different technique -- they're going to get bigger so you start at the tightest hook, rather than the loosest. There are many things you wouldn't necessarily know - you need to ask when was the last time you nursed, to see if they are at their fullest or not. It's different. Having had a baby, I definitely know a lot more. Whereas, I had to train the girls who work here because none of them have had kids. I said, "It might not make sense to you, but tell them this bra holds cabbage leaves nicely!". Everyone asked, "What do you mean!?". Well, when your milk comes in, cabbage leaves hold cold really well so you put cabbage leaves in your bra and it soothes your breasts.
I wanted to ask about the independent brands you carry, like Fraulein Annie and Two Figs. I haven't seen them in a brick and mortar store ever. Did you intend to bring in smaller or rarely seen brands, or were you just attracted to what they had?
As a new business, there's a set amount of money. My initial inventory was $X0,000, which sounds like a lot, but it's really expensive. So, I had $X0,000 marked for Van De Velde, which is Prima Donna and Marie Jo. And Empreinte, if you wanna start with Empreinte --
You gotta go big!
You immediately do because they're so expensive. Part of it was that I had this much left over and it was things I thought were beautiful, but also the smaller brands will let you place smaller initial orders. Some of them have a $2,000 order minimum to start which I don't think is very smart. For instance, with Fraulein Annie, I told them, "I have no idea if your stuff will sell and I have no idea about bathing suits, I have no idea about anything that I'm doing!". [Laughing] They let me order five bathing suits, I sold them all, and reordered. It's smart for them, but I understand a lot of them can't afford to do that because they include shipping and other costs.
I had a question about your add ons. You've taken it in a very feminine and a bit of a practical direction. Was that advice driven or did you find things you absolutely wanted to have in your store?
The bra add ons were advice given -- Nubra, shoulder cushions, and all the bra accessories made perfect logical sense. Le Boudoir doesn't actually have any lotions or candles. That stuff, I just thought it would be nice to have. I found a local jewelry designer and she's doing our jewelry. Then I went to the gift show, which I should not have. [Laughing] Someone gave me a tip, don't ever place orders at the shows. Which is really smart --
Because you'll love it and order a bajillion of it?
In the scent area, I couldn't even smell anything anymore! I was like, "Oh, I think I like that" so I placed all these orders. I learnt my lesson there. I love what I got, but I think I wouldn't have ordered 3 different scents and 5 different candles. Those yoga mats were totally a random purchase, we actually had them in the dressing rooms for a while. They say these little messages at the top, like "You're wonderfully made" and "Look at how pretty you are". So, when you bend someone over to adjust them into the bra, that's what they read. Yeah, just random I think, but it often comes together.
I wanted to ask about the future of the store -- short term and long term. What's the best case scenario? Or The Dream?
The Dream is to not have a big line -- a big Aristelle line -- but there are a couple of things I see missing in the market that I can see making. And to open more stores. I think what we've got works really well. And only in smaller cities, we looked at Montreal - my husband and I were up there having dinner and we looked around at what was there -- and I don't want to do a big city. I think it's a totally different dynamic. Just for advertising, it's easy to wrap your head around. I can see doing other stores, in similar size cities, in the Northeast and then, who knows?! It'd be cool to be in a lot of different places.
Baby steps, that's big picture. The small one is to keep it successful, busy.
~
Now, that's where we come in! If you live in or frequently visit Burlington, pop by and say hello to Andrea and her gang!
I loved interviewing Andrea and transcribing our conversation, her perspective was eye opening and I felt I learned a lot by talking to her. What did you think?
I'd like to do more I Want Her Lingerie Job posts in the future. Would you like to see other transcribed interviews with industry professionals?