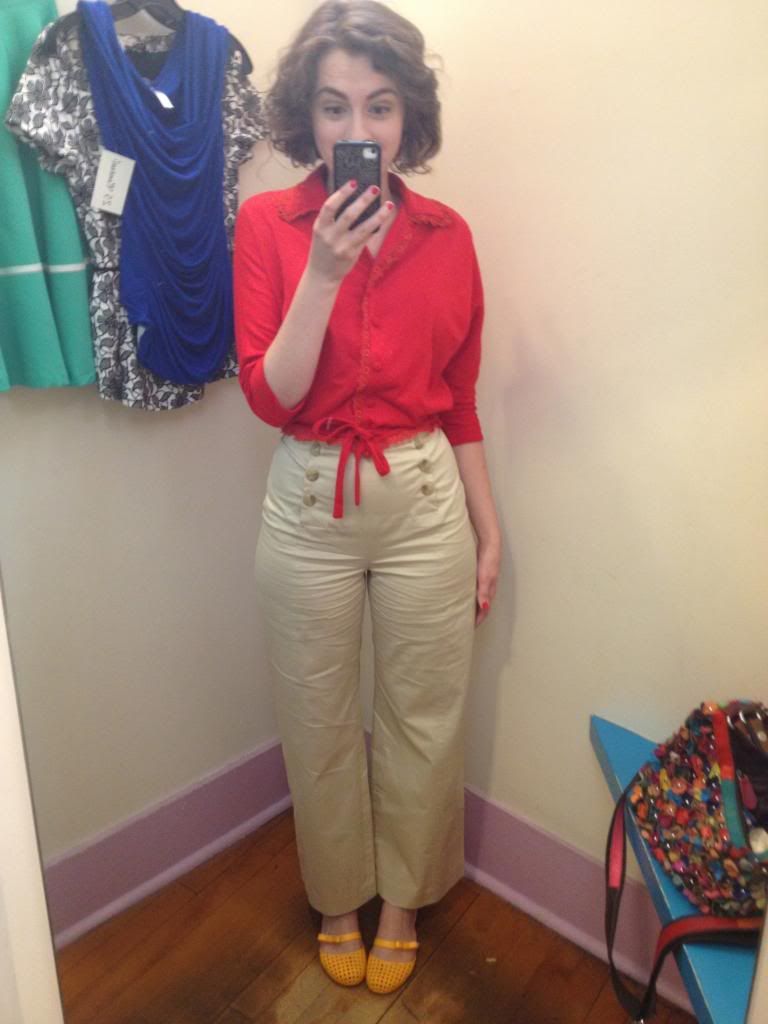 Yesterday's Outfit (Please excuse all the dorky face-making in this post!)
Zack and I drove out to Northampton yesterday and while he was away at band rehearsal, I bopped around for this style post. Trying things on is the best way to learn what flatters you, what your style is, and what to look for in the future, in terms of construction, material, and color. I'm sharing my findings with you, to highlight my favorite Northampton stores (There are still some missing too!) and in the hope that it's educational for your next "hunting mission":
25 Central
Thorne's Marketplace is an old building, in downtown Northampton, which acts as a type of independent "mall". There is a chocolatier, an amazing vegetarian restaurant, a bookstore, and tons of individual boutiques selling everything from shower curtains to orthopedic shoes. I've been going to 25 Central for a long time, it boasts a lot of that "modern retro girl wear" that I love. The store stocks 'of-the-moment' items as well as sturdy, classic basics. They have a superior hat section, hip sunglasses for under $10, and carry inexpensive little known brands. Besides the fancy frocks, I find the price point to be comfortably modest.
Tip: If you see your size in an item, nab it! Their spring merchandise was a little picked over, I had a hard time finding my size yesterday.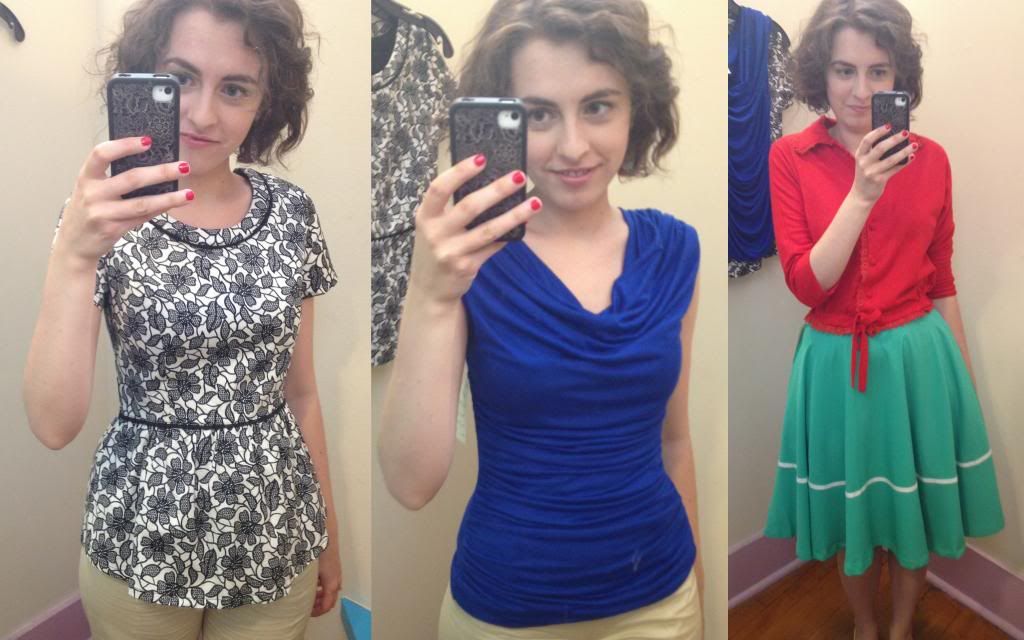 Lace Patterned Peplum Top, $45:
This top was unreasonably comfortable, had a well made cotton lining, and fit exactly the way I like -- not too form fitting, but shape creating. I'd classify this as a "casual special" item, which is something I wear to class it up
and
keep it low key. (I also got away with the high neckline!) I would've bought it, however I'm weary of things I adore when I first start shopping. My wallet was crying, "Too soon! Too soon!".
Blue Top, $29:
This one is a cheat -- I had this post in mind and...this will sound braggy, but I swear it's not: I know these details work for me. I look for a drapey neckline, a lining or reinforcement of some kind (thin ruching is no one's friend), and an appropriate amount of stretch. Ruching, I believe, can flatter anyone, but you have to think about your proportions. My sister is taller and has a bigger frame, she can pull of dramatic draping, ruching, and Grecian styles. I, on the other hand, look like someone is trying to drown me in cloth if it's not just the right amount.
Green Skirt, $45:
This was a gimme too, a high waist full skirt is another semi-gauranteed success. But after the workmanship of the peplum and fit of the blue, I was left feeling "meh". The fabric was a slick synthetic, which is part of my summer wardrobe resolutions. I'm trying to avoid that stuff, in favor of more cotton, linen, etc.
Monella
Monella, which is located almost directly next to 25 Central, has a different target market. The lines are pricier, the look is more contemporary, and the space is laid out in that modern minimalist way that some mid to high scale boutiques go for. Yesterday, I found an abundance of one of my favorite indie brands, Esley. The rest of the store isn't quite 'my look', but Esley makes creatively designed and high quality pieces I adore.
Tip: If you fall in love with something, there's probably alternative colors of it available. They seem to carry multiple versions of the same design (the shorts came in ochre, the dress had a mint/orange/white sister).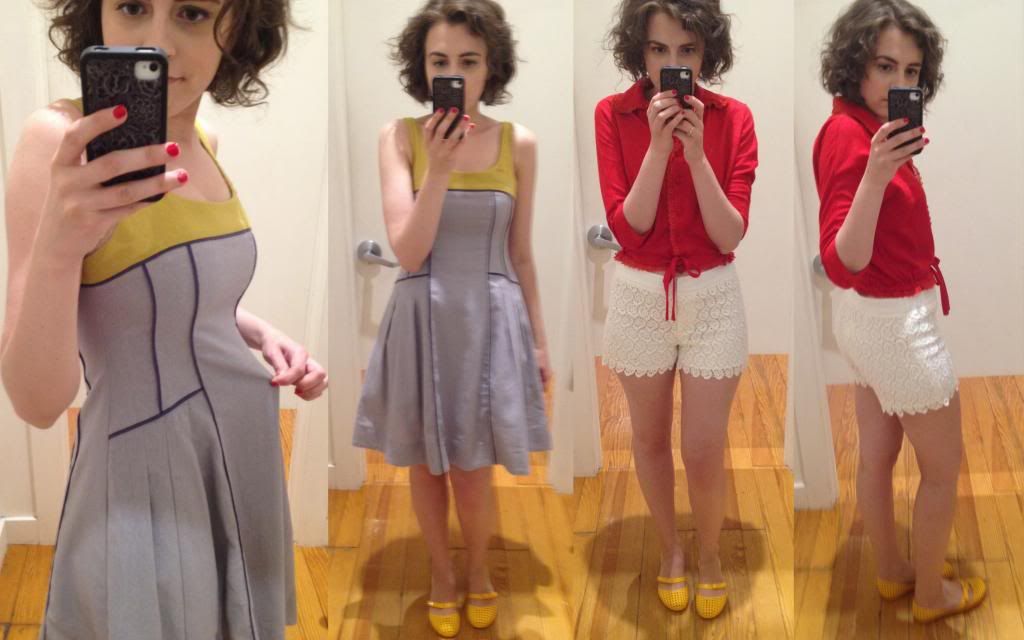 Blue & Ochre Dress, $119:
I grabbed this on the way to the dressing room, thinking it'd be an easy success because of the tailoring through the torso. Oh, no: It is one of those NOT FOR FULL BUSTED WOMEN items which runs too snug in the chest (I'm smooshed!) and too big in the waist. Disaster.
Esley Crochet Shorts, $59:
Ironically, I thought these would look hideous! Haha, I've tried on white shorts before because I'm
obsessed
with them, but they've never looked right. I suspect my success with these came down to the high waist/"long-ish short" inseam. I would've gotten them, but the $$ was on my mind.
Second Time Around
Second Time Around, the national consignment chain, is my jam! The girls they hire are geniuses, I'm always asking them to take their carefully styled outfits off the mannequins (Seriously, I've bought a jacket, blouse, and dress off displays!). I also love the hunt of secondhand shops, Goodwill, vintage/antique markets. It's such a thrill to find something special in an otherwise unruly mass of stuff.
Tip: Peek at all the sizes remotely close to your's! Yesterday, I tried on every size from 2 to 8.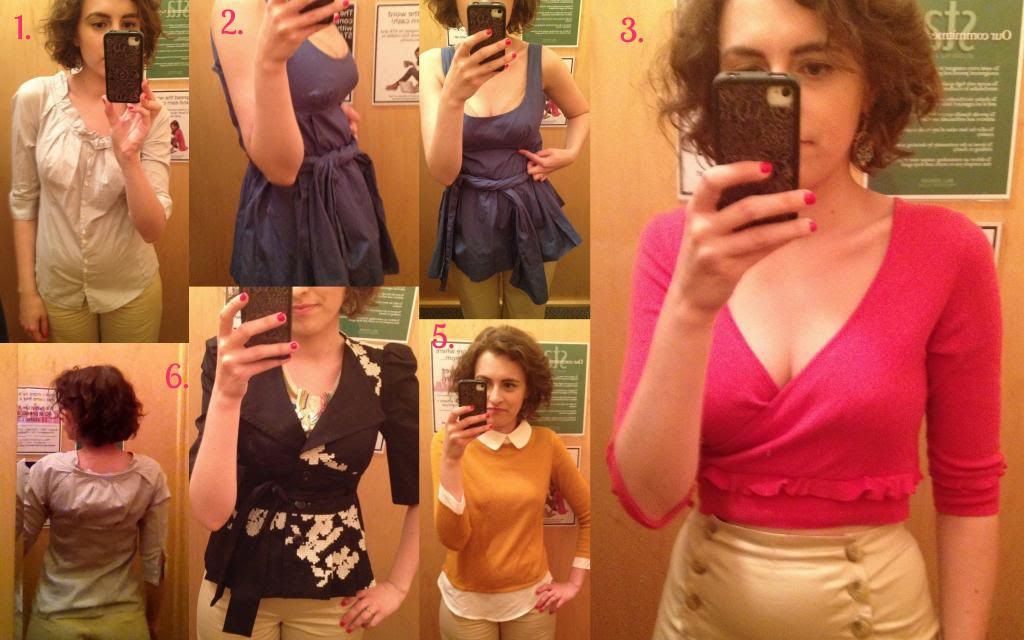 Grey Blouse:
I thought I was golden in this button up...until I turned around and say this bizarre inflated patch of fabric (see the picture immediately below). Did my boobs throw off the tailoring in the back? I couldn't get it to lay un-hunched.
Blue Blouse:
Hahaha, do you see me pointing? That's where my breasts/wire ended, a good inch below the seamed bust line. It's a post for another time, but holy crow, I HATE DEFINED BUST LINES.
Pink cropped wrap sweater:
After the outfit post where I whined about being unable to layer my peplum top, I thought it was time to grow up and try a cropped cardigan. I've always disliked them (I think because the waist is never small enough/bust isn't big enough), but this sweet wrap one with ruffles did me in. I loved it!
Miu Miu mustard sweater/blouse:
My favorite color. So slinky and luxurious, but for $100+ second hand, I didn't love it nearly enough.
Black jacket:
I didn't capture it right in the pictures, but this jacket has a defined bust too. I didn't see it until I tried it on and noticed my boobs kinda poofing strangely in it. Jacket, you betrayed me.
Urban Outfitters
I used to be a diehard Urbies fan, but my love has weaned. I can't break off our relationship at the moment though, they're one of the only "young person" big chains making a lot of high waisted stuff. Their short selection and separate bikini bottoms make me smile.
Tip:
Check their website before you buy! I bought boots, in store and on sale, for $30 that were $90 online and the opposite is true, you can sometimes find a better deal online.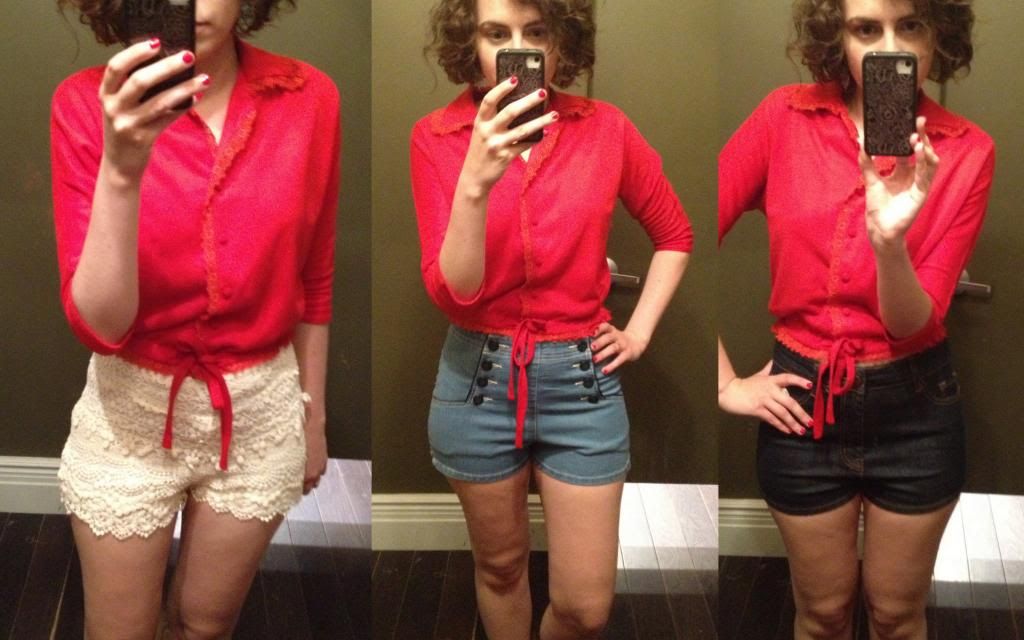 (From left to right)
Kimchi Blue Anthea Lace Tap Short, $49:
I wanted these to work so badly! Is it me or do they look a little lumpy? Like a diaper? Or is it that second layer of crochet? After the pair I tried at Modella, these seemed like amateur hour.
BDG High Rise Sailor Short, $49:
Erm. I like these, I do. I'd never buy them at full price, but they're cute. They come in a darker color, but online it doesn't seem to have as much contrast. I'd prefer a darker wash, but I'd like white piping much more than black. Selling point: The buttons are so, so cool. They actually have anchors on them!
BDG Erin High Rise Shorts, $39:
Here's why I like think high waisted denim - they act like shapewear! Everything feels tucked in and neat, I don't have to worry about bending over and quarter-mooning anyone and the waist highlighting is flattering.