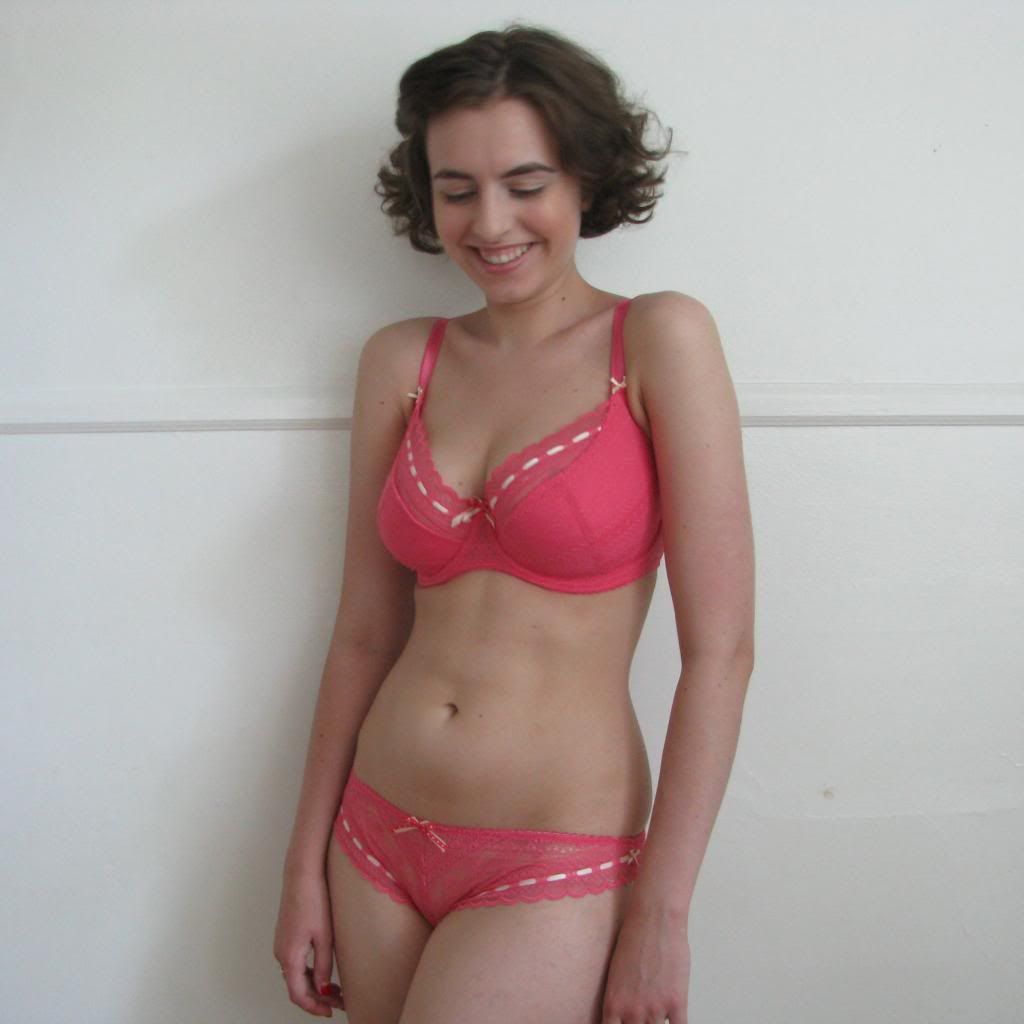 Chocolate and vanilla. Good and evil. Night and day. Like any interconnected force, Liliana and Betty exist in contrast with one another. As of the publication of this post, they are the only bras to debut from new British full bust brand,
Tutti Rouge
. I was sent samples of each from the company and I feel they couldn't be more different from one another. Obviously, as part of a larger integrated collection, they share certain aesthetic and construction details, but in my case, I feel in love and I found a foe. See which was which here:
Liliana
Oh geez, Liliana and I had some difficulties. The cheerful pink color, popular among many of my fellow bloggers, struck me as a little stale. It's a pretty, pleasing and juicy hue that I'm sure flatters everyone's skin nicely, but I'm all "pinked out". Since the Liliana was Tutti Rouge's first bra to debut, I can understand why they committed to a conservative and proven shade. The contrast ribbon trim is adorable, as are the heart shaped adjusters, scalloped lace, and double ribbon center gore detail. All in all, it's a wonderful design, but I'm much more intrigued by the monochrome version coming out this Fall or the white base and pink trim colorway due sometime this season.
On my 28G bust, the fit was a disaster. A few lingerie bloggers noticed the cups ran fractionally small and I must agree as '"larger" 28Gs have left me with significant gaping (i.e., Freya's Gem & Babes in the Woods). Again, I'll concur that the band ran very, very tight, but as with most bras with a shrunken band, it opened up quickly and I haven't noticed any restriction during the last few wears.
Since the wire and cup shape tend towards the wider or shallower side, these features were my biggest roadblock to a secure fit. I'd begin the day with a pleasant fit, but as the day wore on, I started to roll out. The sides of the cups were flat, pushing me into the center, while they were also shallow, bumping up from above. I got a minimized silhouette and a crack of cleavage head on, but since the delicate and soft sheer panel wasn't firm enough to keep me contained, my boobs begun to jump out (Troublesome things, you just can't take them anywhere!).
Betty
As much as Liliana was a devil, Betty was an angel. Since I try to avoid beige tones, whites and ivories are my preferred neutral colors. But they're hard to come by since these shades are used almost exclusively for brides. I was delighted to see Tutti Rouge put out this color which felt appropriate for us unmarried gals. Don't shoot me: I also loved the floral print! It looked like a pattern you'd find on a vintage scarf and seemed quite unlike the nineties blaring flowers or English garden blooms which have been hugely popular recently. The lace underbust detail and the pleated touches truly did me in, I can't resist this design! I want one in every color, except watermelon pink...
In regard to comfort, shape and fit, I was perfectly content. As other bloggers have noticed, the shape was less projected, but it was neatly circular. In every way, it fit like my other padded half cups and while the photographs didn't capture it completely, the bra gave me a "presented"/cakes décolletage. The wires didn't exacerbate my sides and my center gore tacked nicely. Even though I did quite a bit of squirming (vintage shopping) when I wore it, the cups stayed in place.
Side notes:
The underoos:
Good heavens, buy the matching pieces! The bottoms are as charming, well thought out, and as precisely put together as the bras. They have everything: cute side bows, bum ruching, sheer cut outs, etc. I found the bottoms run big. I'm consistently either a small or medium and especially in the stretch lace tanga, I think I could've done better with an extra small.
The promotional videos:
Tutti Rouge targets a playful, flirtatious and fun customer and their videos confidently focus on that happy energy. While they are a little unconventional, the video's close up booty shots are a good move as well, since the brand offers interesting panty choices.
My discomfort set in as glittery make up, pigtails, roller skates, a scooter, pillow or food fighting, and a puppy appear in one or both of these short videos. These elements evoke pre-adolscent innocence, an unfettered sense of play, and socially recognized childhood activities, which wouldn't necessarily have been offensive onto themselves. However, when combined with a suggestive wink, a dramatic trench coat removal or a topless moment, I squirmed. I cannot imagine how hard it must be to market youth-orientated lingerie like Tutti Rouge, Evollove, Cleo or Freya, but there's a fine line between buoyant girlishness and budding sexuality. Consciously or not, I feel someone has overstepped.
On a much brighter note, their new shoot for Spring/Summer 2014 looks inspired.
Check out their setting!