Parfait Charlotte Padded Bra in "Wild Pink" (New fashion color available in mid October!)
Squee, my Friday Favorites recap begins with the most exciting full bust news in quite a long time!
As I'm sure you might've already read (it's made quite the splash in the lingerie blogosphere!), American brand Parfait announced a major size expansion yesterday. Following in the footsteps of Freya -- who dramatically and suddenly added sizes to their Padded Half Cup production -- Parfait will be introducing GG+ sizes to three of their most popular lines: the Charlotte, Alexis and Sophia. Select styles will be available in GG, H, HH, J, JJ and K cups and the Charlotte will come out in 28" bands. We'll be able to get our grubby mitts on these in early August. Hmmm, but I wonder, could this be a trend-in-the-making? I sure hope so...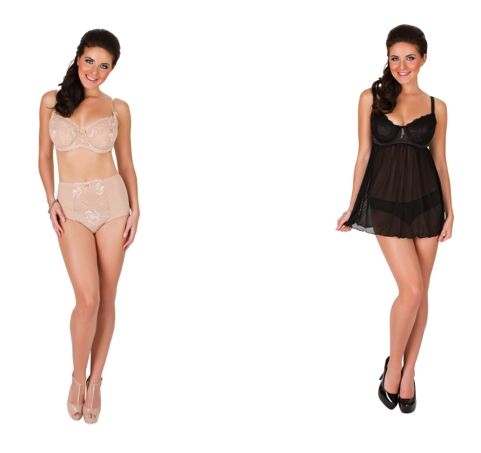 Hip hip hurray! New sizes for the Sophia Wire Bra & Alexis Babydoll
BiuBiu had a quieter release of their own this week,
the Peony
and
Poppy Fields dresses
are now available. They are the same sweet and simple design, but they're made from two different colors of teensy floral printed fabric. BiuBiu has gone in a demure and romantic direction for the summer, with tulip skirts and split cap sleeves, mock lace print and this new bouquet.
Commenting on my plea for full bust maillots, reader Tina Lou pointed me in the direction of an indie pattern making blog,
Closet Case Files
, and their
gorgeous
Bombshell Swimsuit
plan. It's an awesome solution to my whine-y complaint and one of the testers was full busted!
Speaking of designing gorgeous clothing and generally being a cool cat, has everyone seen
the latest bra the Lingerie Lesbian has made
? Sigh, homegirl has talent.
If you read only one post from a lingerie blog this year, make it this one:
Diversity is More Than a Bra Size: What's it's Like to Be a Woman with a Disability in the Lingerie Industry.
It was published by the Lingerie Addict and written by Catherine Clavering, the founder of Kiss Me Deadly. If you are, or have ever known someone, with an "invisible" disability it's a comforting and forthright piece from a courageous kindred spirit. Inspiring, rawly honest and totally eye opening...I can't recommend it enough.
On Lingerie Insight, there's a small sneak peek gallery up of independent designer Louise Ferdinand's Spring/Summer 2014 collection. What do you think of
the yellow
or
the monochrome flowers beneath the bust line
? It strikes me as a subversive spin on the reigning floral trend in DD+ lingerie.
Sweet Nothings NYC is running
a fun competition to win an Affinitas or Parfait set
and the contest closes at midnight tonight! Get over and tell her what your dream lingerie set looks like!
Alright all my 'pinnings, I hope your weekend is full of sun, warmth, and smiles.